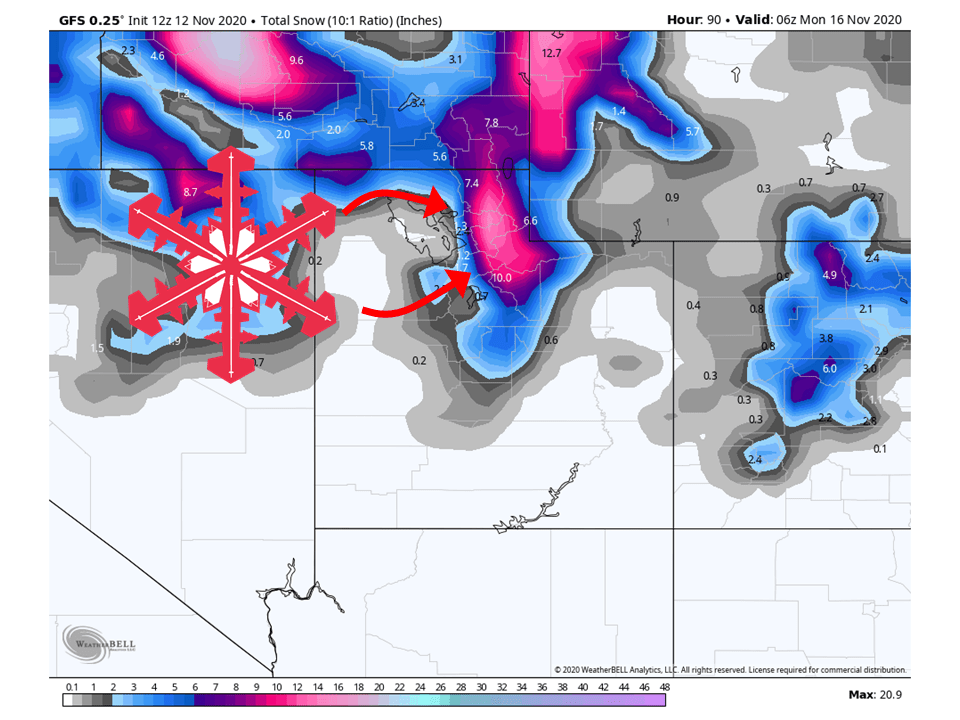 Forecast By SnowBrains Meteorologist – Eric McNamee
1:15 PM MST, Nov. 12, 2020
Forecast Summary:
An extremely moist storm will hit Utah over the weekend, bringing 1-2 FEET of snow along the Wasatch Mountains, with locally higher amounts.
Resorts likely to see the most snow are Alta, Snowbird, Brighton, Solitude, Snowbasin, Powder Mountain, and Beaver.
Other resorts that will see snow but not as much are Park City, Canyons, Deer Valley, and Sundance.
Conditions will dry out heading into next week. 
Short-Term Forecast:
Friday-Sunday: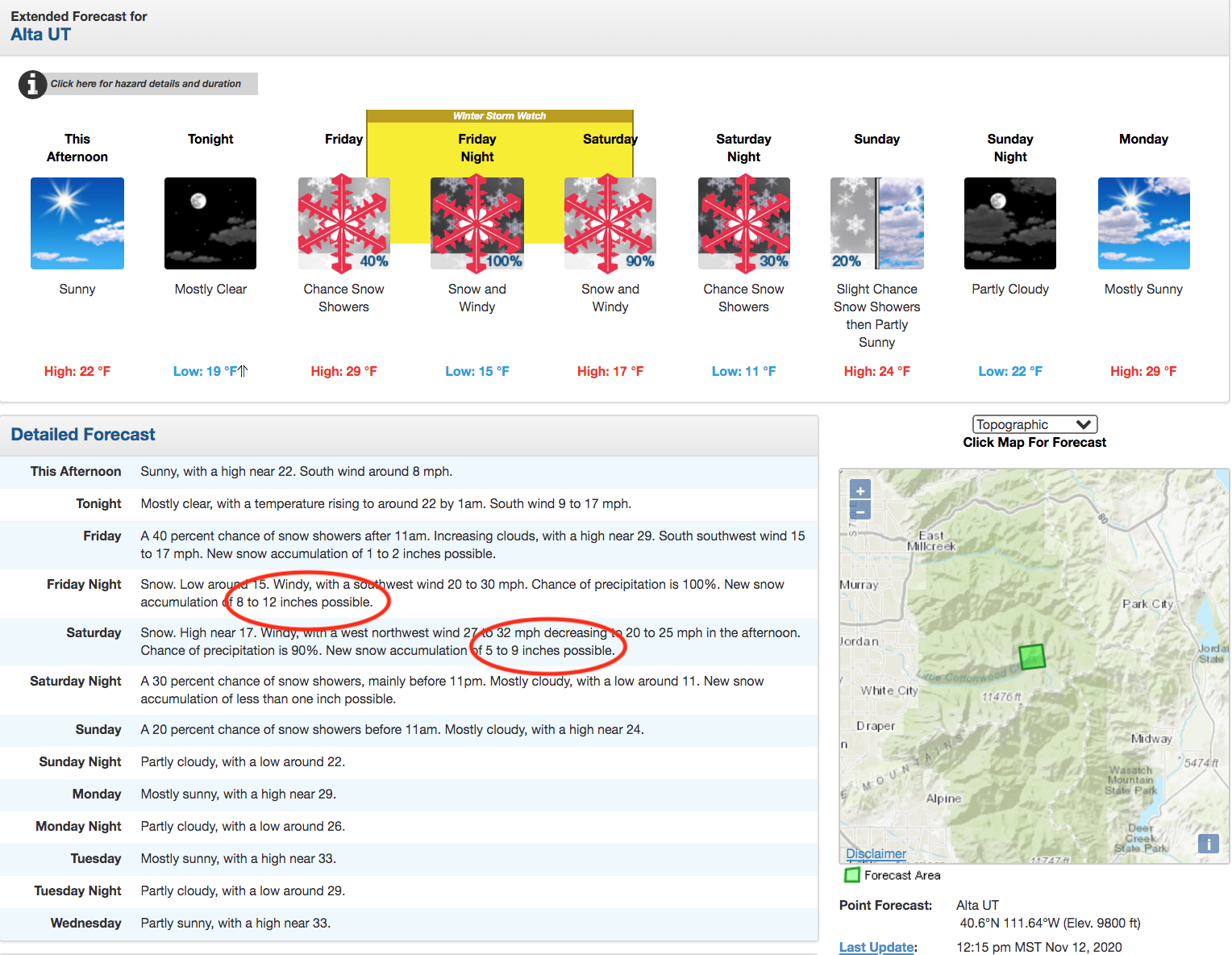 1-2 FEET of snow is expected to fall along the Wasatch Mountains of Utah over the weekend as a very potent and wet storm will slam into the range.
High amounts of moisture will be transported from the Pacific due to a strong jet stream aloft.
The initial wave of the storm will start Friday night, as extremely moist air slams into the Wasatch Mountains.
Since the moisture surge is coming from the west and the Wasatch Mountains are oriented north-south, a large area of orographic lifting will take place, enhancing snowfall rates and amounts. 
This will last through Saturday afternoon before a wave of additional moisture slams into the area Sunday.
This will keep the snow falling through Sunday and dissipate early Monday once the system moves out of the area. 
With the anticipation of high snowfall amounts, the National Weather Service has issued a winter storm watch for the Wasatch and western Uintahs, likely to be upgraded to a winter storm warning as the event nears.
Precipitation associated with this storm should end up being fairly
widespread with the exception of the far southern valleys.
Significant snow accumulations are expected in the mountains as well
as some of the higher valleys of northern Utah. The limiting factor
will be how quickly the storm moves through, but given the amount of
moisture that is expected to be in place, precipitation rates could
be significant. Most lower valleys are currently expected to see
only minor accumulations since much of the precipitation should
occur in the form of rain, but depending on precipitation
intensities, can not rule out some localized significant amounts
especially along the Idaho border. The heavy snow in the higher
elevations will be accompanied by gusty winds, so blowing snow will
be an added threat to the wintry conditions. A Winter Storm Watch
remains in effect for the mountains of northern Utah.
-NWS Salt Lake City 11/12/2020
Long-Term Forecast:
Monday-Thursday:
Heading into next week, conditions will clear out as high pressure builds over the region. 
This will allow for temperatures to warm and the sun to shine.
Extended Forecast:
Thursday and Beyond:
At the moment, it looks like the global ensembles want to keep active weather going over the western US.
However, there still is uncertainty with where the trough axis will be located.
Because of this, NOAA has given Utah equal chances of above-average and below-average precipitation in the 6-10 day outlook.