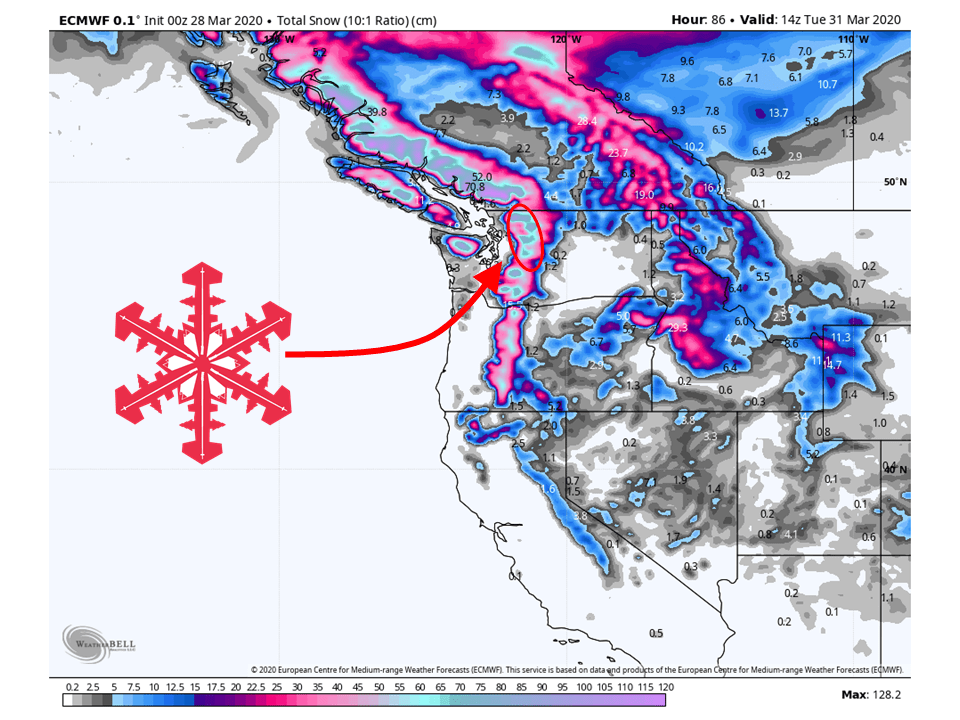 Forecast By Eric McNamee 3/28/2020 3:20 PM
Note:  We are not encouraging skiing and riding at this time.  These snow forecasts are created so that our friends in mountain communities know when challenging weather is headed their way.
Summary:
A steady moist westerly flow will allow for 1-3 FEET of snow to fall in portions of the northern Cascades by Wednesday.
A trough will slowly dig down the coast of B.C. from the Gulf of Alaska.
This will allow for persistent moist westerly flow over the region through Wednesday.
Short-Term:
Saturday-Tuesday:
A trough will dig into the Pacific NW through the weekend, bringing 1-3 FEET of snow in portions of the northern Cascades. 
This trough is currently located over the Gulf of Alaska and will slowly dig down the coast of B.C.
As it does so, a constant moist flow out of the west will allow for persistent snow to accumulate over the higher terrain.
Snowfall rates will relatively be on the lighter side until we get into Sunday night and Monday morning when the main cold front associated with this trough moves through the region.
Snow will be heaviest during this time, with snowfall rates around 1″ per hour so don't be surprised if the National Weather Service issues some sort of winter weather advisory or warning.
Snowfall rates will taper off getting into Tuesday with mostly scattered showers.
Snow levels will drop to 2200-3000 feet on Monday and snowfall rates may increase
to around 1 inch per hour at times, particularly Monday morning.
It seems likely that winter weather highlights will be needed for
this event as impacts will be possible across the mountain passes.
Conditions will begin to improve Tuesday, with precipitation
tapering off through the day.
-NWS Seattle 3/28/2020
Avalanche Forecast:
Due to COVID-19, the Northwest Avalanche Center has suspended all forecast operations during the outbreak. 
However, with new snow coming to the region, avalanche conditions will likely be heightened during the forecast period so please make sure to use caution and listen to local officials.
Long-Term:
Wednesday-Friday:
As the trough exits the region, snowfall should come to an end Wednesday night.
There will be a break in the action Thursday before another system moves into the region Friday.
It's too far out to know snowfall amounts, but the Cascades look like they will see another shot of snow heading into next weekend.