This article was written by Will Thomas 
One of the key challenges of "extreme" skiing is explaining it to the uninitiated especially when you yourself are the uninitiated. With the influx of new backcountry users, the situation is fraught. Thousands of unsuspecting people have exchanged hard-earned dollars for sparkling new touring gear, and, even with a litany of hashtags, will be unable to tell their friends how truly rad they are.
Fear not. After I advised a local looking for powder stashes to consider substituting 50-degree slopes above cliffs, Snowbrains asked me to share some personal insights on steeper lines in the Central Wasatch. Andrew Mclean wrote a life-changing book on this subject, but you get me instead.
So here are a few hard-won tips to spice up your stories for the coming season—Covid be damned.
**Learn more about author of "The Chuting Gallery" Andrew McLean**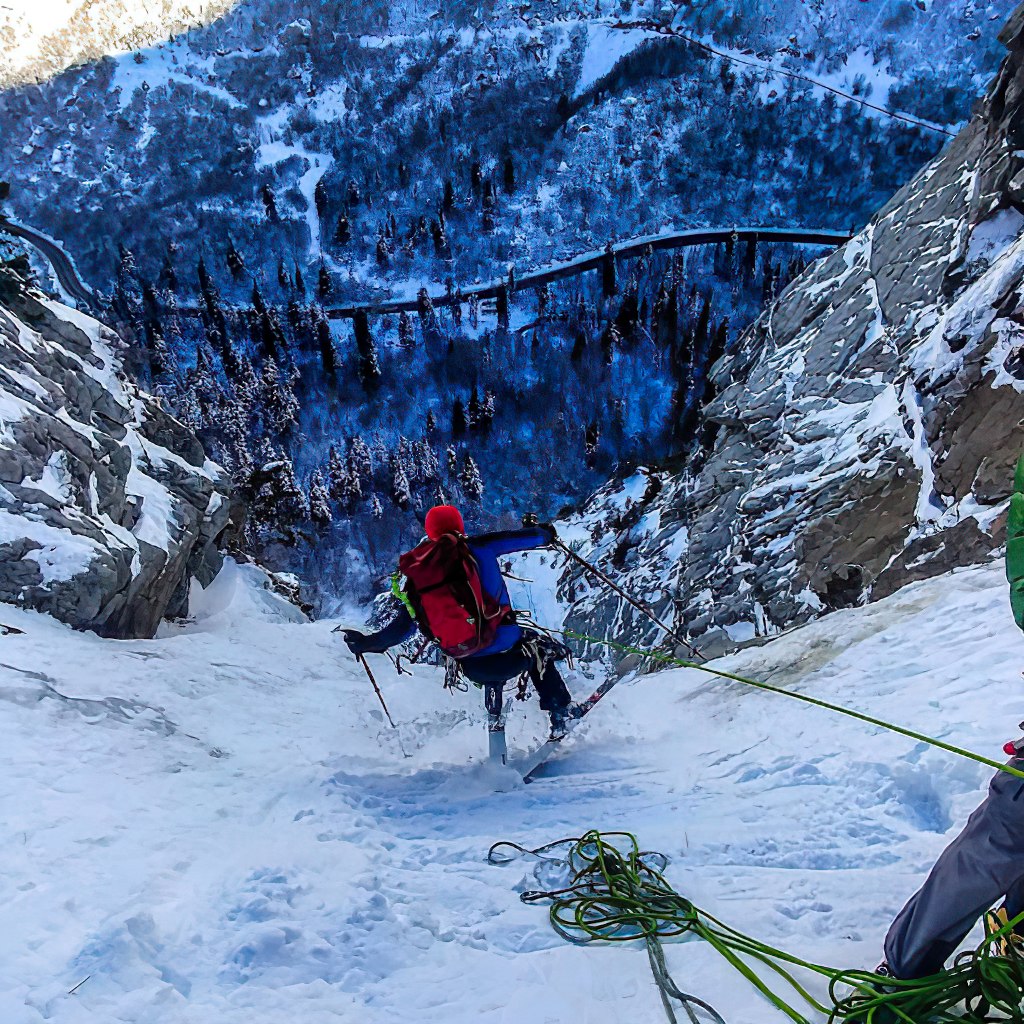 #1 – Bring an Ice Tool: GWI
Ice axes are for children. With newly minted grandmothers carrying whippets around the Wasatch to pull through the late-season cornice in Suicide Chute, you need a handle on your tool to truly stand out.
The Great White Icicle is a moderate four-pitch ice climb and immoderate ski descent with the primary hazard being pissed off ice climbers armed with lethal weapons. We started up at 3 am on a weekday, had ideal conditions, and still got chewed out by climbing teams who had undoubtedly done the route a dozen times before. I'm not fully innocent as we did make them wait for an hour while showering the Superbowl ledge with debris. The takeaway is that if you always pack an ice tool you never have an excuse not to look hardcore or to lose an argument in the backcountry.
#2 – Use a Rope: The Ribbon 
Some people say that love is the answer. I prefer belayed ski cuts. When you get a slab to pop while on hip belay, you feel like a badass without your former partners needing to help your fiance update her tinder profile after a "tragic" accident.
A less esoteric use of ropes is preventing you from falling off a cliff. The Ribbon is a perfect line for the rope-curious novice skier because you don't even have to make a turn (and it's technically inbounds). You literally sidestep and push yourself along while plugging trad gear worried that at any moment you could slip off a 600-foot cliff, cut your rope, and die. My buddy Ryan absolutely crushed it dry skiing an 18-inch ledge while I was a nervous wreck. Luckily, he got his comeuppance three hours later in the DC Couloir when his ski snapped on the first turn and, after doing two barrel rolls, barely self arrested above a cliff. Don't worry, SkimoCo hooked him up with a full warranty.
#3 – Take Time Off: Lightning Bolt
Work is a form of injury. The beauty of self-deception and remembrance of things past is that if you don't ski for a month before jumping into a no-fall couloir, it immediately adds five degrees to the line. I had been desk-bound for three weeks before the Lightning Bolt and turn for turn it felt like the steepest thing I've ever skied. This is a tool anyone can use. But Chris Collins sent the cliff in a TGR film, so there is empirical evidence that you don't actually have to go through the effort of making turns. As an aside, you're only going to fall 20-30 vertical feet during the sketchy traverse section; so I'd encourage anyone with pedal hop skills to give the line a shot.
#4 – Ski a Rock Climb: Medusa
As winter descends upon the valley, a few feet of sugar snow and melt-freeze crusts collect atop Salt Lake's most accessible scramble. We skied this line without a rope and it was absolutely terrifying because light surface crust breaking over powder sounded uncannily like an avalanche letting loose on every turn. Add in some quartzite and shrubs hidden beneath the surface (plus the fact that I couldn't figure out why the snow was so sticky on the first couple turns because I forgot to remove one skin) and it felt like a war zone with Olympus Cove beneath our tips. But let's be honest, the real reason you ski Medusa (other than checking a line in the book) is to take someone up the West Slabs in the summer and casually drop that you skied it 500 feet off the deck. This makes up for the times when you realize you're 100% slower than the FKT or dry heaving trying to keep up with your ultrarunner friends linking it to the Wildcat traverse.
Side note: West Slabs to Apollo is the ultimate spring morning. If you time it right you can pass tourists who paid UMA $300 to take them up a mixed mountaineering snow gully to multi-pitch rock climb as you solo past in running shoes with skis on your back. Hang loose, Tyson Bradley.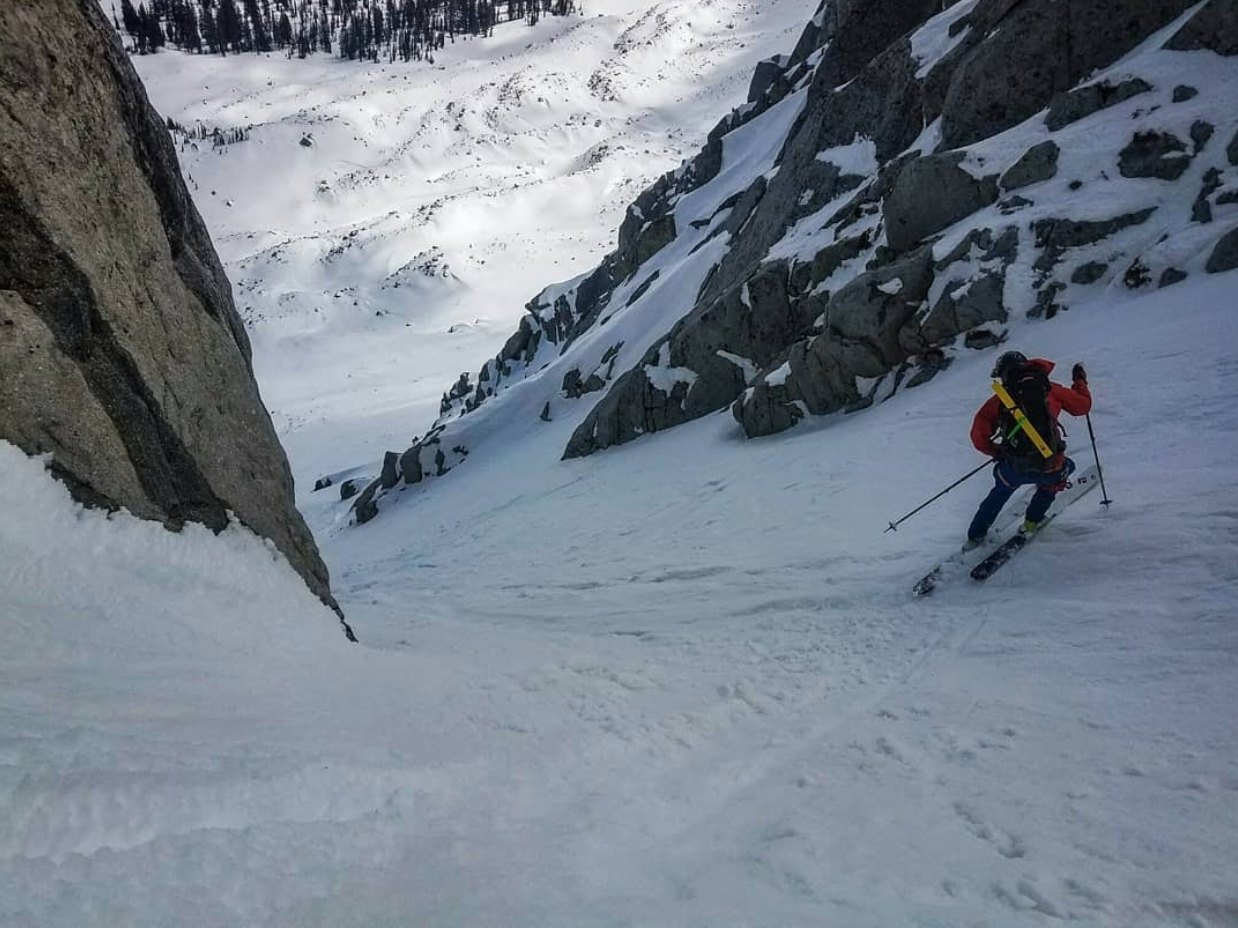 #5 – Add Vert: NE Lone
Always say "k." We live in an orographically blessed range where we measure adventure in thousands of vertical feet. I once failed to explain this to a midwestern transplant heading up Broads Fork and it took him five miles into our 3k day to grasp the appropriate dimension.
The NE Couloir of Lone Peak is a 6k day and one of the most sustained steep shots in the Central Wasatch. Add in variable snow conditions, an exit cliff, and an opportunity to rappel in off the main summit, and you have an extraordinary aesthetic experience on tap. You're looking down a gun barrel with everything on the line and you just need to launch into the air and trust that your skis will catch. But once the magic's over, you are squarely situated in Upper Bells and have to figure out an exit. Tired legs most certainly equal steeper turns.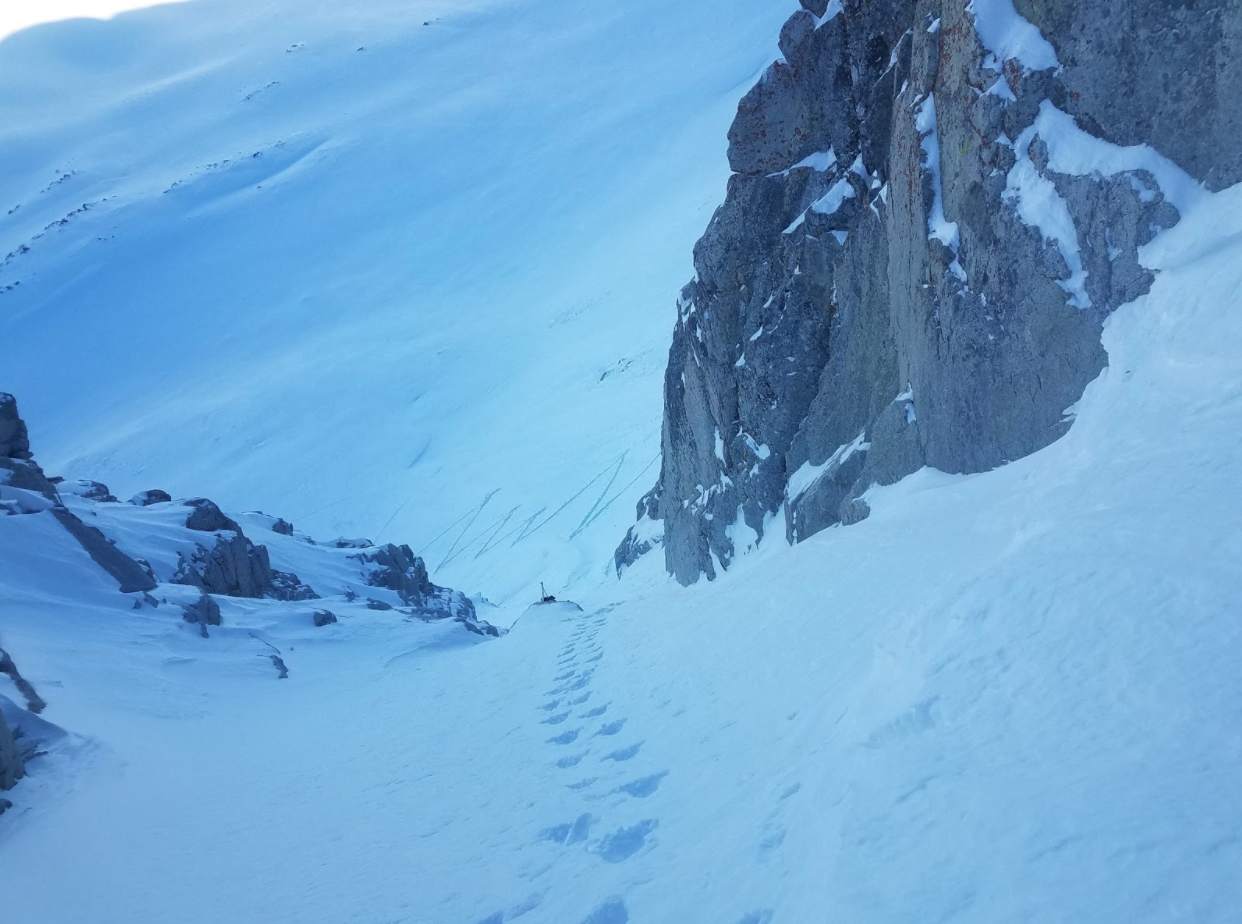 #6 – Count the Crown Line: Snapdragon
This may be splitting hairs especially if the slide broke out mid-chute, but going up a line that has recently avalanched adds a certain ambiance to a tour. We set out from White Pine with all the gear to do Montgomery in January, but got scared by the view at Small Pass and convinced ourselves it wasn't filled in (wrong angle, idiots). So Logan and I ended up linking Ivory Chute with Snapdragon while carrying 30 lbs of training weight (pitons, pickets, double 60s, the whole ski mountaineering shebang). When we got to the far reaches of Hogum, Snapdragon had clearly slid the day before with a four-foot crown a third of the way up the chute.
Luckily, the commitment heuristic was strong in us that day. "Dude, I'm so glad it mostly slid because I don't want to come back here again. Let's just pay attention to how the snow sounds as we boot, but we're definitely going to the top." Say what you want about our decision making, the indisputable fact is that if you make an airplane turn off an avalanche crown and drop a few feet, you have definitely increased the steepness of the line. (Sorry Zinnia. I appreciated your patient instruction during Avy 2.)
#7- Talk about it (ideally mid-line): Thunderstruck
The moment I crossed over into unassailable douchebaggery (some would say it happened decades earlier) was when I started cavalierly throwing around the phrase 50 degrees. Especially when you're talking with someone who just started skiing that winter that you invited to do Thunderstruck as a dawn patrol for their first Chuting Gallery line.
I dropped first into six inches of powder on an ice crust. After a few turns, I stopped and shouted back, "This isn't bad, it feels well under 50. And I'm not even adjusting for the ice." The reason I didn't need to adjust for the ice is that I was still skiing powder as I sloughed out the entire chute leaving them with an "only 48-degree" ice crust.
After they safely hacked their way down, we proceeded to slice a traverse line across the heart of Cardiac Bowl to the bane of powder skiers everywhere. We additionally triggered two separate ski pre-release incidents that ran for hundreds of feet on an identical ice crust during the exit down Superior. The ice may have helped, but I firmly believe that my talking about slope angle was key to increasing the steepness of our lines that morning. Stay quiet at your own peril.
#8 – Put a Cliff in It: NE Pfeiff
You can always sidestep with an ice ax, but is that really skiing? The inner battle of choosing whether or not to turn makes adding a cliff worth a few degrees to any adventure line.
The ramp on NE Pfeifferhorn is an intense place. If there wasn't a cliff, it'd be an ordinary 52-degree slope, but that's the point. After making one turn to propitiate the ski gods, I pulled out my ax and started stepping down. Unfortunately, I was facing the wrong way and, as I neared the edge of a 150-foot cliff, realized just how tenuous ski edges sticking on a thin steep slope truly are. When you lose self-belief, think about falling, or ask "wtf am I doing here?", the margin disappears and it's hard to get it back. Luckily, I have partners who stepped up to the plate and got us to the anchor.
But the fear dissipates once you hit the ground, and most people find the entire idea outrageous, which makes cliffs an ideal steepifying mechanism. When you rap out to your adoring fans in Maybird who opened their iPhones to film your likely demise, it's a glorious thing.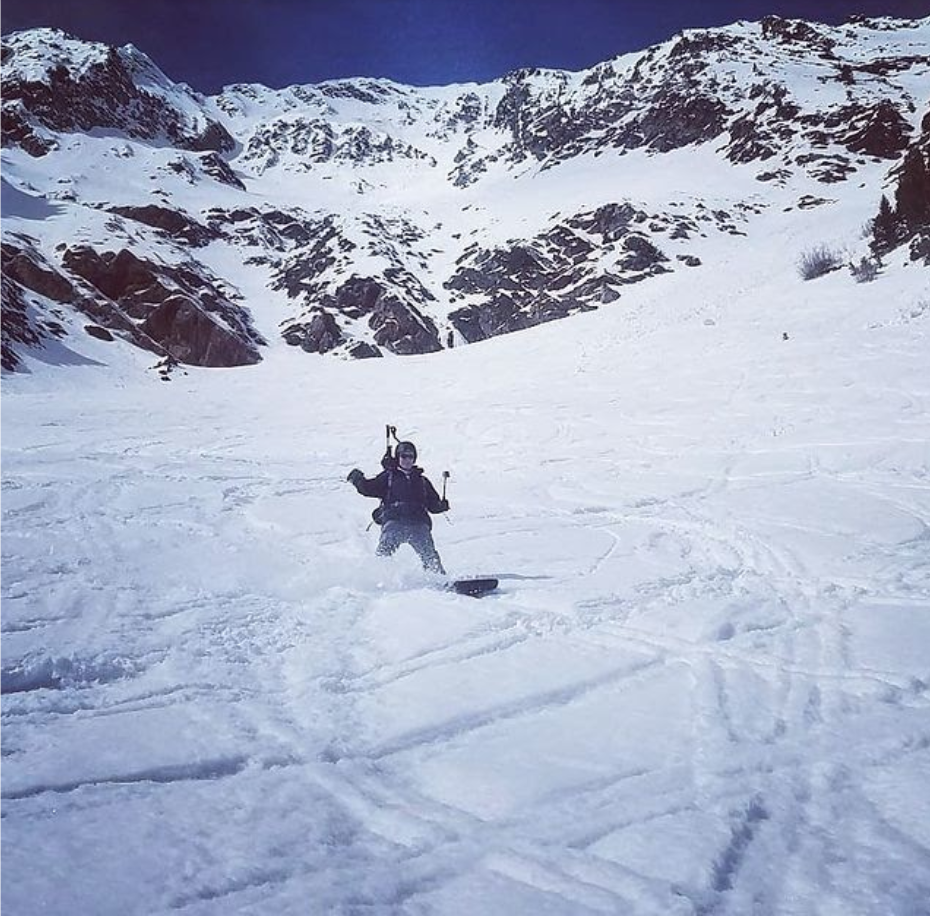 #9 – Ski it Naked: Superior
I make sure to ski a serious line naked at least once a season. From hip checking bare skin one February in Terminal Cancer while wearing two different boots in front of my future CEO to convincing a crew of 70-year-olds to party ski the Hotlum Glacier on Shasta in the buff, it's become an entrenched tradition.
Skiing Superior naked can be a challenge due to summit crowding. I announced what's about to go down to the crowd then attached an avy beacon and full hinge post-ACL knee brace before dropping in (was I truly naked is a question for philosophers). As we all know, the key fear while skiing naked is eating it at high speeds. But after getting a pep talk from FDR, I accepted the challenge, started charging through the mid-day glop, and ended up in a cackling faceplant with all parts intact. No photos are available as selfing while skiing a 50 Classic naked is the ultimate form of solipsism.
Bonus Points: Call it from the Tram
The first time I skied Superior (clothed) I was so self-impressed that I did a public call-out on the Tram, then made the girl I was with traverse out to Mach Schnell to bask in the glory. "Do you see those tracks?" Because obviously, I was the only person who skied one of the most popular lines in the Wasatch that morning. Hold on to this card for when you truly need it.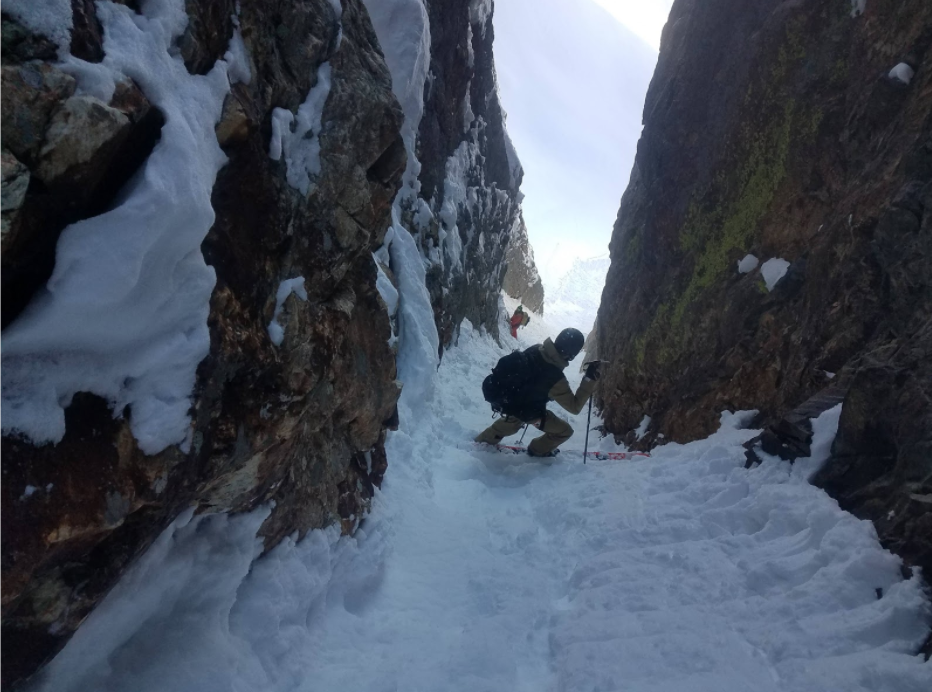 #10 – Make it Tight: Heart of Darkness
The only time I've been caught in an avalanche was heading down the ridge from Monte Cristo to HOD through #manageablewindslab. I immediately dropped that hashtag but it took 2 more years to get back to the top of the line.
The Heart of Darkness starts with a short rappel, which becomes a guessing game as to where you can come off based on your ski length due to the couloir walls being so close together. Once you've transitioned you begin awkwardly scraping your skis on rock before announcing you are going to make a turn, jumping into the air and slamming your tips into the opposite wall. Rinse and repeat 10 times and you're in the apron.
While this may not seem like fun (we were expecting to hit the line in 3 feet of blower with pretensions of pointing it), you can always say that the steepest part was where you clicked in and blame it on the size of your rad high-performance setup. No one's going to question how steep it felt if you never made a turn.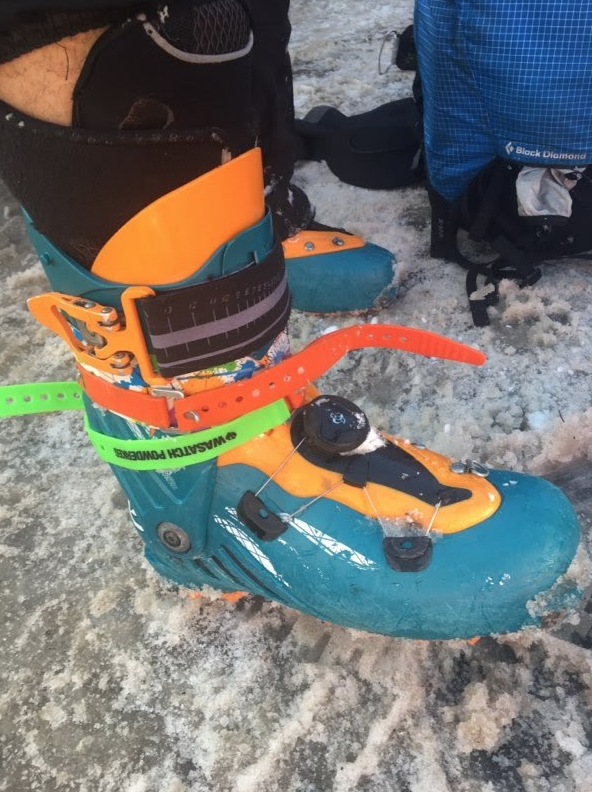 #11 – Break a Boot: Wolverine Cirque
I've never gotten through a full season without catastrophically breaking at least two critical items (boots, skis, or bindings). Luckily outdoor brands have fairly generous warranties, although you have to thread the needle with the stories you tell the employees (this guy's rad I'll send him new dynafits vs. that's cool but cracking your sidewall while downclimbing a cliff band with your skis on is clearly user error).
I broke my boot shell on a failed attempt to dry ski Scratch N Sniff in low tide. After coming in facing the wrong way and realizing I wasn't a good enough skier to send the sharks and breakable crust below, I refused to remove my skis or rappel. Instead, I got stuck assing over a rock and had to ask for a belay hoping that the friction of my pants was going to hold until the rope arrived.
After unexpectedly cutting out a small slab on exit, my boot started feeling loose. Likely because there was a three-inch diamond-shaped crack in the shell from the prior shenanigans. But I only had three more lines to finish the Cirque and was not planning to come back that season. The only two repair items I carry are Voile Straps and duct tape. Problem solved. They really did ski better and worked well in the bootpack.
While a broken boot does add difficulty to a ski descent, the moral is that when in doubt, just keep ticking. Experience is temporary but checkmarks in an 11-dollar paperback last forever.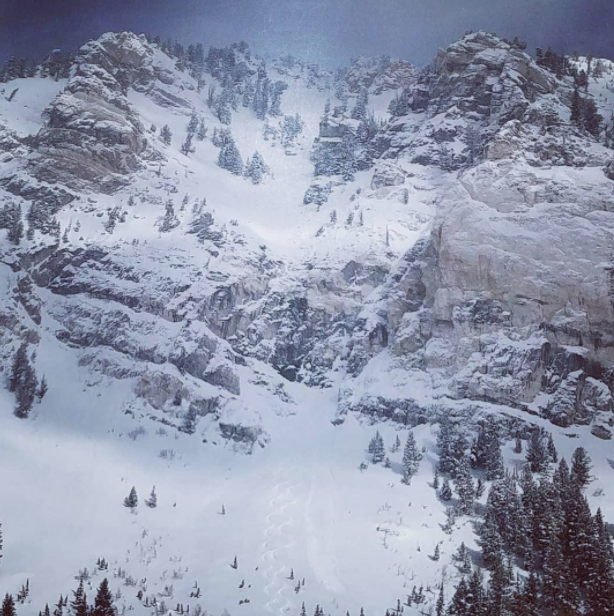 #12 – Do it Roadside: Hellgate
Everything looks steeper from U-210. Only 15 thousand years ago, a tidewater glacier poured out of Little Cottonwood into Lake Bonneville. Fortunately, global warming started in earnest, and ore seeking miners swiss cheesed the canyon so we could complain about UDOT and recreate along the most avalanche-prone road in North America.
We dropped into Hellgate in knee-deep powder with enough rope for a 330-foot rappel. I luxuriated in the ridiculousness of it all and how sweet we were going to look bounding down the rock face on rappel. Then my prusik stopped working 150 feet off the deck. I'm sure someone is still praying at Our Lady of The Snows to make up for my explicit cross canyon communication.
On a broader note, our roadside access in the Cottonwoods is an insane gift. One I've repaid by repeatedly pointing out all the avalanche paths I've shredded in thigh-deep powder as terrified passengers ask me to stop swerving into downcanyon traffic. It's all for naught though with the ego-shattering realization that someone skiing the line with a speedwing is so much cooler than you.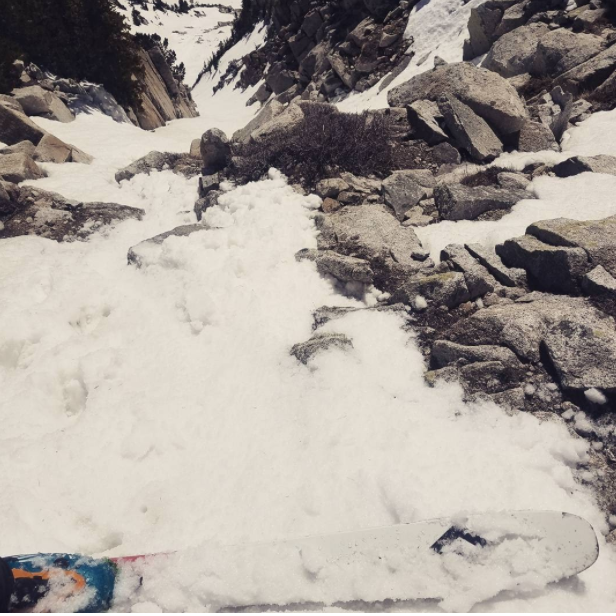 #13 – Extend the Season: Hypodermic Needle
Why was I dry skiing the Needle solo on Memorial Day weekend? What ethical compulsion caused me to keep my skis on through that much granite at the top? I had almost gotten washed down little cottonwood creek at the start of the day after trying to use a pulley line to cross in the dark. There was no one else in Hogum Fork.
Lines fill in. Pow turns to corn and ablates or melts to rock. But people who ski couloirs in June know that as lines melt out, the entrances often get steeper and run-outs more delicate. Even though it's the same line, the last person to ski it is often in some sense the most extreme. As this article is ultimately about the arbitrage of ethereal degrees, I'd be remiss not to recommend skiing long after the resorts close.
Case in point: "I mean sure you launched in with a double backflip in March, but that was pow. Have you seen it late season? I plugged my ice ax and barely had enough balance to read the inclinometer. Way more gnarly."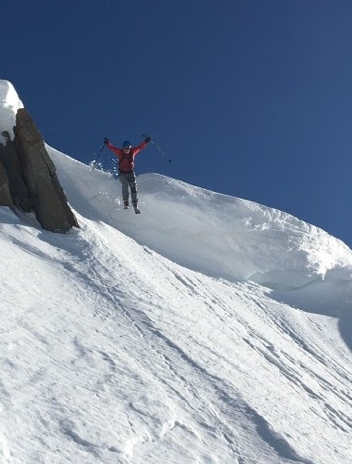 #14 – Huck: Anywhere
Unnecessarily jumping off things hoping to be reincarnated as Angel Collinson is my preferred approach to the art of the steep. I'm not sure what the proper technique is for airing into a slushy chute on an April afternoon with double whippets, but I know it doesn't look like that.
The beauty of going out with someone you've rarely skied with is that by showing the true colors of your depravity, you create a strong selection filter for future backcountry partnerships. When instead of just skiing in, you explain that you are going to drop a cornice into a ski cut at the top of a rock-filled chute and need your partner on a sub ridge to avoid/photograph the resulting slough/ragdoll—this is a clear warning sign. The fact that Jess still skis with me is a ringing endorsement (or indictment) of her character.
Remember anyone can jump into powder. Risking life and limb is a surefire way to add a few degrees to every run.
I hope you've enjoyed this attempt to demystify the art of making steep skiing steeper. It really is all in your head. Stay sendy out there.