Two young women froze to death while on a mountain tour in the Italian Alps "after wearing the wrong clothing," local media is reporting.
Martina Sviluppo, 29, and Paola Viscardi, 28, were climbing on the Vincent Pyramid mountain, part of the Monte Rosa Massif, in the eastern part of the Pennine Alps, Italy.
The women and a male friend, Valerio Zolla, 27, reached the summit on Saturday but got lost during their descent. Mist from low-lying clouds limited visibility, and while they were trying to find their way, strong winds blew a storm in.
The group was able to contact a rescue center in nearby Aosta but was unable to provide their exact location. A rescue helicopter was scrambled, but the storm prevented further communication and prevented the helicopter from making any landings.
Rescuers on foot eventually reached the group. One of the women had already passed away, and despite attempts to revive the other at a nearby hut, she too sadly passed away.
Zolla survived but suffered hypothermia and frostbite and was taken to the hospital for treatment.
The group had set out despite weather forecast warnings. Rescuers said the group was well equipped for being in the mountains during normal weather conditions but was unprepared for wintry weather and potentially spending a night on the mountain.
The temperature on the mountain dropped to 25ºF (-4ºC), but due to wind chill would have felt closer to 5ºF (-15ºC).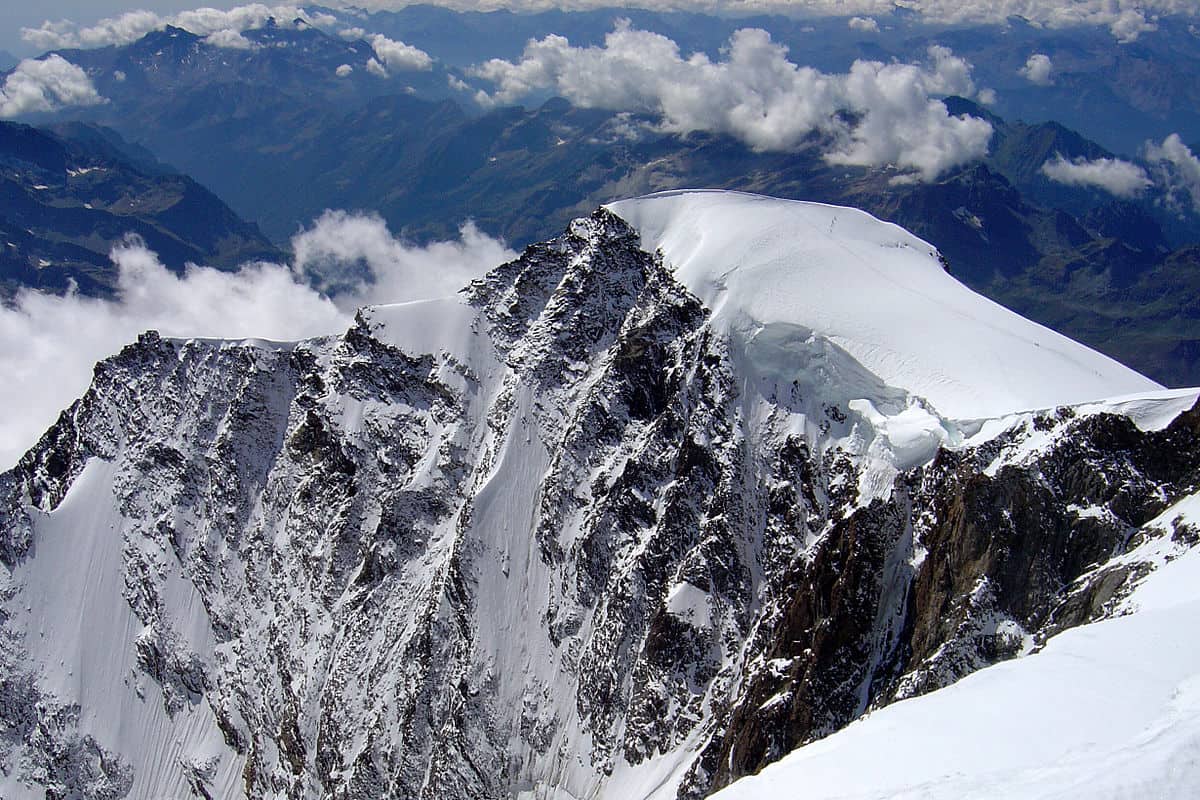 The Vincent Pyramid (4,215 m (13,829 ft)) is a mountain of the Pennine Alps, located on the border between the Italian regions of Aosta Valley and Piedmont. The Vincent Pyramid makes up a large buttress of the huge multi-summited Monte Rosa. It lies south of the Ludwigshöhe on the border with Switzerland, between the Lysgletscher and the Piode Glacier. A seconday summit of the Vincent Pyramid, the Punta Giordani/Giordanispétz (4,046 m (13,274 ft)), lies to the southeast. Both Vincent Pyramid and Punta Giordani are on the official UIAA list of Alpine four-thousanders.
The Vincent Pyramid summit was successfully climbed on 15 August 1819 by the brothers Nicolas (Johann Nikolaus) and Joseph Vincent from Gressoney-Saint-Jean, after whom the peak has been named.
It is one of the few peaks on Monte Rosa to lie entirely within Italian territory and is the fourth highest peak, completely in Italy. It is normally ascended from the Gnifetti Hut at the foot of the Lys Glacier and is rated as PD (Peu Difficile); a straightforward introduction to alpine climbing and often ascended in conjunction with another peak on Monte Rosa.