This summer, I was in search of a new touring ski. My previous setup was a pair of Elan Ripstick 106s mounted with Salomon Shifts. They worked great for what I wanted them to do: a 50/50 resort/backcountry setup. But this year, I was looking to go lighter. The brand new DPS Pagoda (the predecessor to their extremely popular Wailer ski) jumped out, and I pulled the trigger and bought it. After extensive time on the ski, below is my full review.
Reviewer Stats:
Name: Clay Malott
Days skied on the 2021 DPS Pagoda: 25
Height: 6'3″
Weight: 160lbs
Skiing Level:  Expert
Boots // bindings used: Scarpa Maestrale XT, Scarpa F1 // G3 Zed 12
Ski construction:
The Pagoda Tour features a carbon laminate with a combination of ash and paulownia woods and a purpose-built aerospace grade foam. All of these come together to decrease weight while increasing stability and performance. Another thing that DPS has ingeniously implemented into the ski is a new way to laminate materials within the ski. By running damping materials horizontally across the ski rather than vertically, they were able to increase the stability and dampness of the ski without influencing the weight at all. The Pagoda features cutting edge construction that maximizes performance while minimizing weight.
What I like:
First and foremost, I love the weight. Backcountry skiers seem to be ever inching towards lighter and lighter gear, and I am no exception. Compared to my old, heavier setup, these skis absolutely fly up the skintrack. Weighing just 1480g/ski in the 180cm length, these skis are definitely on the lower end of backcountry ski weights. At the end of the day, lighter skis on the up means more energy, more laps, and more fun.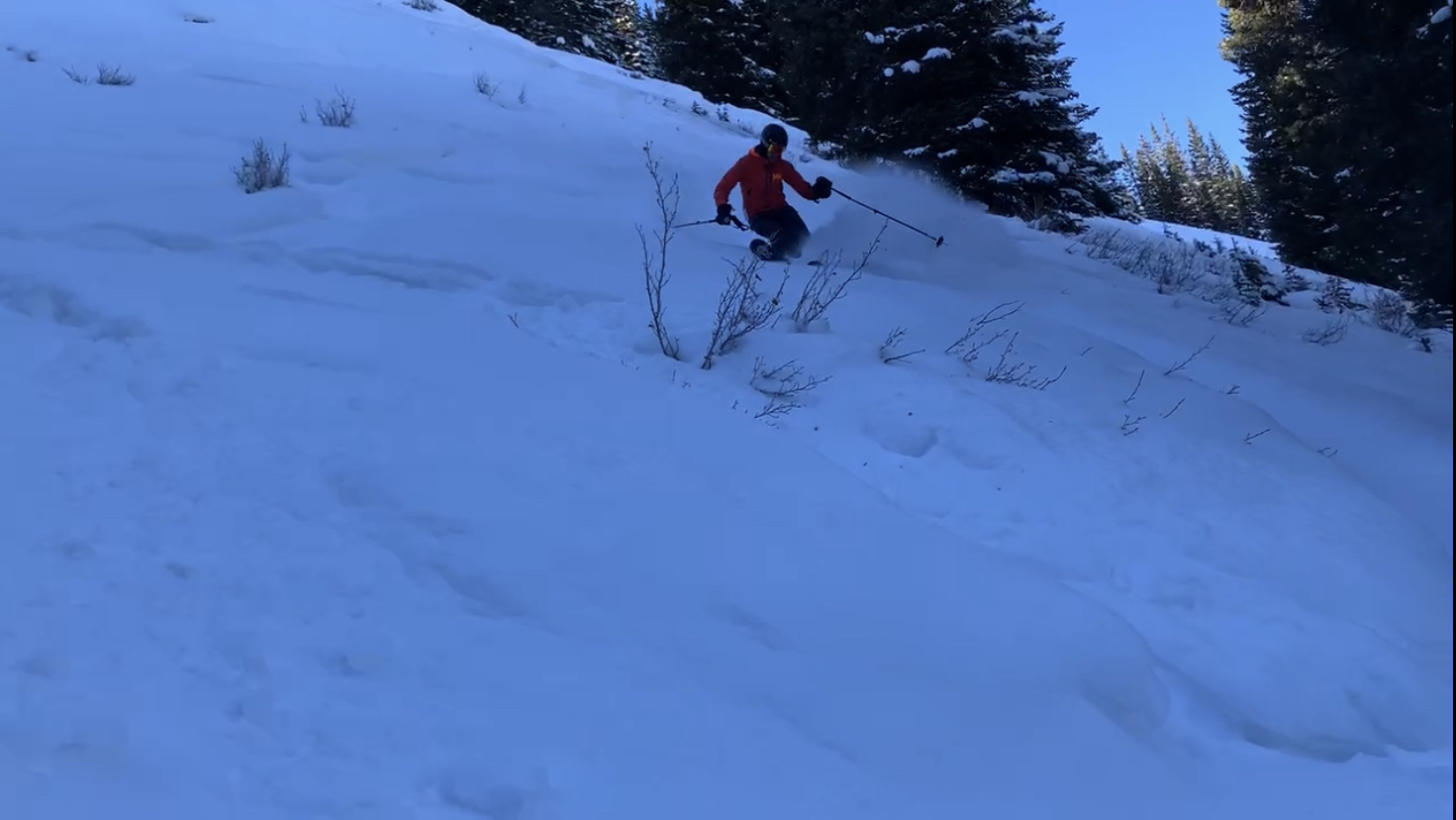 Another thing that I was really surprised by with the Pagodas was their dampness on hard snow. In September, October, November, and early December, I skied a bunch of days on the Pagodas on some pretty crummy snow. From skiing rock hard couloirs in the fall to skiing icy man-made snow in the early season, I can firmly say that these skis performed very well in bad snow considering their weight. On other ultralight skis I've used, the shakiness and instability of the ski have always been at the forefront of my mind; with the Pagodas, it's the last thing I have to worry about. The Pagodas are stable and chatter-free, exactly what I want in a ski that I will be touring with in the backcountry, where any snow conditions are possible.
Another thing that I like about the Pagodas is the stiffness. They're just right – not too stiff that they're hard to muscle around in tight trees and chutes, but not too soft that they don't ski well. They're easy to turn in tight terrain, and forgiving at speed.
What I don't like:
In all honesty, there isn't a ton about this ski that I dislike. However, the one thing that comes to mind is the ski getting pushed around in variable snow. A few days after storms, once I was skiing tracked powder, I did notice the ski getting pushed around, just because it doesn't have the necessary mass to crush through crud like heavier skis. It takes more active leg absorption to ski tricky snow with these, but not to the point where I would not recommend these skis. Everything in backcountry skiing has to compromise in some way, and I am very grateful for the dampness and weight! This is just a minor gripe that takes some getting used to, but overall, after a few days, hardly affected my skiing at all.
The bottom line:
The new DPS Pagoda Tour skis are incredible. They're light and fast on the uphill but are still damp enough on the descent to be enjoyable, unlike many other skis in this weight range. I'd recommend these skis to really anyone looking for a light ski that can go far and fast, but who still cares about downhill performance.