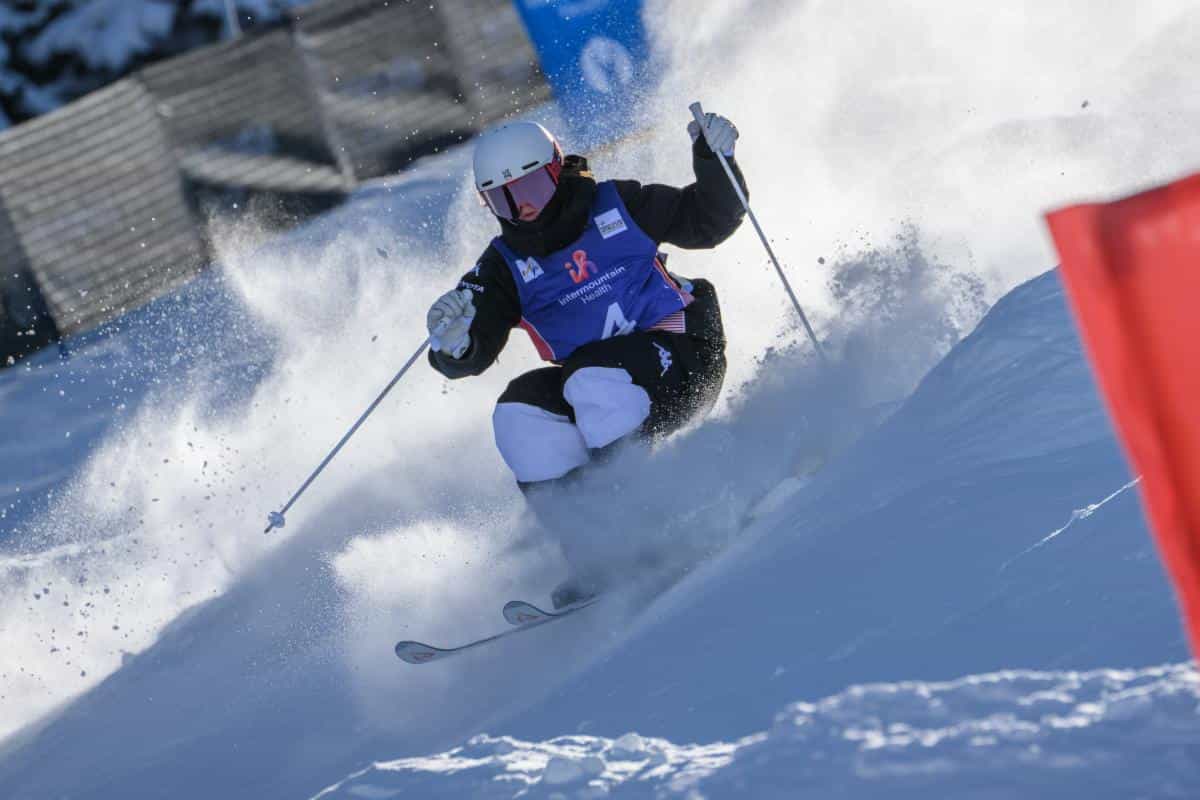 U.S. Ski & Snowboard has announced its Stifel U.S. Freestyle Ski Team nominations for the 2023-24 competition season. Nominations include those active athletes who qualified based on published selection criteria in the prior season. Twenty-nine aerials and moguls athletes have been nominated to the team.
"The 29 athletes nominated to the 2023-24 Stifel U.S. Freestyle Ski Team represent the best in the world at freestyle skiing. We have an awesome mix of accomplished veterans and fresh rookies eager to prove themselves. This crew accomplished a lot last season and I look forward to supporting them to build on the momentum we created. It's an exciting time for American freestyle skiing!"

– Matt Gnoza, U.S. Ski & Snowboard Freestyle Director
The 2023-24 team is highlighted by 2023 World Championships medalists Ashley Caldwell (gold, mixed team aerials), Chris Lillis (gold, mixed team aerials), and Quinn Dehlinger (gold, mixed team aerials; silver, men's aerials), as well as double 2023 World Championship silver medalist Jaelin Kauf (moguls and dual moguls).
The 2023-24 FIS Freestyle World Cup calendar is expected to be confirmed by the International Ski Federation (FIS) later this month but boasts a more robust schedule than the freestyle circuit has seen in years, including two World Cups in the United States: the Intermountain Health Freestyle International at Deer Valley and an additional moguls/dual moguls World Cup.
Each athlete accepting the nomination to the U.S. Ski & Snowboard Team receives world-class program support, along with access to the USANA Center of Excellence, as well as athletic benefits, including elite coaching, sport science, sports medicine, high-performance staff, and education opportunities.
An official Stifel U.S. Freestyle Ski Team announcement will be made in the fall.
2023-24 Stifel U.S. Freestyle Ski Team Nominations
(Hometown; Club; Birthdate)
MOGULS
A TEAM
Women
Olivia Giaccio (Redding, CT; Steamboat Springs Winter Sports Club; 8/15/00)
Tess Johnson (Vail, CO; Ski & Snowboard Club Vail; 6/19/00)
Jaelin Kauf (Alta, WY; Steamboat Springs Winter Sports Club; 9/26/96)
Elizabeth Lemley (Vail, CO; Ski & Snowboard Club Vail; 1/22/2006)
Alli Macuga (Park City, UT; Park City Ski & Snowboard; 9/24/03)
Kai Owens (Vail, CO; Ski & Snowboard Club Vail; 8/16/04)
Hannah Soar (Somers, CT; Killington Mountain School; 6/4/99)
Men
Cole McDonald (Park City, UT; Wasatch Freestyle; 3/6/2003)
Nick Page (Park City, UT; Wasatch Freestyle; 8/1/02)
Dylan Walczyk (Rochester, NY.; Ski & Snowboard Club Vail; 6/25/93)
D TEAM
Women
Kasey Hogg (Park City, UT; Wasatch Freestyle; 1/8/03)
Sami Worthington (Park City, UT; Park City Ski & Snowboard/Wasatch Freestyle; 6/15/04)
Men
Dylan Marcellini (Walnut Creek, CA; Wasatch Freestyle; 9/29/02)
Charlie Mickel (Durango, CO; Durango Winter Sports Club/Wasatch Freestyle; 7/06/04)
Asher Michel (Tabernash, CO; Winter Park Competition Center; 12/09/05)*
Landon Wendler (Steamboat Springs, CO; Steamboat Winter Sports Club; 10/12/00)
AERIALS
A TEAM
Women
Ashley Caldwell (Ashburn, VA; Elite Aerial Development Program; 9/14/93)
Kaila Kuhn (Boyne City, MI; Park City Ski & Snowboard; 4/8/03)
Megan Nick (Shelburne, VT; Elite Aerial Development Program; 7/9/96)
Winter Vinecki (Gaylord, MI; Park City Ski & Snowboard; 12/18/98)
Men
Quinn Dehlinger (Cincinnati, OH; Elite Aerial Development Program; 6/8/02)
Chris Lillis (Pittsford, NY; Bristol Mountain Freestyle Team; 10/4/98)
Justin Schoenefeld (Lawrenceburg, IN; Elite Aerial Development Program; 8/13/98)
D TEAM
Women
Karenna Elliott (Cincinnati, OH; Park City Ski & Snowboard, 5/24/00)
Dani Loeb (Pintlala, AL; Park City Ski & Snowboard; 8/10/01)
Megan Smallhouse (Reno, NV; Park City Ski & Snowboard; 1/16/01)
Tasia Tanner (Park City, UT; Park City Ski & Snowboard; 7/26/02)
Men
Derek Kreuger (Cleveland, OH; Park City Ski & Snowboard; 6/2/03)
Conner Curran (Cincinnati, OH; Park City Ski & Snowboard; 9/23/04)*
*First nomination to the Stifel U.S. Freestyle Ski Team