After living through two unprecedented years with a global pandemic, many people are looking to spend time outside being active with family and friends. In the 2021 Global Buyers Survey, researchers found the amount of Americans who want to purchase a ski house increased from 11% to 18% during 2020. However, it is difficult to commit to purchasing a ski house when the cost of houses in premier resorts can be upwards of $2 million. In Aspen, CO, for example, the median cost for a house is $2,561,961. 
There's no need to panic! The dream of owning your own ski vacation house to escape the hustle and bustle of everyday life is not far out of reach. Many ski towns across the United States offer affordable houses that appeal to the masses. Keep reading to see four awesome ski towns with a median house price of $300,000 or less.
Median home price: $138,000
The Snow Snake Ski and Golf Resort offers a range of amenities that will entertain all ages. In the winter, visitors have access to 16 different runs ranging in difficulty from beginner-advanced. The resort also offers fun and relaxing activities like snow tubing and snowshoe hiking trails. Never skied before? No problem! Snow Snake Resort offers ski and snowboard equipment rentals and lessons for first-time shredders. 
Median home price: $169,000
If you're from the midwest looking for a winter paradise, Paoli, IN may be the answer. Paoli Peaks is the closest ski resort and offers 17 different runs and a variety of chairlifts to entertain skiers, snowboarders, tubers, and snowbladers alike. The resort is a midwesterner's dream offering Epic Mix holder savings, $42 lift tickets for adults, and beautiful views at the peak of the 900-foot private mountain. 
Median home price: $289,000
If you're from the Northeast, Tannersville, NY is located just miles away from Hunter Mountain – a luxurious, large mountain with many amenities to enjoy. 
Some amenities include: 
67 trails to ski

Snow tubing

World-renowned ski and snowboarding school

Parking 

Epic Mix recognized resort

The closest resort to NYC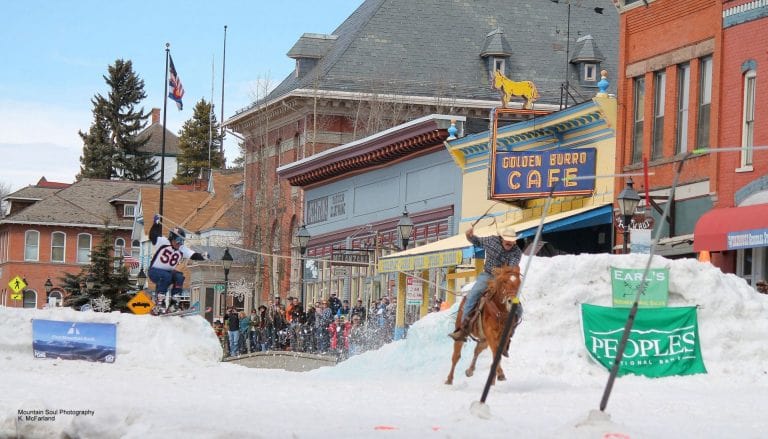 Median home price: $290,800
Not only is Leadville the "highest incorporated city in North America," but the town is also located less than 30 miles away from powerhouse resorts like Vail and Breckenridge. Leadville residents are also located just 10 miles away from Ski Cooper Resort. Ski Cooper is known for its quaintness and massive amounts of snowfall. The resort offers 480 acres to visitors to explore year-round. In the summer, residents can hike, fish, shop, and bike on local trails and lakes. In the winter, the town gets an average of 250 inches of snowfall each season. In the winter, Snow Cooper's hiking and biking trails turn into a powder fantasy for skiers and snowboarders to enjoy.