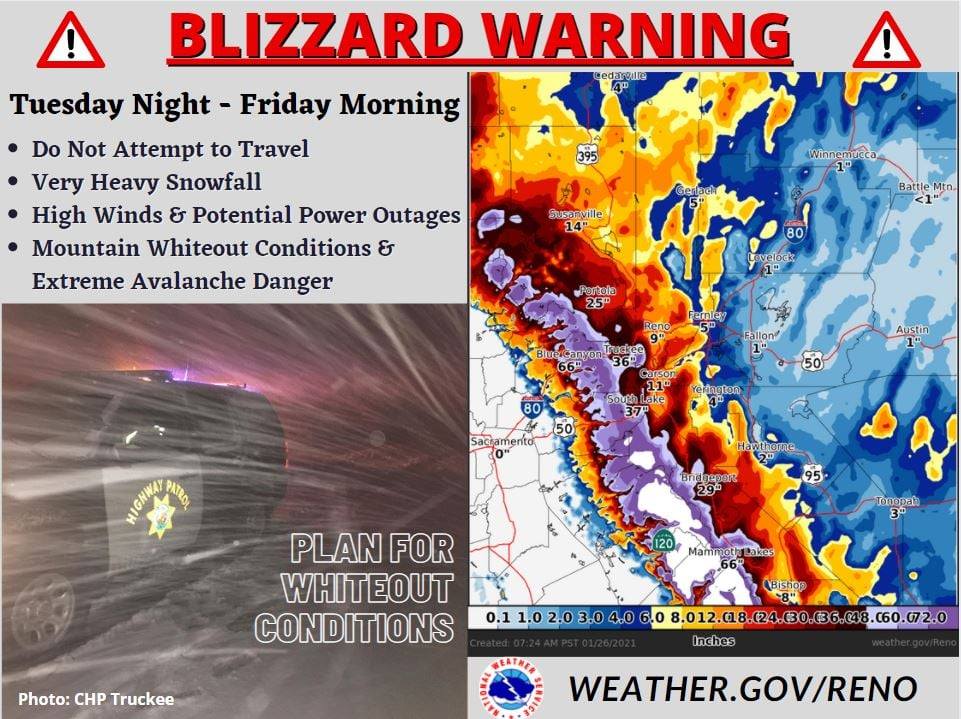 Parts of California are in for one hell of a storm this week. 
A 'Blizzard Warning' has been issued for the Greater Lake Tahoe, CA area from Tuesday night until Friday morning this week. 
That entails almost four straight days of dangerous whiteout conditions for virtually all of the area's roadways and ski areas.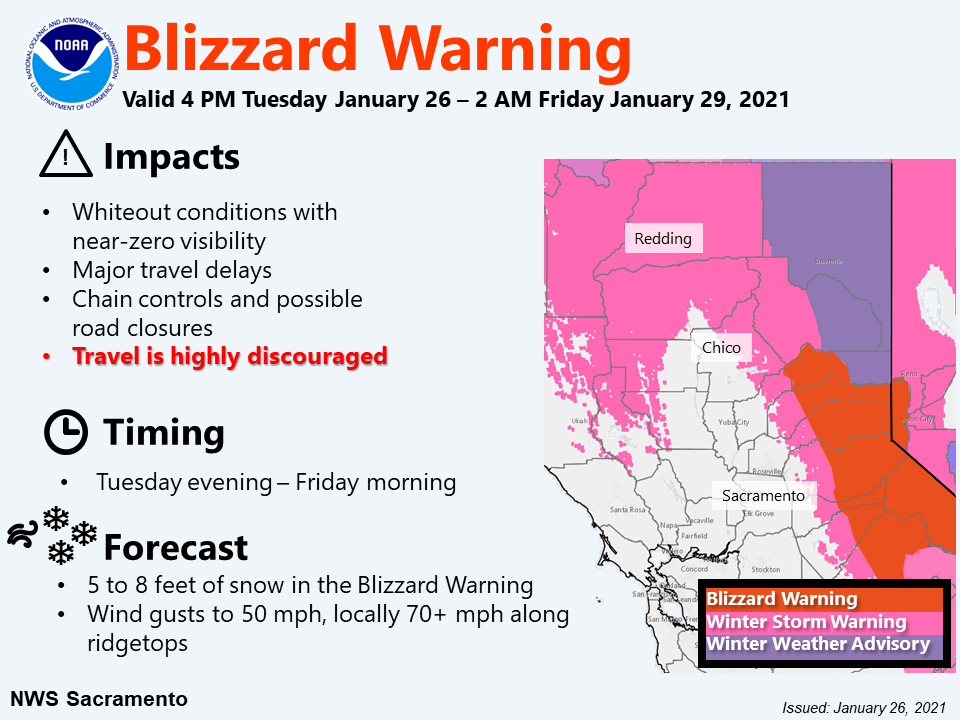 The National Weather Service issued a Blizzard Warning which reads: 
..

BLIZZARD WARNING

 REMAINS IN EFFECT FROM 10 PM THIS EVENING TO
4 AM PST FRIDAY...

* CHANGES...None.

* 

WHAT

...Blizzard conditions expected. Total snow accumulations
  of 2 to 4 feet, except 

3 to 6 feet

 above 7000 feet. Winds
  gusting as high as 50 mph in the lower elevations with over
  100 mph at times over ridges with whiteout conditions.

* 

WHERE.

..Greater Lake Tahoe Area.

* 

WHEN

...From 10 PM this evening to 4 AM PST Friday.

* ADDITIONAL DETAILS...Rough conditions can be expected on Lake
  Tahoe through much of the week. Gusts 30-45 mph with wave
  heights of 

2 to 5 feet

. There may also be periods of
  thundersnow tonight into Wednesday morning.

* IMPACTS...Travel could be near impossible or even paralyzed with
  near zero visibility through Friday morning. Very strong winds
  could cause tree damage and power outages. If you risk travel
  over the Sierra passes, you cloud be stuck in your car for
  several hours, if not a day or more. Cold wind chills as low as
  20 below zero could cause frostbite on exposed skin in as
  little as 30 minutes.

PRECAUTIONARY/PREPAREDNESS ACTIONS...

This is a life threatening situation. Do not attempt to travel!
Road crews and first responders may not be able to rescue you.
Stay indoors until the snow and wind subside. Even a short walk
could be deadly if you become disoriented.