[sponsored by Revelstoke Mountain Resort]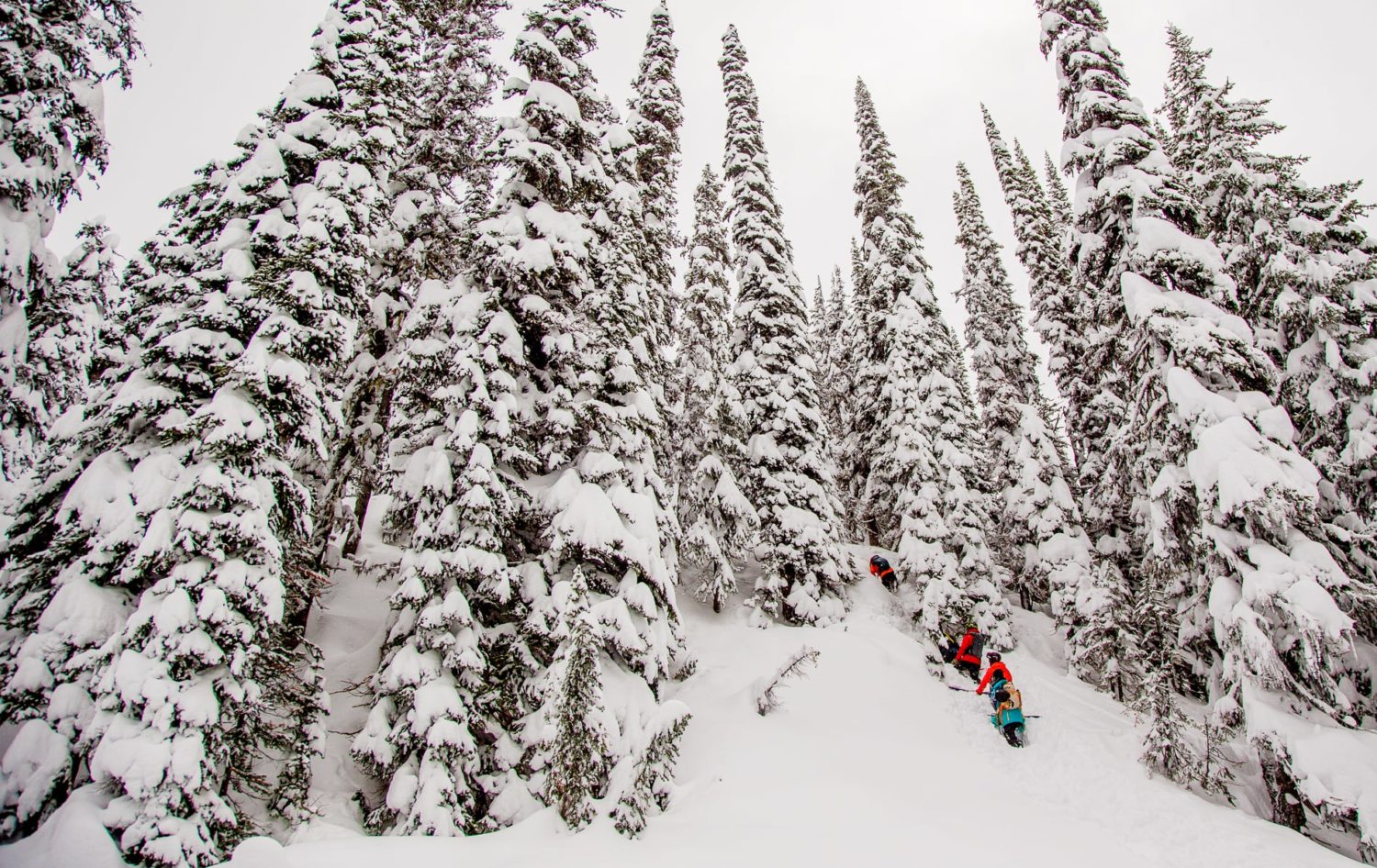 Revelstoke Mountain Resort is one of the snowiest ski destinations in Canada.
Most days (seriously, an average of 141 days of annual snowfall), you can ski pow on just about any run on the mountain. Here are a few spots the locals never pass up on the deepest days:
SWF
All those folks you see showboating under the Stoke Chair on a pow day? Those are Revelstoke's locals. SWF has a perfect mix of cruisy, wide open pow, natural hits, cat tracks and steep sections. Make a little interlude through the terrain park, or hit up the Tasty Glades for total of 632 vertical meters (that's 2,073 feet) of sustained fall line. It's right there under the chair…but not everyone likes to ride the lift line. If you are brave enough to have an audience, you'll be rewarded with pow!
Stihl Life Glades to Cannonball to Aspens
If you are ready for top to bottom glade skiing (literally 1,713m (5,620ft) of tree skiing), you'll want to check out these zones on RMR's South side. Head right off the Stoke chair and you can stay in the trees between Pitch Black and Snow Rodeo all the way until you hit Revelation Lodge! You may be ready to hit a groomer at Cannonball or Wooley Bulley but be sure to duck back into the Aspen Glades a (comparatively) short but sweet, perfectly spaced aspen grove just above the Lodge.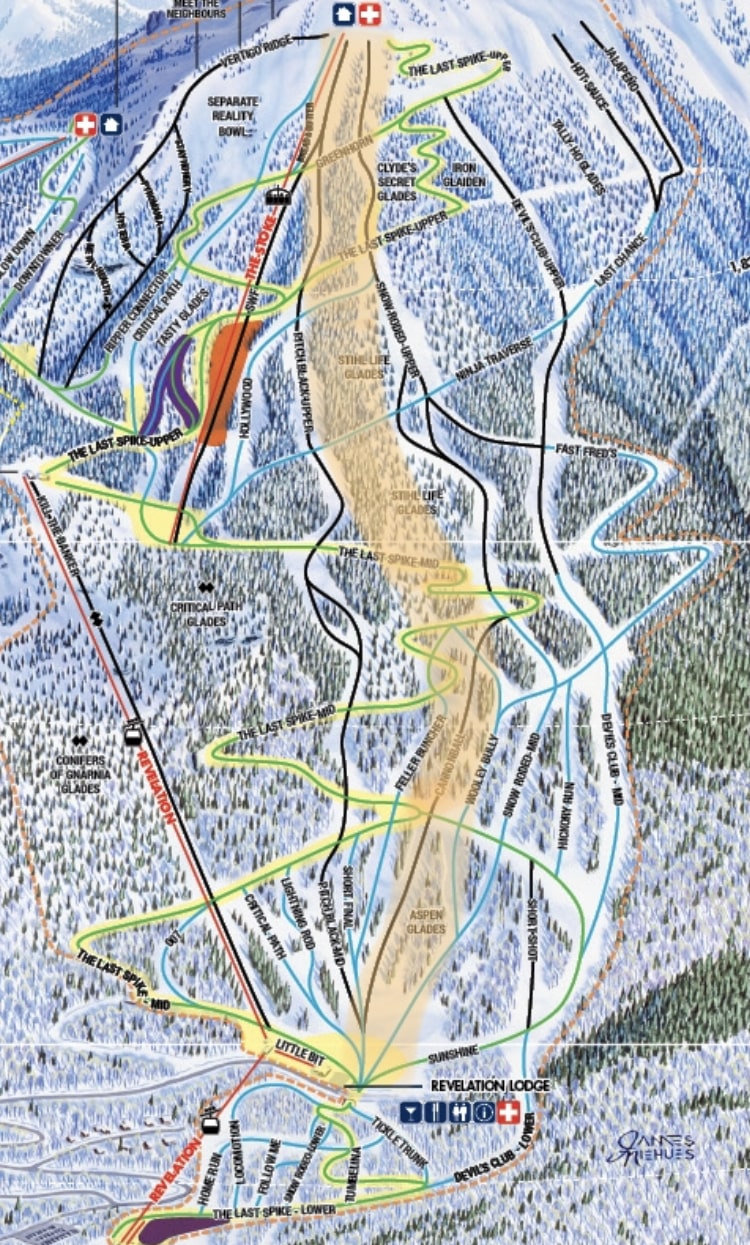 Uptowner
While on your way back to the Stoke Chair from the Ripper Chair (via the Downtowner)…Look up! There are gigantic cliffs that are part of RMR's only permanent closure. You'll see the odd track coming out from underneath all of those cliffs. You don't need to go through the closure to get there and if you can find your way there…you can ski it.
"The Uptowner is one of the best places on the mountain to get sneaky pow turns after you've just skied some great lines in North Bowl." JJ Vinet, RMR Pro Team Athlete.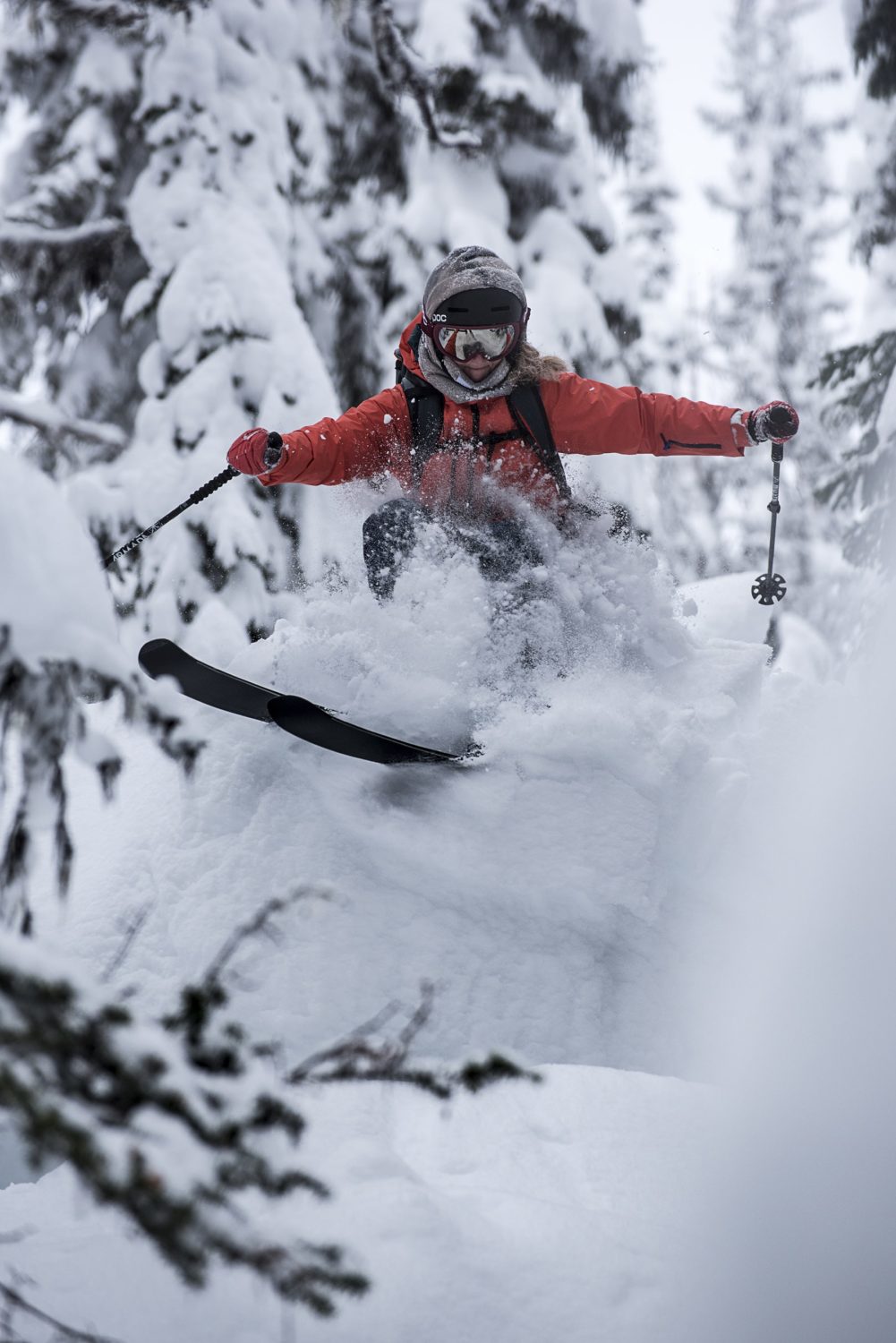 Grinders
From Drop In, make the traverse across Powder Assault out to Greeley Bowl and hug the boundary line to Grinder Right and Grinder Left. Don't bother ducking the boundaries at RMR – you'd be assuming some pretty big avalanche risk (look up in this area and you'll see why)! Areas outside the resort boundary are not controlled and there's so much to ski in bounds that it's often not worth the risk. The Grinders provide untouched, wide open, alpine features that are hidden in plain sight!
Back 40 Glades
Another place to stay safely in bounds, yet feel like you are backcountry skiing is the Back 40 Glades on the Ripper side of the mountain. With 40 acres of tree skiing, you likely won't see anyone else around and may not even see a track until you hit the groomed trail at the bottom!
Freeride World Tour Snowboarder Erika Vikander visits Revelstoke every season to train for the tour. She says "The tree skiing at RMR is beyond magical. Every run is like a dream!"
This summer, RMR completed an extensive glading program improving the spacing of the trees and providing some new line choices in Powder Monkey Glades and the Lower Back 40. There's also a new warming hut at the top of the Ripper Chair so you won't have to make it all the way back to the front side to warm up or to rest up for your next lap!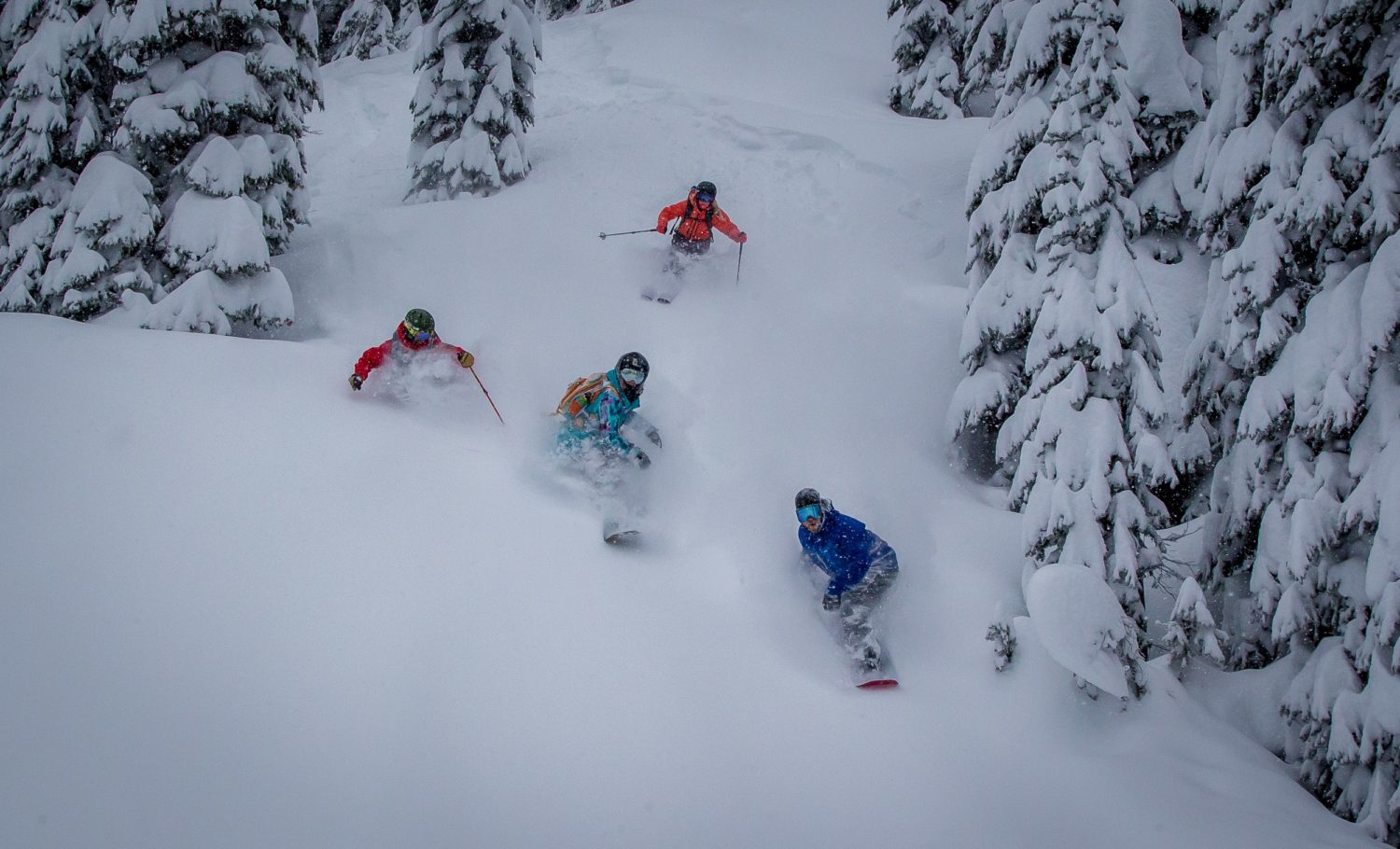 Revelstoke Après
After a deep day on the slopes, look no further than Revelstoke Mountain Resort's own Mackenzie Tavern or the Rockford Grill (both located at the base of the gondola).
Enjoy a beverage on the patio next to the fire. This licensed patio has some of the best views in town (Instagram:
@mactavern
)!
The Village Idiot is Revelstoke's classic après spot.
It's located in Revelstoke's downtown, serves pizzas, pitchers, poutines and the best nachos in town. It's a family restaurant so you can bring the kids any time of day. What you may not know, is that the owners of the Idiot also operate 2 other restaurants. Chubby Funsters Kitchen & Cocktails serves up over 40 cocktails, has 10 B.C. craft beers on tap and has a creative menu. The Big Eddy Pub has typical laid back pubfare. Don't be surprised to see other people straight from the hill in ski gear…or at least in toques and plaid flannels! (Instagram:
@thebigchubbyidiot
).
Monashee Spirits Craft Distillery produces award winning spirits that are hand distilled using local ingredients, sustainable methods and pure mountain spring water.
 Head to the bar for a free tasting or try one of their unique, high end cocktails. Don't forget to check out their extensive Scotch menu! (Instagram:
@monasheespirits
).
Early Season Deals Until November 15th
If you are planning a mountain getaway to Revelstoke during the 2018/19 winter season, be sure to book before November 15th!
You can
save up to 45% by pre-purchasing
multi-day lift tickets (starting at 32% off a 2-day pass and up to 45% off for 8 days or more). You can also get free kids passes (6-12 years) for every Adult lift ticket purchased. Also,
save up to 20% on Ski & Stay packages
with The Sutton Place Hotel or Sandman Revelstoke.