What states come to mind when you think of skiing in the United States? Many would say Colorado, Utah, California, Montana, and Idaho. However, 37 out of the 50 states in the union have at least 1 ski resort servicing skiers and snowboarders year in and year out. Many of these resorts may not provide the most vertical feet or sit at the highest elevations, but they play a significant role in providing Americans from all across the nation the ability to get some turns in every winter. Some of the least expected locations are listed below:
5. Arizona
Although desert landscapes and organ pipe cacti may be the first thing that comes to mind when thinking of the great state of Arizona, several resorts here are capable of providing a high-quality skiing experience. Arizona Snowbowl in particular, located in Flagstaff, routinely experiences large storms and sees an average of 260 inches of snow per year. Spread across 777 acres with 55 skiable runs, not only does Arizona provide an ability for residents and visitors alike to get some turns in for the winter, the experience can be as good as other nearby western states if you're there at the right time.
Not only is Arizona home to the Snowbowl, but it also offers access to two other ski areas as well. The Sunrise Ski Resort, located on the Colorado Plateau atop the White Mountains near the town of Greer tops out at 11,100 feet above sea level and even offers night skiing for visitors. The southernmost ski resort in the country, Mt. Lemmon Ski Valley, is also in Arizona. Despite being located just over 100 miles from the Mexican border, the resort sees an average of 180 inches per year and tops out at 9,157 feet above sea level. Not only can you ski in the Grand Canyon State, but there are several solid resort options to choose from.
4. Indiana
Despite the relative flatness of the Hoosier State, there are multiple options to get some turns in here. Paoli Peaks, located in Orange County, is a local ski hill that is capable of providing fun for the entire family. With 15 runs, which are 25% beginner, 55% intermediate, and 20% advanced, you can find new terrain all day and even try out their two terrain parks. Also located in Indiana near the Ohio border is Perfect North Slopes. Just a 30-minute drive from Cincinnati, this resort offers 100 skiable acres and tops out at 800 ft above sea level.
Local resorts such as these may not have statistics that jump off the page, but they provide much-needed opportunities for midwestern families to experience winter sports. They also offer lift ticket and pass options that are a fraction of the price compared to Rocky Mountain and Sierra Nevada destination resorts, keeping the dream alive for many families that cannot afford the exorbitant costs many resorts are charging these days.
3. Missouri
Another midwestern state where one would most likely not think it is possible to ski in is Missouri. With two resorts located on the exact opposite side of the show-me state, they even provide opportunities to the skiers and riders of the adjacent states of Kansas and Illinois to access the slopes as well. Like almost all of the ski hills on this list, they both profile as small acreage resorts that still possess the ability to provide your family with an amazing vacation.
The first of these resorts is called Snow Creek, and it is located on the bluffs of the famous Missouri River. A small but mighty hill, its profile includes 300 vertical feet and 11 trails, topping out at 1,099 feet above sea level. Number 2 is Hidden Valley Ski Area, located in Wildwood. Similarly sized to Snow Creek, it offers 330 vertical feet and 65 acres of skiable terrain across 17 runs. They even provide guests with the opportunity to ski at night!
2. Tennessee

The Volunteer State is well known for providing southern charm for those who visit, and it also provides the ability to ski and snowboard the Appalachian Mountains. Ober Gatlinburg has been open since 1962 and is located just outside the most visited National Park in the United States, Great Smoky Mountains National Park. The resort also doubles as an amusement park, capable of providing a fun experience for visitors of all ages.
Although Ober Gatlinburg is the only official resort in the state, it definitely should not be forgotten. Topping out at 3,455 feet above sea level, the mountain provides six chair lifts and a terrain park for visitors. They also offer night skiing for all 11 of their runs, a claim that very few resorts can make. On top of all of this, their snowmaking capabilities are top-tier and provide the resort with the ability to open even before any natural snowfall has taken place.
1. Alabama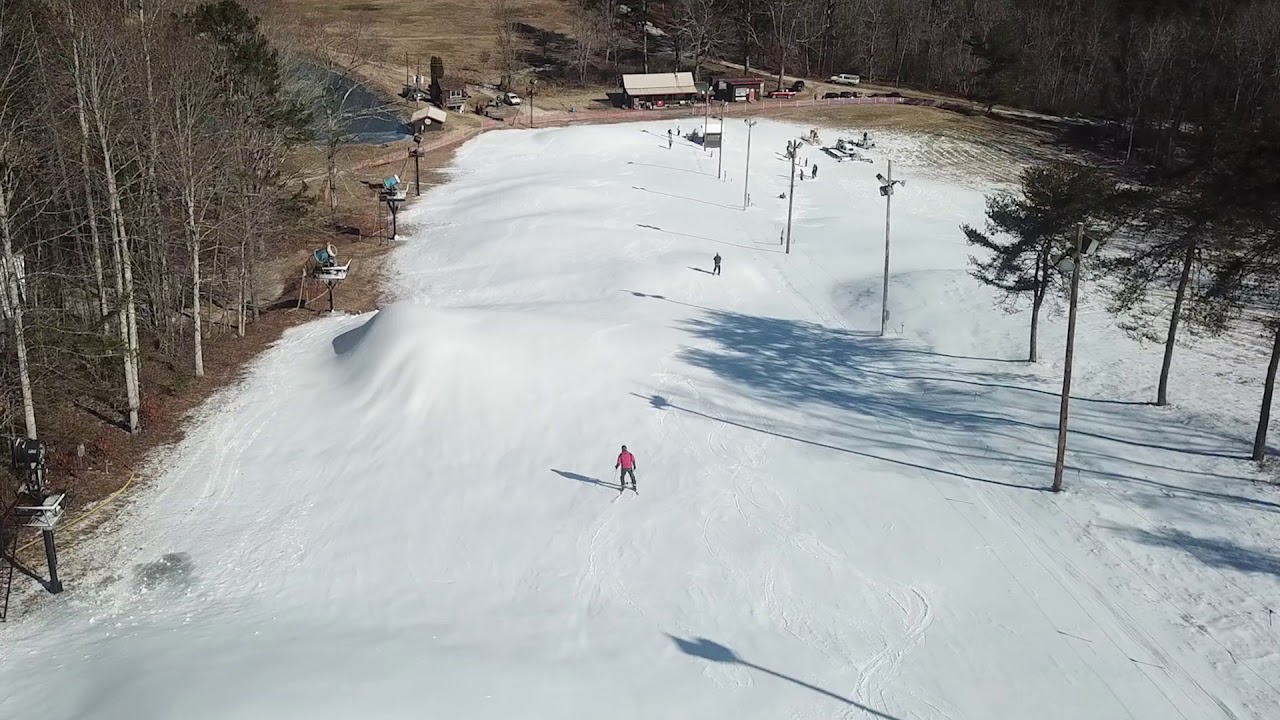 Probably the most unlikely entry on this list, the Heart of Dixie does provide access to skiing for residents and visitors, believe it or not. Despite being located in the deep south and bordering the Gulf of Mexico, Alabama does have one operational ski hill. It's called Cloudmont Ski and Golf Resort and is located in Mentone, AL. It is truly unbelievable that one can ski and snowboard at a latitude this low without being located at a mountainous elevation!
Despite its southern location, Cloudmont is still capable of providing a solid experience for skiers and snowboarders who visit this resort. With a base elevation of 1,800 ft above sea level and topping out at 150 ft of vertical elevation, this ski hill is small but mighty. You can even finish up a day on the slopes by playing nine or 18 holes of golf, an experience that very few resorts are capable of providing in the dead of winter!
Not every skier and snowboarder has the ability to access destination resorts that require a large amount of travel to get to, making smaller resorts like these very important. Ski hills such as the ones mentioned above provide a location for millions to learn the basic skills necessary to get down the mountain, and their significance should be not be underestimated.