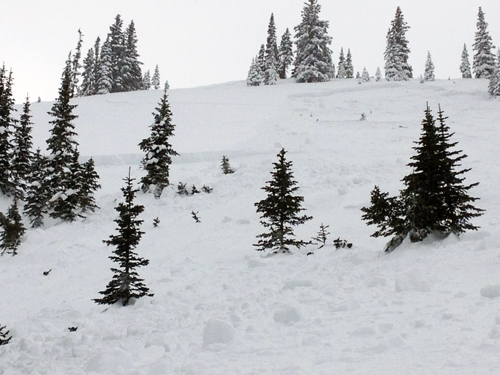 According to the Colorado Avalanche Information Center, about 50% of avalanche fatalities in Colorado happen at a 'moderate' (Level 2 of 5) danger. Here is a story the CAIC posted on their Facebook page to help put getting caught in an avalanche in perspective.
Yesterday I set off an avalanche out in Ophir that resulted in carrying me about 700-1000 feet down a slope filled with trees and cliffs. My partner was below me after skiing the similar line and was also caught and carried and buried. I had a long time during the slide to think about friends, family, life, and what's actually important to me. We didn't expect to get caught especially where we were skiing in the trees. Life is really crazy. I'm so thankful for all my friends and family…"

Anytime you travel in the backcountry in Colorado when there is snow on the ground avalanches are possible.

You should always travel with a partner. Both you and your partner should have an avalanche transceiver, shovel, and a probe and you should know how to use all of the equipment. If you are a snowmobiler your avalanche rescue gear should be carried on your person, not on your tunnel. You should turn your avalanche transceiver on and place it in its harness on your body or in a pant pocket, never in your jacket or backpack where you could accidentally remove it.

You should always ride one at a time only exposing one person at a time to avalanche terrain (slopes steeper than about 30 degrees).

Cracking and collapsing in the snowpack and recent avalanches are signs of instability. If you experience these conditions you should stick to lower angle terrain without any steeper slopes above you.

Recent snow and wind increase the avalanche danger.

You can always reduce your risk to dangerous avalanches by sticking to areas with a slope angle less than about 30 degrees with no locally connected steeper avalanche terrain above you.

Check the avalanche forecast at colorado.gov/avalanche every day before you go into the backcountry.