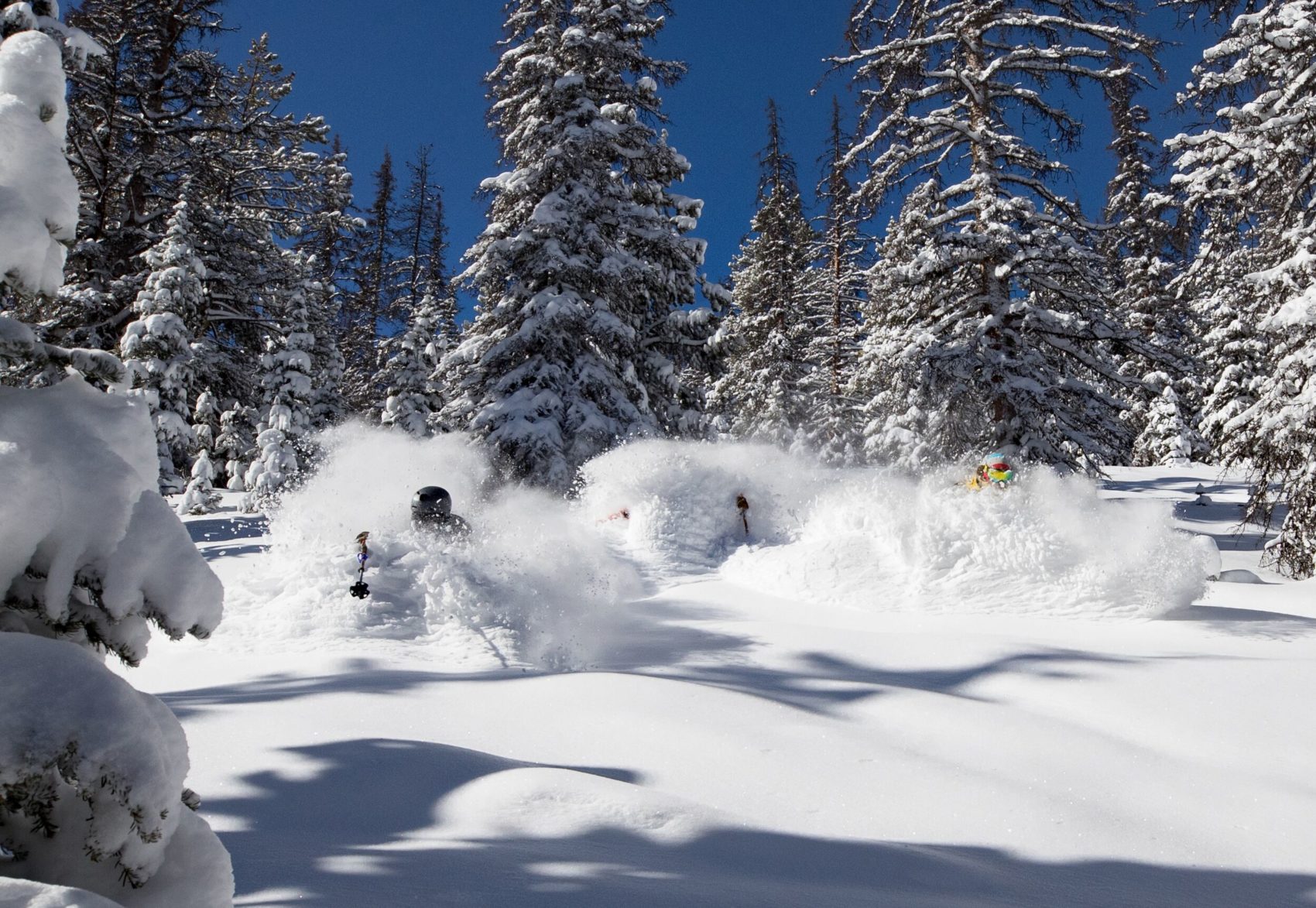 Colorado has some of the most well-known ski resorts in the world. The land of 14ers. Ski country USA. A place where a skier could live more than one lifetime and only uncover a fraction of what the mountains have to offer.
I have called Colorado home for the past 4 1/2 years, growing to love and respect the Rocky Mountains. While there are some extremely well-known resorts, there are also some incredible skiing at lesser-known mountains you might have never even heard before. Check out the list:
Purgatory Resort
Purgatory Resort is located in South-Western Colorado within the San Juan Mountains. Right next to the historic town of Durango, Purgatory began operations in 1965 and has since grown into a large all-season resort. Offering steep glade skiing and wide-open groomers, there is something for everyone to enjoy at Purgatory. Not to mention that they also have a kick-ass bike park that operates in the summer months.
Location: Durango, Colorado
Top elevation: 10,822 feet
Bottom elevation: 8,793 feet
Vertical drop: 2,029 feet
Skiable area: 1,635 acres
Runs: 105
Longest Run: 1.3 miles
Lifts: 11
Terrain parks: 4
Average annual snowfall: 260 inches
Snowmaking: Yes
Powderhorn Mountain Resort
Powderhorn is roughly a 40-mile drive East of Grand Junction, Colorado. Located on the Grand Mesa, the largest flat-topped mountain on the planet, Powder Mountain provides some excellent skiing only a short drive away from the desert in Western Colorado. Most known for its excellent glade-skiing and lack of crowds, you should look into taking a trip to this less trafficked resort.
Location: Grand Mesa, Colorado
Top elevation: 9,850 feet
Bottom elevation: 8,200 feet
Vertical drop: 1,650 feet
Skiable area: 1,600 acres
Runs: 63 – 20% Beginner, 50% Intermediate, 30% Advanced/Expert
Longest Run: 1.8 miles
Lifts: 4
Terrain parks: 2
Average annual snowfall: 250 inches
Snowmaking: Yes
Monarch Mountain
Monarch Mountain is located on the top of a pass with the same name, is about a 45 miles drive East of Gunnison, Colorado. Easy access from Front Range highways, it is not too difficult to make a day trip to Monarch from the Denver-metro area. On the southern end of the Collegiate Range, Monarch sees some of the most snowfall in the state. A family-friendly, small mountain feel and the ability to cat-ski make Monarch a must-try.
Location: Salida, CO (Monarch Pass)
Top elevation: 10,790 feet
Bottom elevation: 11,952 feet
Vertical drop: 1,162 feet
Skiable area: 2,435 acres (Lift access 630, 170 hiking access, 1,635 cat-skiing access)
Runs: 66 – 23% Beginner, 26% Intermediate, 37% Most Difficult, 12% Extreme, 3% Terrain Parks
Longest Run: 1 mile
Lifts: 7
Terrain parks: 2
Average annual snowfall: 350 inches
Snowmaking: No
Wolf Creek
While one of the lesser-known mountains in the San Juans, Wolf Creek Ski Area does not disappoint. Located 65 miles West of Alamosa, Colorado, Wolf Creek provides excellent skiing in the southern mountains. Boasting the largest annual snowfall in the state at 430 annual inches, you will likely have a powder day if you visit. Operations began in 1938 with a single rope tow powered by a Chevy engine. In 1955, the resort was moved to its present location where it has grown in one of the larger areas on this list. With excellent expanses of advanced and expert terrain, you will find it easy to challenge yourself at Wolf Creek.
Location: Wolf Creek Pass, CO
Top elevation: 11,904 feet
Bottom elevation: 10,300 feet
Vertical drop: 1,604 feet
Skiable area: 1,600 acres
Runs: 77 – 20% Beginner, 35% Intermediate, 45% Advanced/Expert
Longest Run: 2 miles
Lifts: 9
Terrain parks:
Average annual snowfall: 430 inches
Snowmaking: Yes
Sunlight Mountain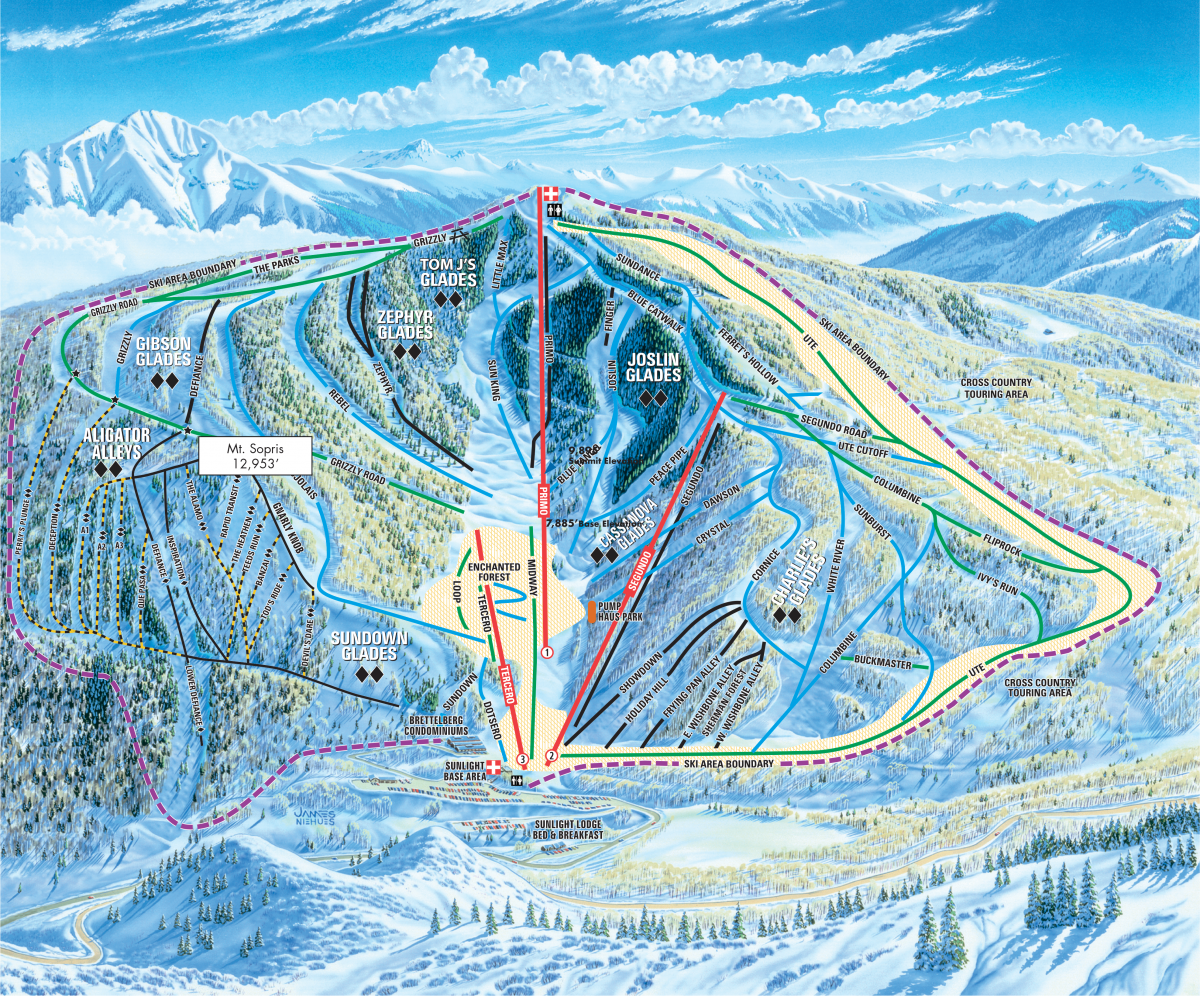 Located only 12 miles outside of Glenwood Springs, Sunlight mountain sits in the shadow of its bigger neighbor, Aspen. Despite this, the small mountain still offers some tremendous skiing without the crowds. The resort began in 1966 with one chairlift. Since then the resort has expanded to three lifts and a wide range of ski trails. The small mountain packs a punch with some steep terrain in the Alligator Alley's and Sundown Glades as well as beginning and intermediate slopes. Additionally, the summit of the mountain Sopris Peak (12,953 feet) dominates the view. If you are in the area and looking for a cheaper, less crowded skiing turn your sites towards Sunlight instead of Aspen.
Location: Glenwood Springs, Colorado
Top elevation: 9,895 feet
Bottom elevation: 7,885 feet
Vertical drop: 2,010 feet
Skiable area: 680 acres
Runs: 67 trails – 20% Beginner, 55% Intermediate, 25% Advanced/Expert
Longest Run: 2.5 miles
Lifts: 3
Terrain parks: 1
Average annual snowfall: 250 inches
Snowmaking: Yes
Ski Granby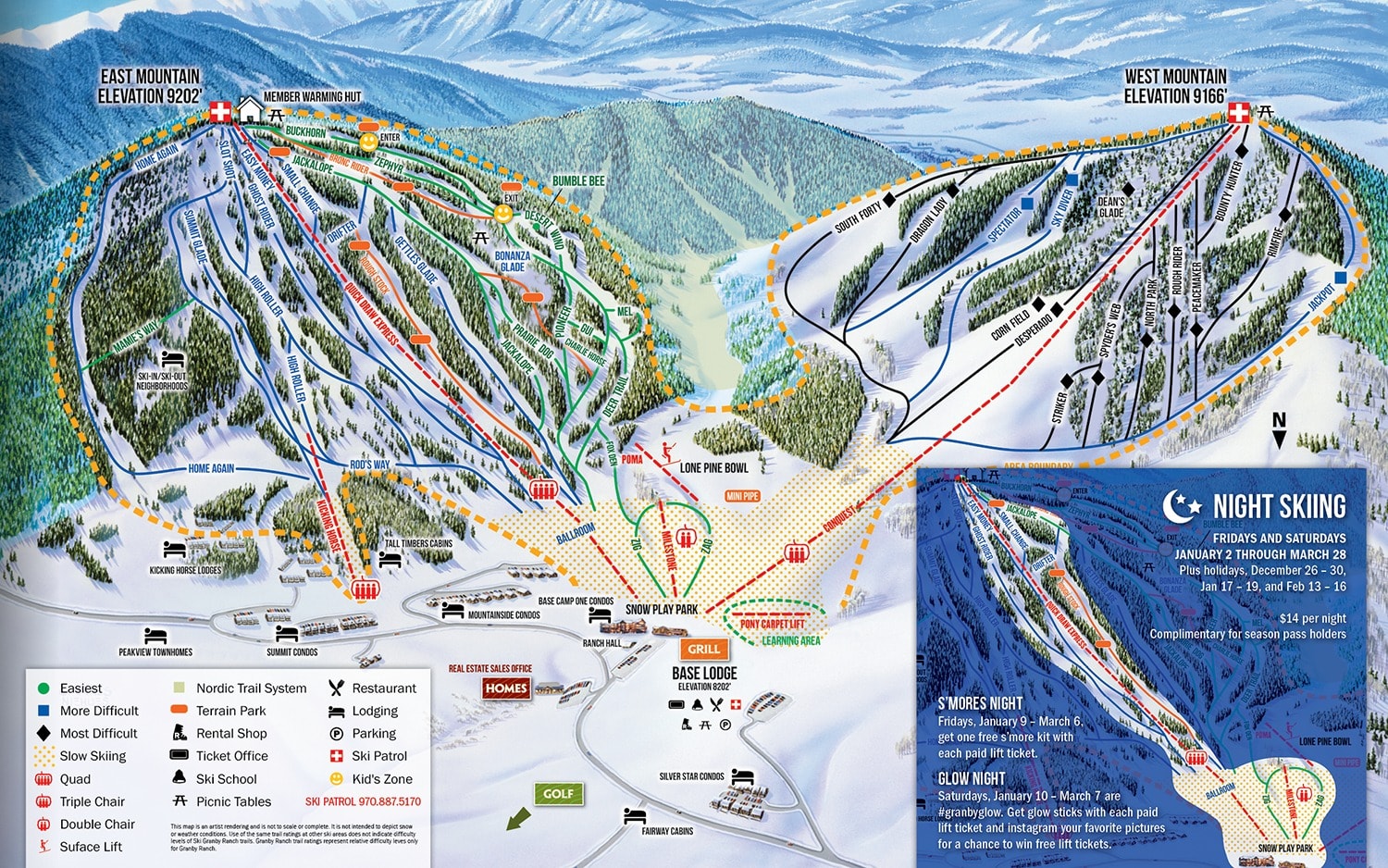 Located 20 miles north of Winter Park, Granby Ranch is Winter Park Resort's smaller sister. The first lifts on the property were built-in 1981 and since the resort has seen its ups and downs. Financial trouble and trademark issues halted expansions and upgrades, but eventually, the resort found its footing and is now a great family ski hill. Offering wide-open meadows on the lower half of the mountains, night skiing, and a variety of groomed trails, Ski Granby is a great place to learn to ski.  Additionally, the mountain has a variety of condos, hotel rooms, and homes right next to the base allowing for easy access to the mountain.
Location: Granby, Colorado
Top elevation: 9,202 feet
Bottom elevation: 8,202 feet
Vertical drop: 1,000 feet
Skiable area: 406 acres
Runs: 33 – 30% Beginner, 50% Intermediate, 20% Advanced
Longest Run: 0.6 miles
Lifts: 5
Terrain parks: 3
Average annual snowfall: 200 inches
Snowmaking: Yes
Eldora
Located just 30 minutes West of downtown, Boulder, Eldora gives front rangers the ability to access great skiing close to home. This family-friendly resort also has one of the best terrain parks in the United States built and maintained by Woodward Eldora. Additionally, for those backcountry enthusiasts, the Indian Peaks Wilderness is located just West of the resort boundary. Backcountry Access gates allow easy access to this expansive wilderness that continues to ski well into the summertime. Excellent staff, friendly people, and a lack of crowds make Eldora a great ski day away close to the front range.
Location: Nederland, Colorado
Top elevation: 10,800 feet
Bottom elevation: 9,200 feet
Vertical drop: 1,600 feet
Skiable area: 680 acres
Runs: 53 – 20% Beginner, 50% Intermediate, 30% Advanced/Expert
Longest Run: 3 miles
Lifts: 9
Terrain parks: 4
Average annual snowfall: 300 inches
Snowmaking: Yes (100% of all groomed trails!)