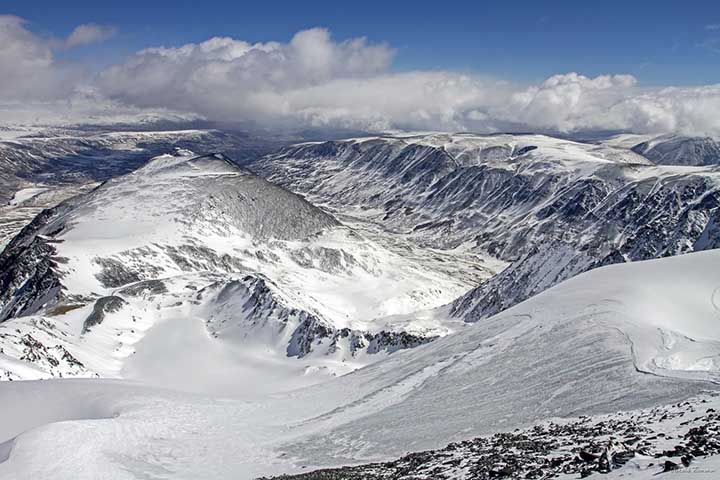 Seven Russian tourists on a hiking holiday in Siberia are feared dead after an avalanche on a South Chuya mountain ridge in the Altai region, the local emergencies ministry says. The avalanche happened at 11 am on Monday but only came to light on Wednesday when two survivors from the same group reached the nearby settlement of Kosh-Agach and were able to radio in for help.
Two rescue helicopters have been deployed to find the missing tourists, the emergencies ministry said. The group of nine people was visiting Altai from the Russian city of Novosibirsk. The Investigative Committee of Russia in the Altai Republic has started investigating the incident. IC officers are trying to figure out what was the cause of the accident, whether there was a violation of security measures, and who was the organizer of the climb.
'It happened in less than a second. The three of them were walking in a small group ahead of the others. Suddenly there was a rumble, they turned to see the third of them swallowed by an avalanche. The area where they were is extremely dangerous and avalanche-prone due to a lot of snow. The survivors are absolutely shuttered, devastated', local man Ilya added.
The two female survivors, Natalia Antonova and Ekaterina Polyanskaya, were part of the group of nine who left the village of Kosh Agach on 1 May, aiming to spend two weeks in the wild, to return on 15th May.
The head of the group was Nikolay Simonov and the others have been named as Nikolai Aleksandrovich (born in 1956), Blinov Igor Viktorovich (1968), Vorobyova Julia (1981), Naumenko Sergey E. (1954), Odarenko Valery V. (1972), Fokanov Ivan Anatolievich (1982), and Sharifulin D. E. (1989).