There are currently 8 closures on the Pacific Crest Trail in Washington, Oregon, and California. These closures are due to wildfires around and along the trail. The Pacific Crest Trail is a long-distance hiking and equestrian trail closely aligned with the highest portion of the Sierra Nevada and Cascade mountain ranges, which lie 100 to 150 miles east of the U.S. Pacific coast.
Information From: PCTA
PCT Closures In Washington:
The Pacific Crest Trail is closed for 70 miles from Chinook Pass on Highway 410 (mile 2321) to Snoqualmie Pass (~mile 2391) due to the Norse Peak and Sawmill Ridge Fires.
The Norse Peak Fire started during a lightning storm on August 11, 2017. That storm ignited 13 fires within the Naches Ranger District of Okanogan-Wenatchee National Forest, Washington.
Resources
Closure map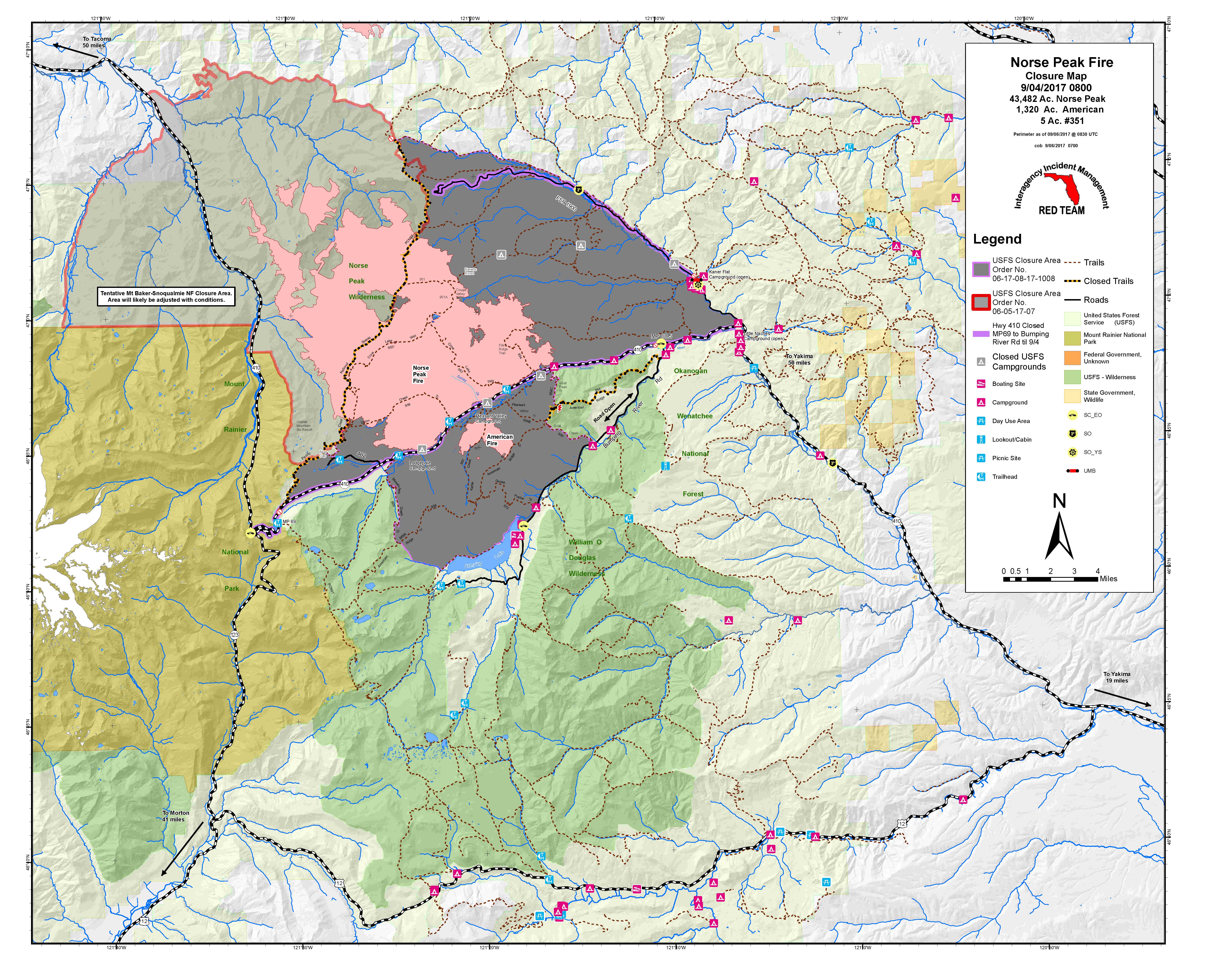 Getting around this closure
At this point, you'll need to ride in a car around this closure. This is a pretty huge closure and we haven't looked into walking alternates.
Detail map of Chinook Pass area
If you're heading north from White Pass, Highway 410 will likely be closed at Chinook Pass. You need to walk to Cayuse Pass (the junction of Hwy 410 and 123) or a turnout on Highway 123 to meet up with a car. You have multiple options. If Highway 410 is open to cars, we recommend against walking it to Cayuse Pass. Take a trail instead. Download a Chinook Pass map here (2mb PDF).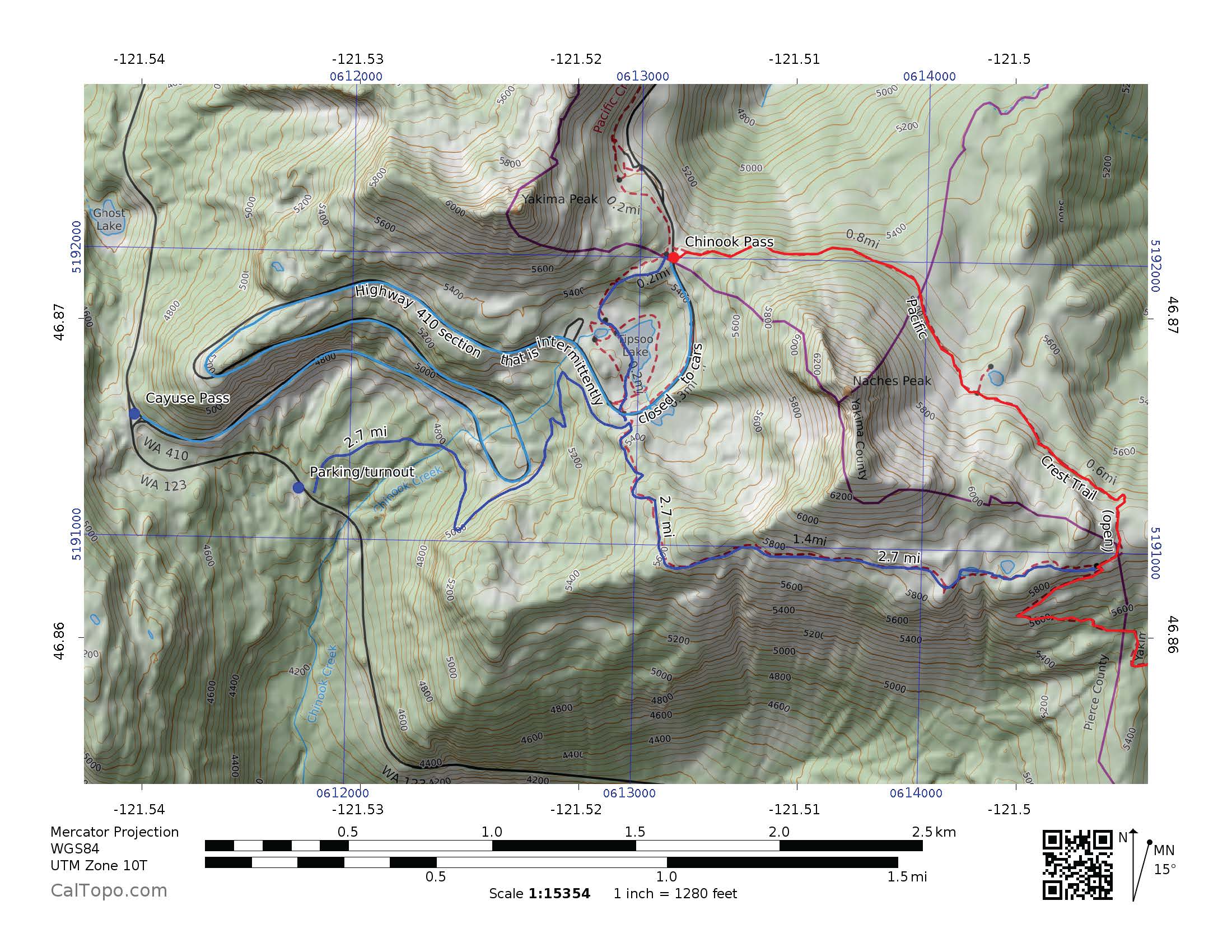 Imagery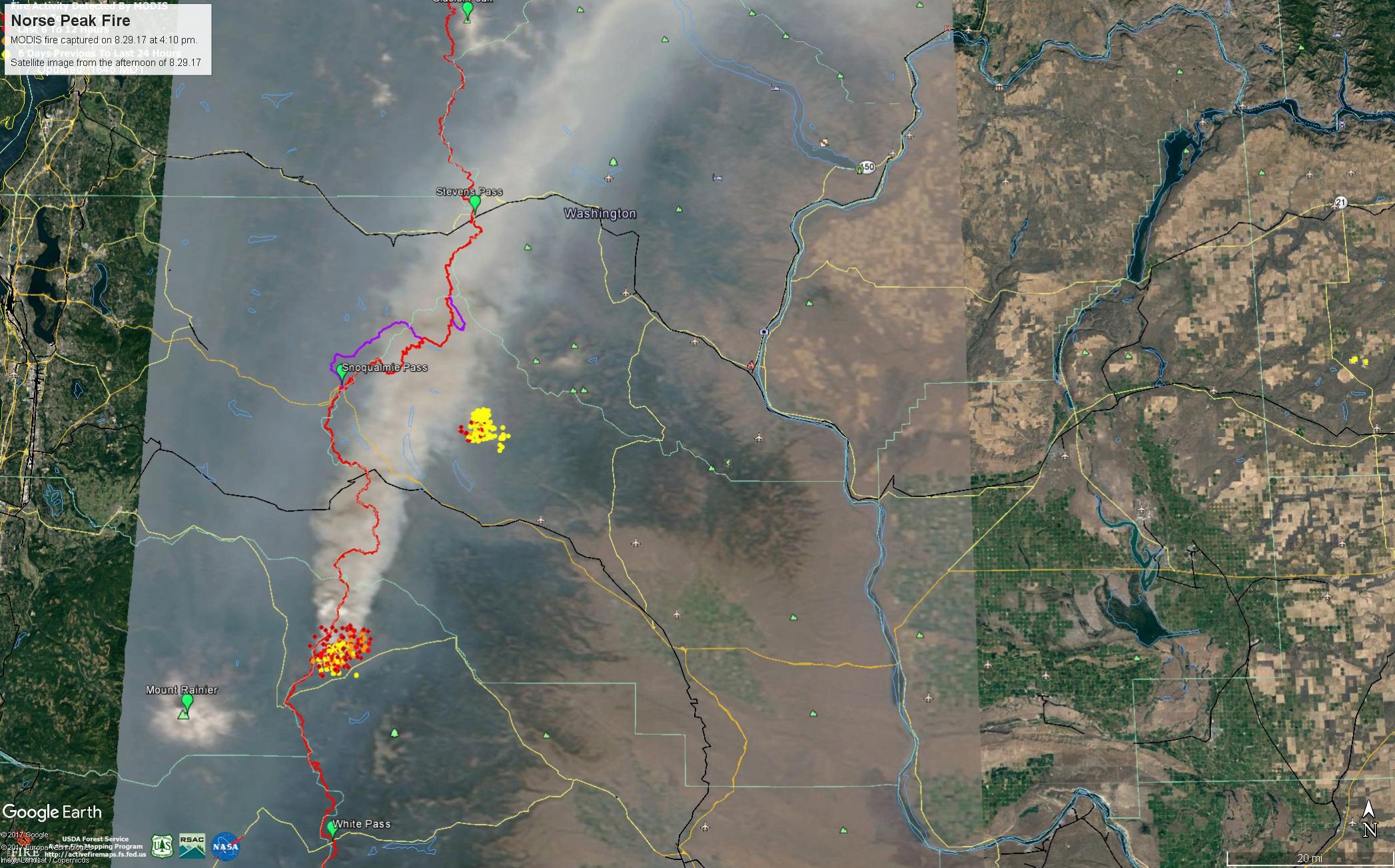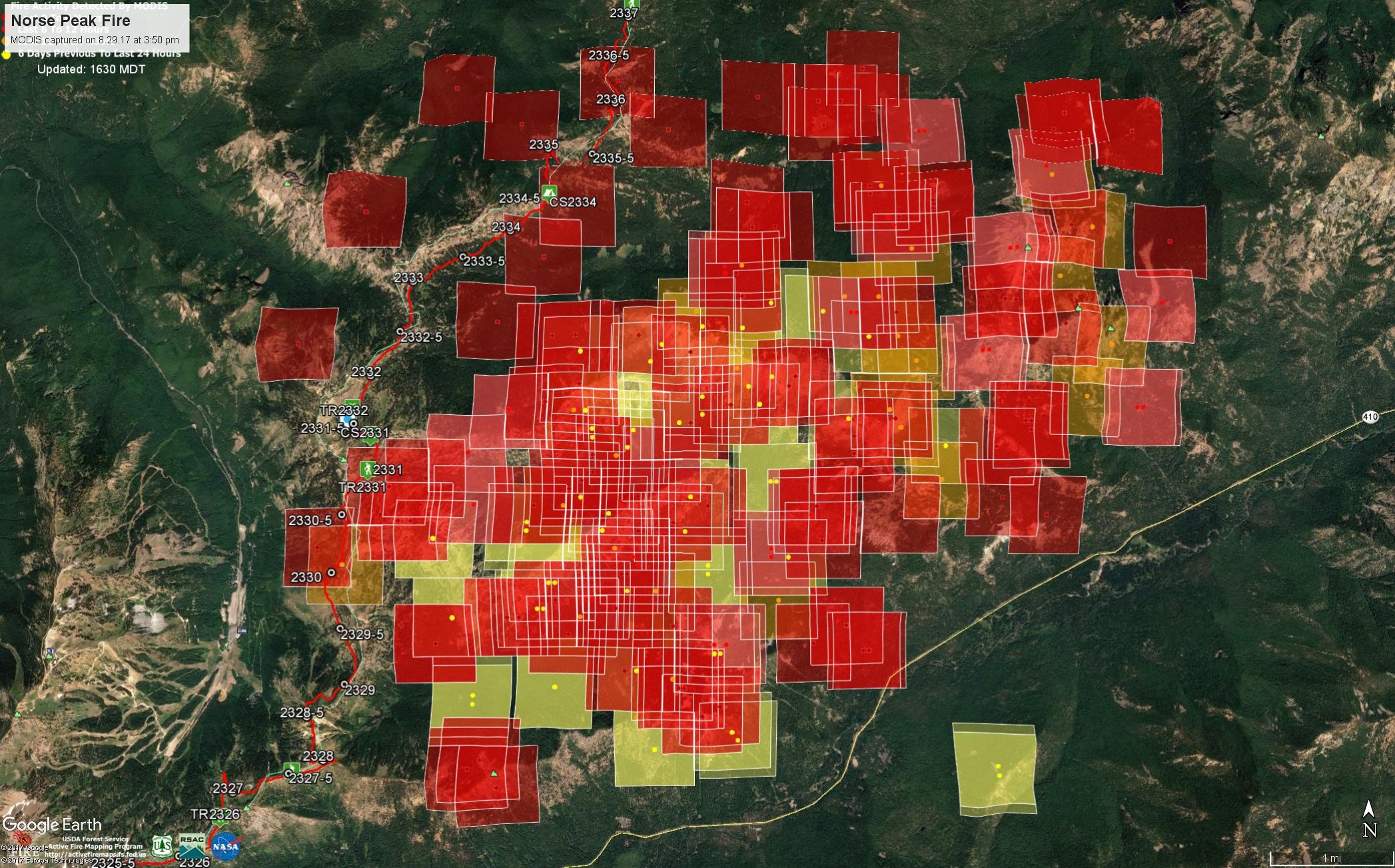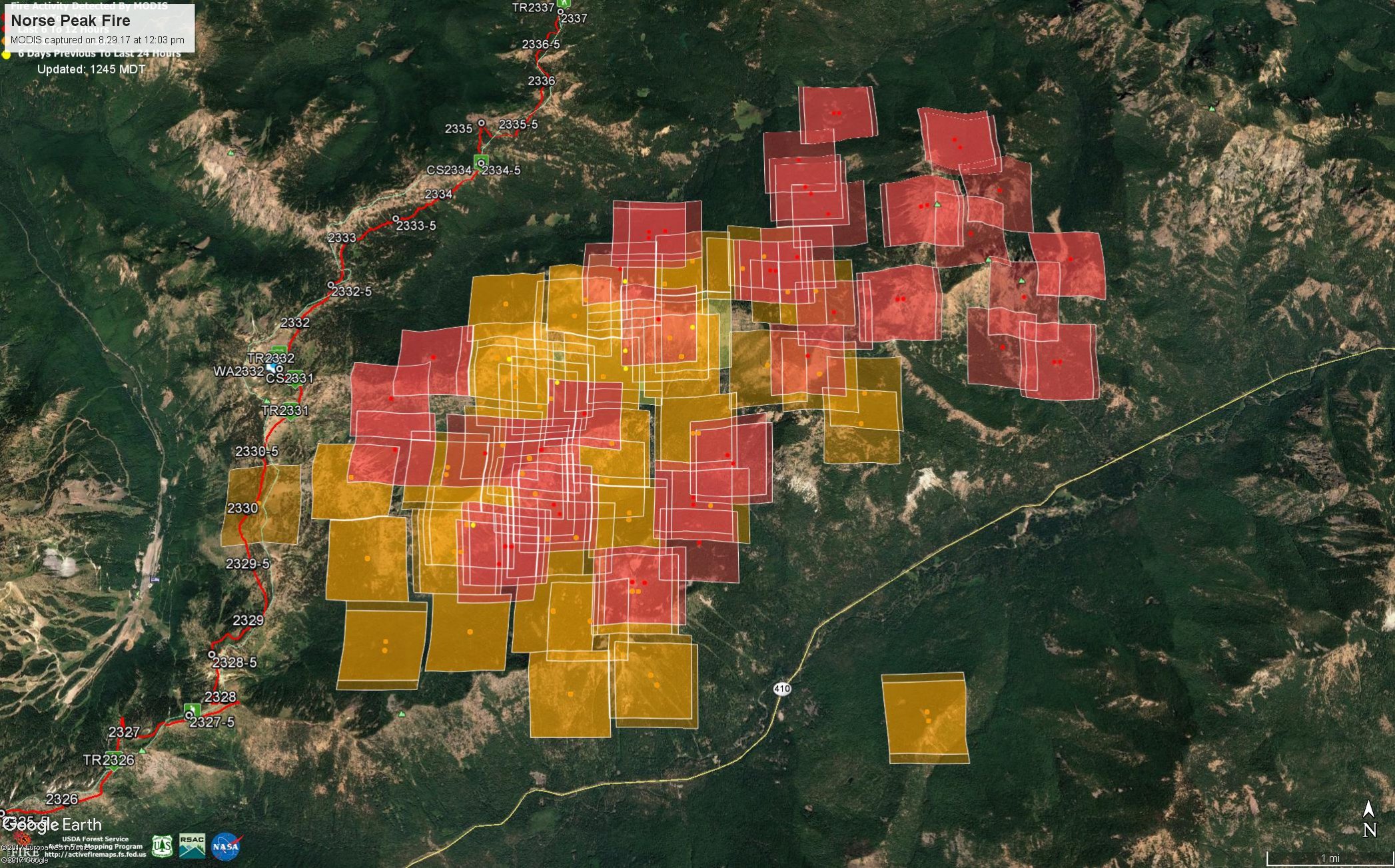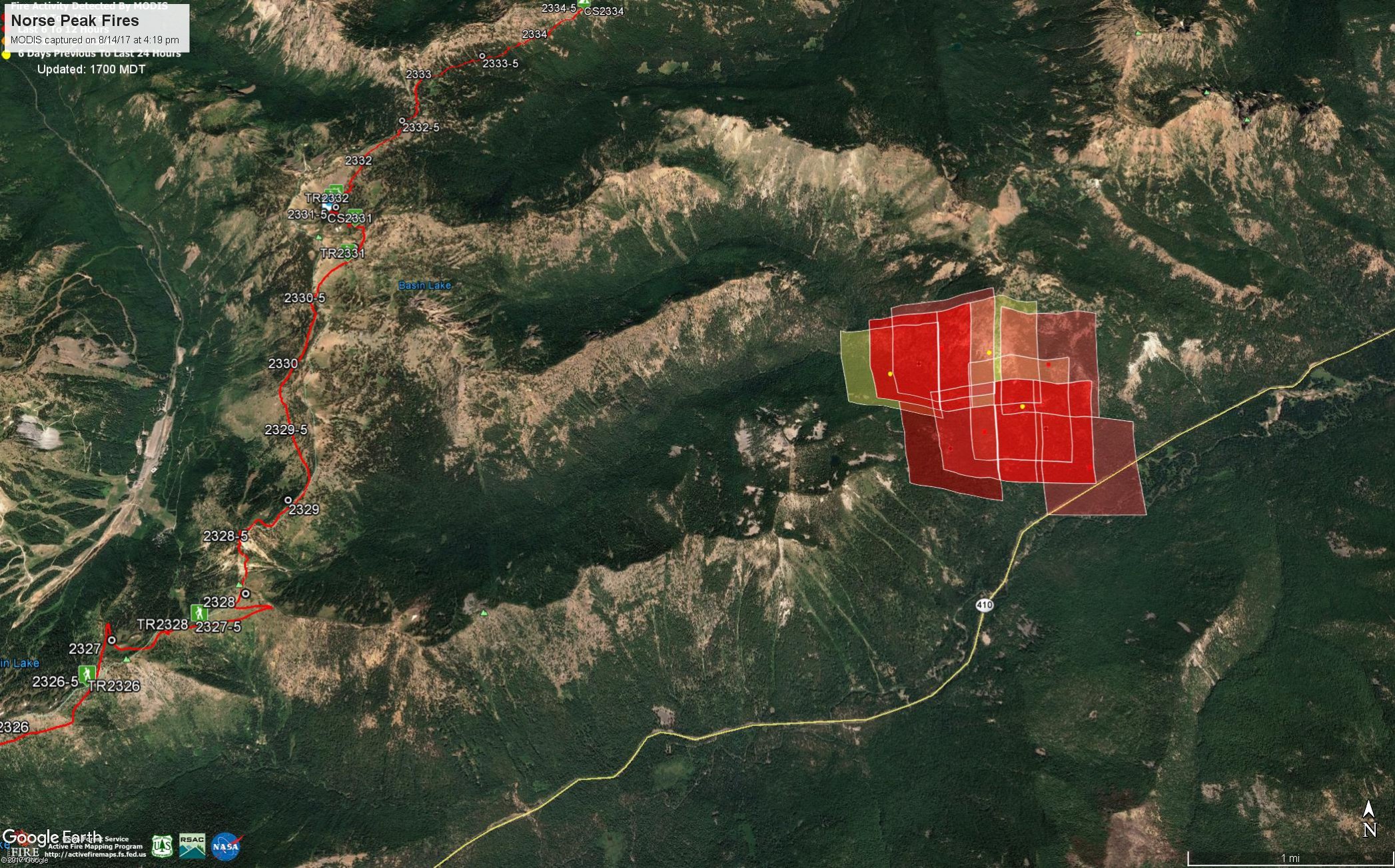 The Pacific Crest Trail is closed in Indian Heaven Wilderness from Forest Road 60 at Crest Camp (~mile 2195) north to Forest Road 24 at Sawtooth (~mile 2212) due to the East Crater Fire.
Resources
Alternate information
Here's a map showing the current walk-around detour option. The reroute is all on forest roads.
Other detour options would be to go into Trout Lake and pick up the PCT at its intersection with Forest Roads 88 or 23.
PCT Closures In Oregon:
The entire Sky Lakes Wilderness is closed as of 9/6/17.
Just to the north of this fire, you'll want to consider the Blanket Creek Fire which is also in Sky Lakes Wilderness.
Resources
Maps
No current map exists.
The entire Sky Lakes Wilderness is closed as of 9/6/17
The Blanket Creek Fire is burning west of the Pacific Crest Trail in Sky Lakes Wilderness and the southern part of Crater Lake National Park, Oregon. The Spruce Lake Fire is burning just to the north and the North Pelican Fire is burning just to the south.
Resources
Closure maps
No current closure map exists.
Imagery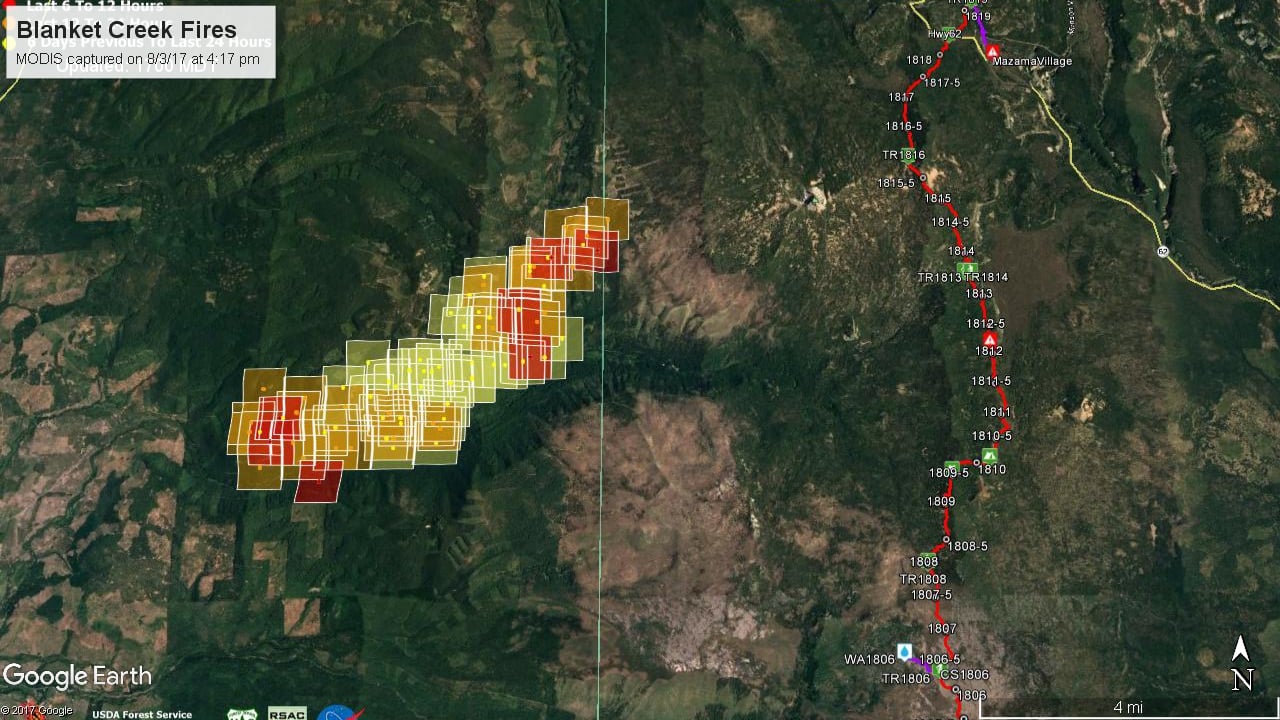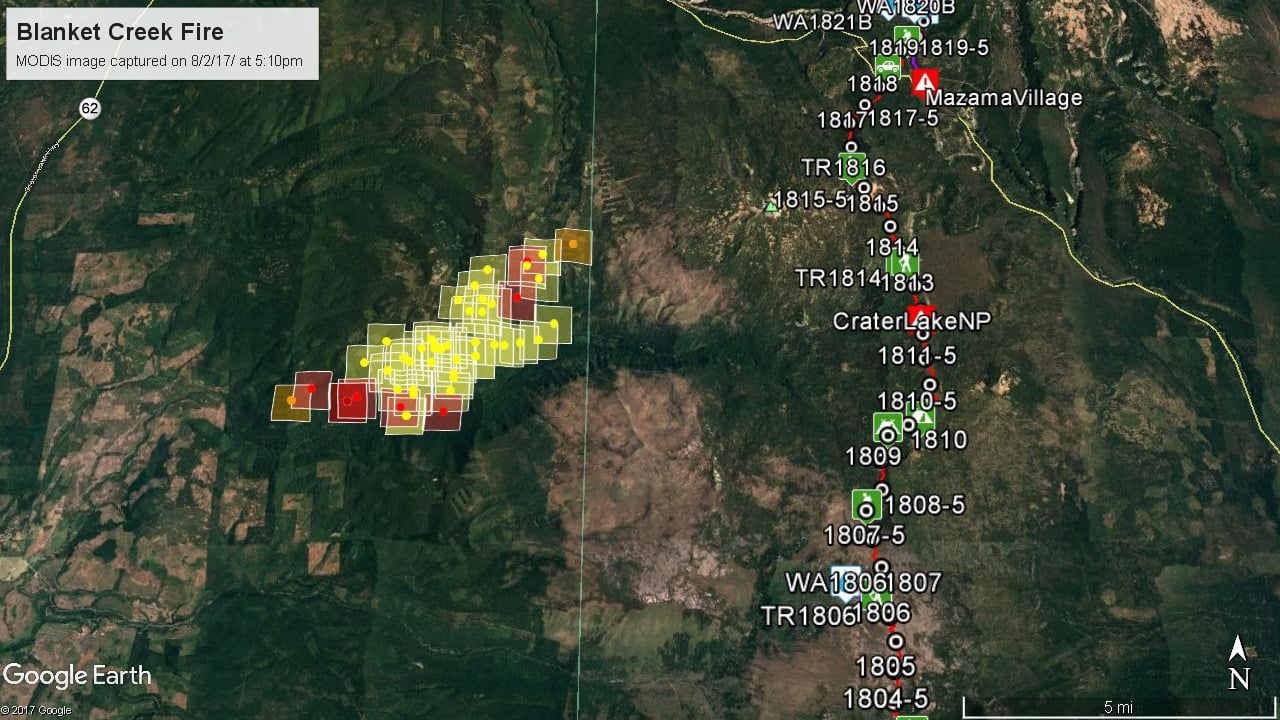 The Pacific Crest Trail and the West Rim Trail are basically closed in Crater Lake National Park. You won't be able to hike or ride your horse across the park at this point.
Currently, the official PCT is closed from the south boundary to Hwy. 62 and then from the junction of the Dutton Creek Trail north to Hwy. 138. Only the short segment of the PCT between Highway 62 and the Dutton Creek Trail remains open.
The West Rim Trail and West Rim Drive are also closed.
Immediately to the south is the Blanket Creek Fire.
Resources
Closure map
No closure map exists at this time.
Imagery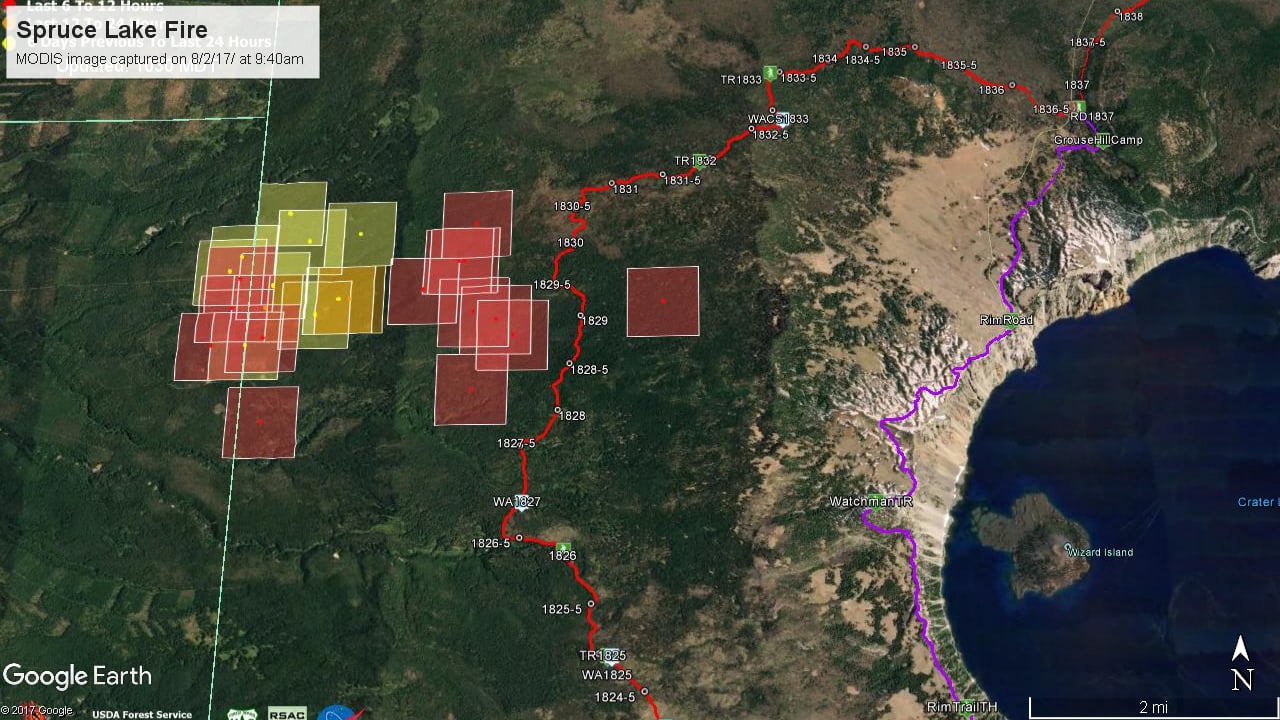 The Pacific Crest Trail is closed from Lolo Pass (~mile 2112) to Cascade Locks (~ mile 2144.5) due to the Eagle Creek and Indian Creek fires. Cascade Locks is under evacuation orders. We strongly recommend that northbound PCT hikers leave the PCT at Timberline Lodge rather than Lolo Pass.
Resources
Options for getting around this closure
Shuttle from Bend to Stevenson, WA: This option bypasses all the trail closures related to fires on the Mt. Hood and Willamette National Forests and the Columbia River Gorge National Scenic Area.
Shuttle from Timberline Lodge to Stevenson, WA: This option is for hikers who are coming from Olallie Lakes area, north to the Mt. Hood Wilderness. Hikers can hike a hundred yards south from the PCT to Timberline Lodge. From this point, the Mt. Express bus has service to Sandy, Oregon, which has connecting public transportation on the SAM bus into Gresham, Oregon. One-way fare is $2 on the Mountain Express.
Lolo Pass Road to Highway 26 (not recommend at this time): Hikers can cover the Mt. Hood Wilderness section of the PCT from Timberline Lodge to Lolo Pass Road. Hikers will then need to hike out from the junction with Lolo Pass road, to Highway 26 about 10.6 miles. From this point hikers will be near the village of Zigzag, Oregon. In Zigzag there are public transportation points for the Mountain Express bus to take hikers to the town of Sandy, Oregon, and on to Gresham, Oregon.
More details will follow as they become available.
NOTE: The maps direct you to travel I-84 and the Bridge of the Gods. Both the road and bridge are currently closed due to the fire. Check road conditions before you head to Cascade Locks.
Closure map
No current map exists at this time.
Due to the Whitewater Fire in Oregon's Mt. Jefferson Wilderness, the PCT is closed from the Marion Lake Trail (Trail # 3437)/Minto Pass (2008.5) north to Breitenbush Lake (mile 2037). However, it's quite difficult to get to Breitenbush Lake because Forest Road 4220 is now closed, and Forest Road 46 is only open to vehicles escorted by a pilot car.
To the south, the Three Sisters Fires further complicate the situation
Please head on over to the Three Sisters Fire page for information about that closure, and a combination bus/walking alternate that skips both of these fire closures.
Rejoining the PCT north of the Whitewater Fire closure
Pacific Crest Trail hikers traveling north have the option to hike along the PCT to the Marion Lake Trail and exit to the west, or exit beforehand at Santiam Pass, Highway 22. From there, one option is to get a ride through Detroit and up the 46 road towards Olallie Lake. However, so with many fires in this area, this situation is changing rapidly, and we recommend skipping north, probably to the Mt. Hood/Government Camp area. Our Three Sisters Fire pageÂ(see link above) has suggestions about public transport to that area.
Resources
Area closure map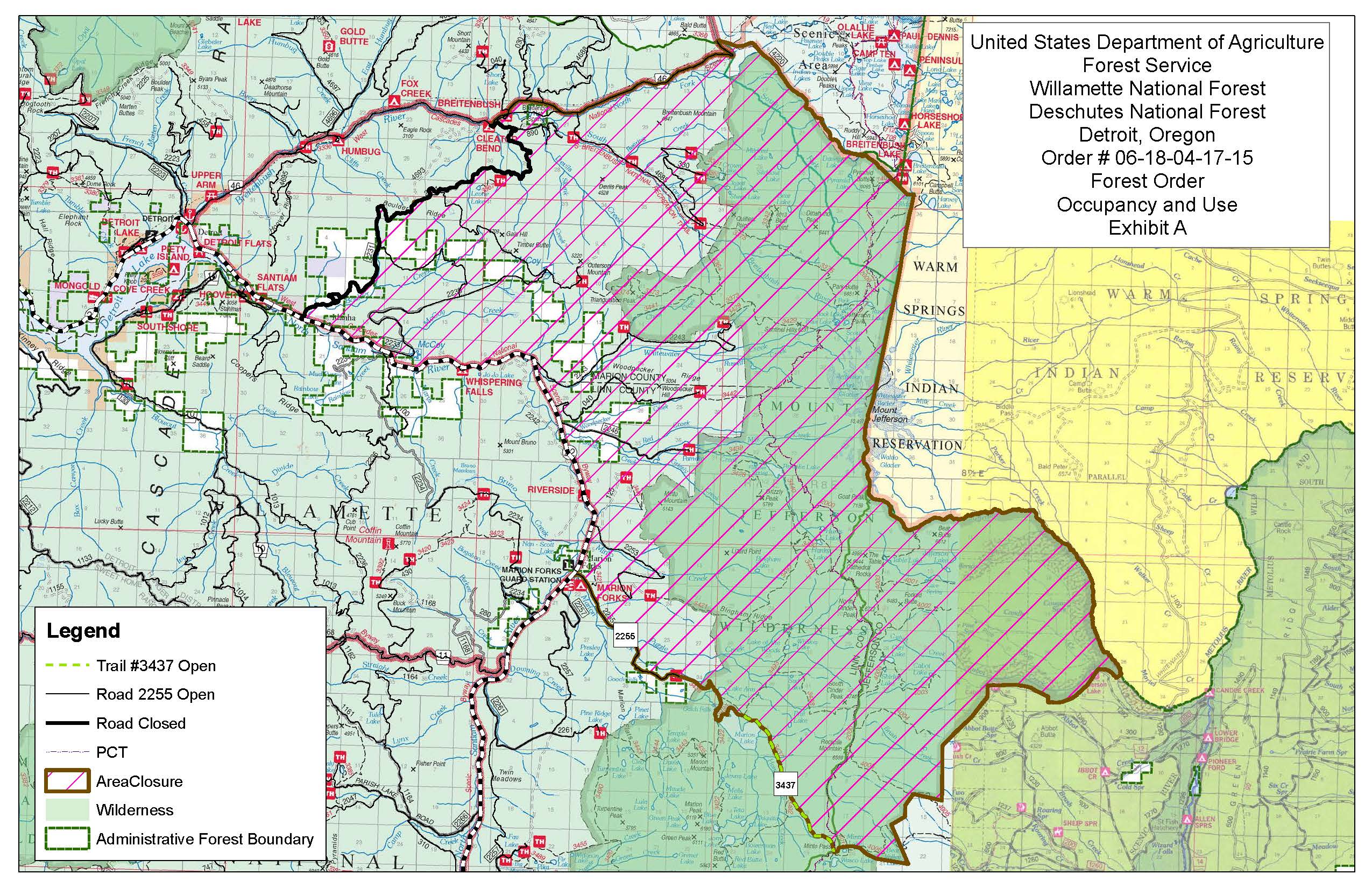 Closure map for Forest Road 4220 to Britenbush Lake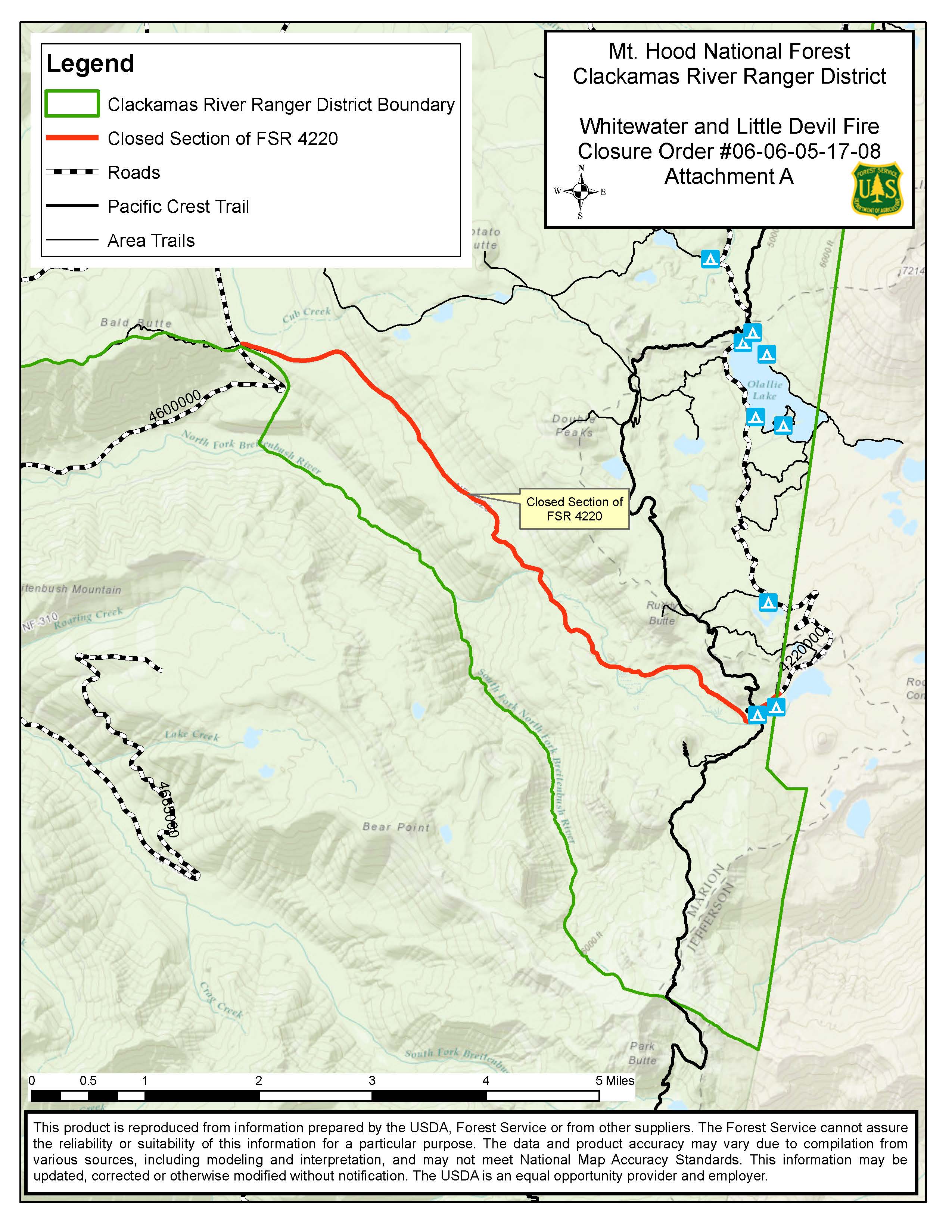 Imagery
Alternate suggestion
Sorry, we recommend shuttling around the closure. We looked into dirt roads to walk around the closure and couldn't find any reasonable options. The highways are largely shoulderless and we don't recommend walking them.
PCT Closures In California:
The Pacific Crest Trail is closed from Seiad Valley (mile 1654.5) to Wards Fork Gap.
Resources
Miller Complex on Inciweb
Alternate information
Because of the many fires in this region, we assume that most hikers will end up skipping a large portion of trail. Perhaps from Castle Crags to Ashland.
Closure map
Here is a map of the closure area. This is in addition to the existing Eclipse closure order which bounds the Abney closure to the West. The Red Buttes Wilderness, boundary trail, and access trails (Ft. Goff, Portuguese Creek) remain closed.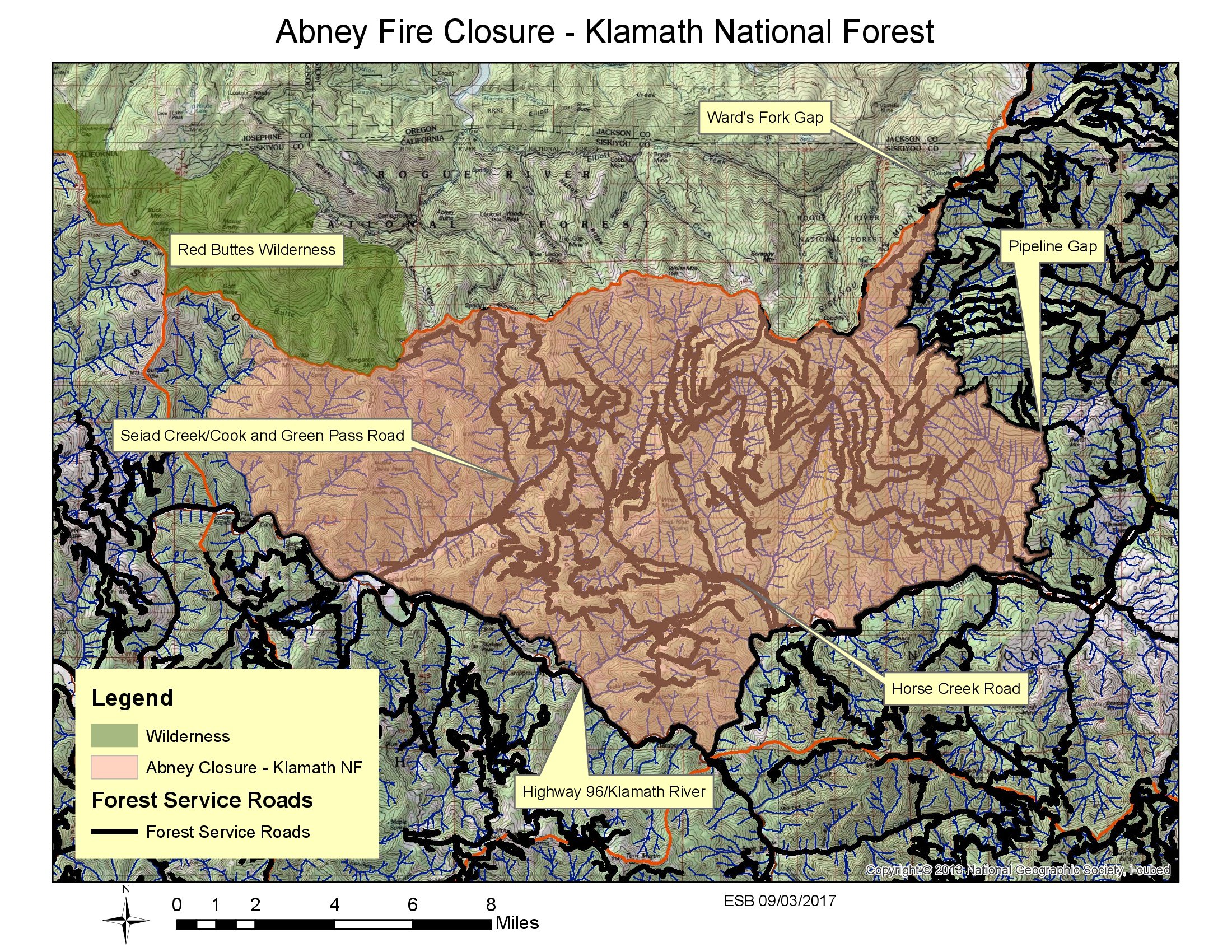 Fire maps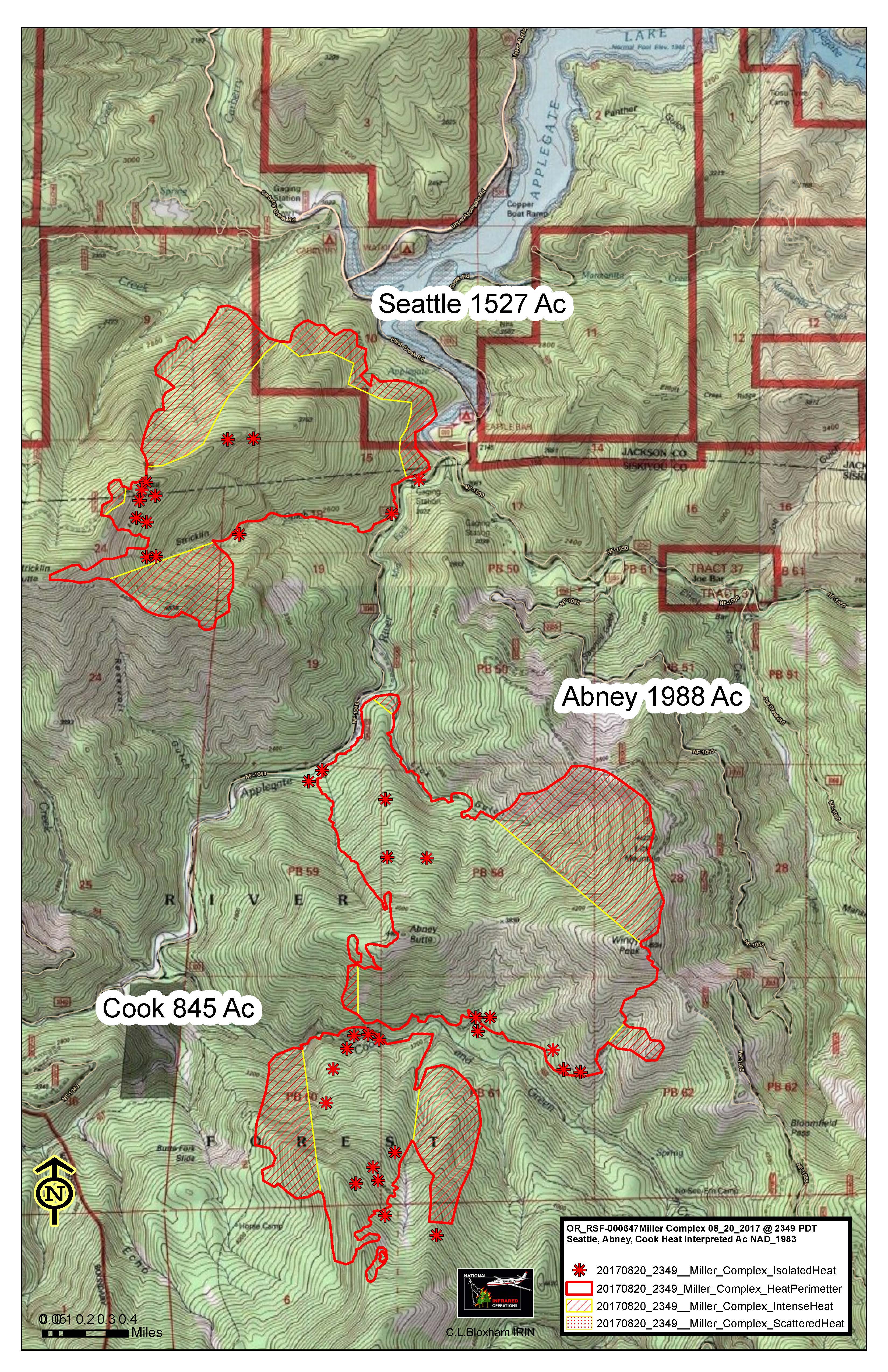 Imagery