Have you ever had a dream that you think may not be possible or just seems a little too far-fetched to accomplish? If so then you should reconsider and do everything you can to make it come true. Life is short and accomplishing a dream is always worth the effort.
One such dream that a 92-year old care home resident had was recently fulfilled and left all individuals involved with full hearts. Robert Trulocke (aka Bob) has always wanted to go skiing but has never had the chance to and figured he had missed his opportunity. Upon learning of Bob's desire to ski the faculty at Miller Grange Care Home, in the United Kingdom, encouraged him to chase his dream with their 'Wishing Tree' initiative.
The 'Wishing Tree' initiative was created to help care home residents fulfill their dreams no matter how big or small they may be. With help from Snozone in Milton Keynes, an indoor ski area in the UK, the team members at Miller Grange were able to fulfill Bob's dream a few months short of his 93rd birthday!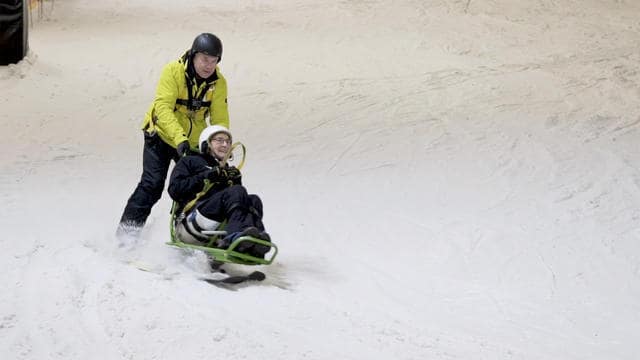 On the slopes, Bob used an accessible ski or sit-ski, so he had more stability and he absolutely loved it. One faculty member from Millers Grange said he was a natural and it was fantastic to see Bob finally get to go skiing after all those years of dreaming about it.
Bob added: "It was fantastic to finally get to ski, especially as I'd given up trying to make it happen myself. I wanted to thank everyone who made it possible, particularly the team at Snozone and my friends at Millers Grange who arranged everything. I had a wonderful day that I will never forget."

He also said, "My favorite part was being able to do the Slalom, weaving in and out, and whizzing down the slope – it made me feel alive. Age doesn't have to hold you back from your dreams, and I hope I proved that today."
This is such an amazing story and it is great to see care homes breaking the common norm and urging their residents to never stop pursuing their ambitions.