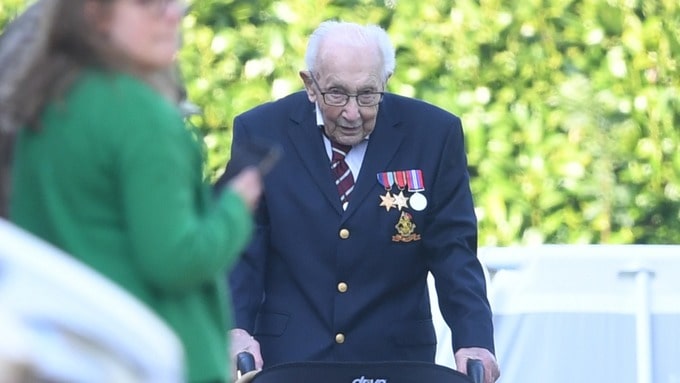 A 99-year-old war veteran has raised more than £13-million ($16.25-million) for the United Kingdom's National Health Service (NHS) by walking around his garden.
Retired army captain Tom Moore aimed to walk the 25-meters (82-feet) around his garden 100 times before his 100th birthday on 30 April. He completed his challenge today, 2-weeks ahead of schedule, dressed in his blazer, tie, and displaying his war medals.
When he began his challenge at the beginning of the month, his target was to raise £1,000 ($1,250). He has vowed to carry on as originally planned until 30th April to raise money for the health workers in the battling the coronavirus pandemic.
"They're doing such a magnificent job and every day, they're putting themselves in danger, and they're doing it cheerfully and they're continuing to do that, and good for them" he said. "It's absolutely marvelous, our brave nurses and doctors, who are frontline in this case."
Responding to calls for him to be knighted, Cpt Moore said: "That makes me laugh because I never ever anticipated such a thing – although I'm buzzing at the sound of Sir Thomas Moore, sounds quite good."
Capt. Moore served in India, Burma, and Sumatra during the Second World War, and said he had been inspired by the care he received from the NHS when he recently broke his hip and when he was treated for cancer.
"In the last war we had our soldiers in uniform, in navy the army and the airforce, fighting, but this time our army are in doctors' and nurses' uniforms and they've doing such a marvellous job regardless of their own benefit," he added.
Tom's JustGiving page is here.
The National Health Service (NHS) is the publicly-funded healthcare system of the United Kingdom. Since 1948 it has been funded out of general taxation and was established in 1948 as one of the major social reforms following the Second World War. The founding principles were that services should be comprehensive, universal and free at the point of delivery. Each service provides a comprehensive range of health services, free at the point of use for people ordinarily resident in the United Kingdom, apart from dental treatment and optical care. UK residents are not charged for most medical treatment.