While we are waiting for winter to return, it's fun to explore the summer look of your favorite mountain you're used to seeing covered with snow.
If mountain biking isn't your thing, fear not; here's your guide to the best hikes around Lake Tahoe's ski resorts:
Palisades Tahoe – Olympic Valley:
Shirley Canyon

is probably one of the most gorgeous hikes around Lake Tahoe. If you're not staying at PlumpJack Inn or one of the condos, park at the Village parking lot and walk to the trailhead. It's considered a challenging hike as after a few miles through the woods you will need to navigate the granite slabs to Shirley Lake. Follow the blue marks etched on the granite to stay on course. Conditions are now prime on the trail, with raging waterfalls and wildflowers blooming everywhere. From the lake, you can either turn back or continue the trek to the resort's summit and take a tram ride down to the Village.
Granite Chief

is another great trail leading to the ridge of Granite Chief Peak and intersecting the Pacific Crest Trail (PCT). Follow PCT southward to reach your favorite Granite Chief lift ski area. Beware of the creek crossing along the trail.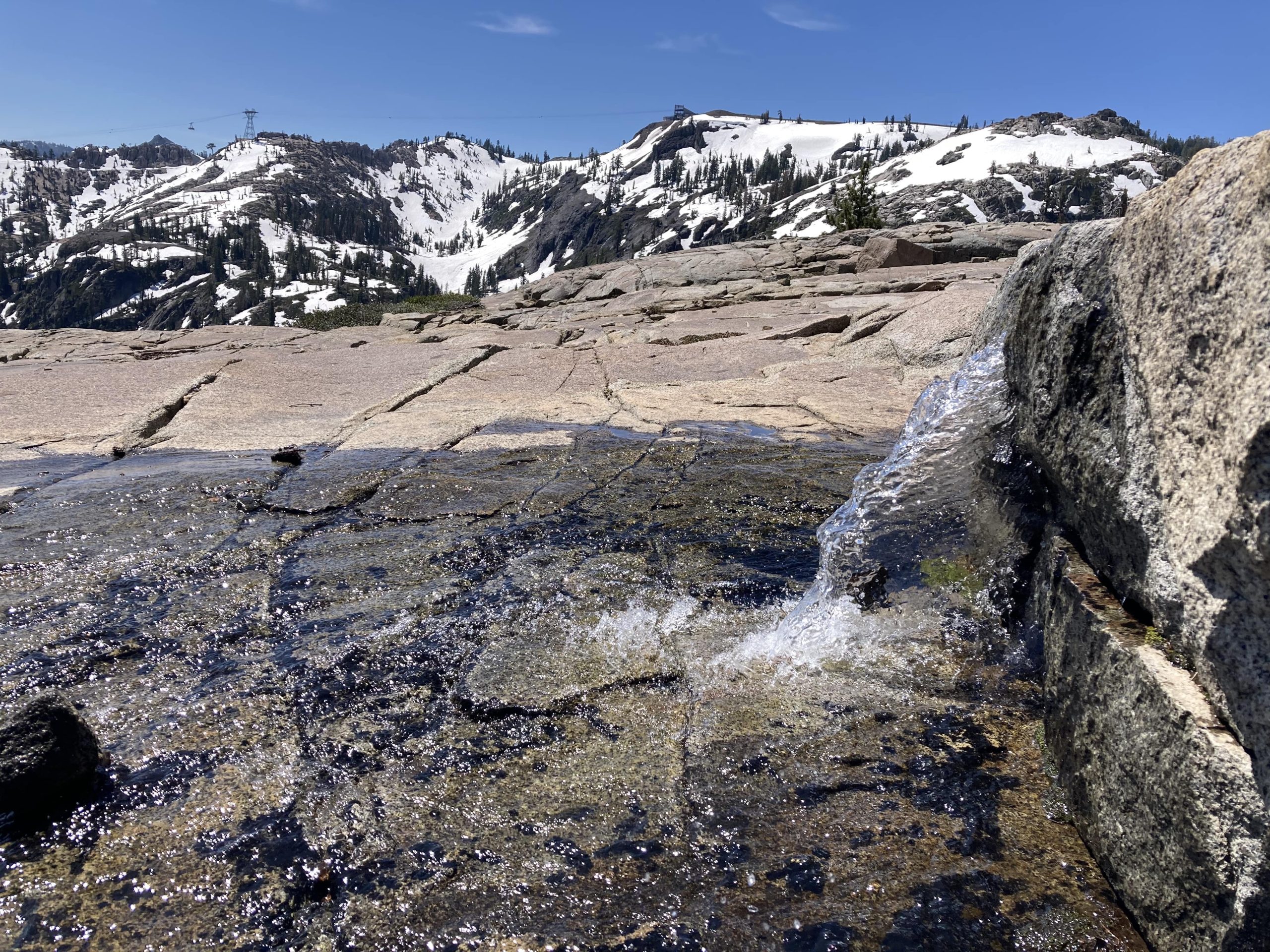 Palisades Tahoe – Alpine Meadows
Five Lakes trail

starts at a cross-section of Alpine Meadows Road and Deer Park Road and goes up beneath the base-to-base gondola and across the valley into Granite Chief wilderness. You

 can see the top of the KT22 chair and even the McConkey Eagle from the trail.

Continue through the woods to reach the lakes, where you can cool off in their refreshing waters. For more adventure, continue through the meadows and connect with the PCT heading towards the summit of Summit Six chair. Look into the bowls you used to ski, like Estelle bowl,  Beaver bowl, or hike up Idiot's Delight. From there, you can either hike back down the same route or you can continue the journey to Palisades Tahoe via PCT and descend the Granite Chief trail to the Palisade Tahoe Village.
Northstar at Tahoe Ski Resort
Sawmill Lake trail

  – it's a  short and mellow trail ( ~2 miles out and back ) from the mid-mountain lodge. Ascend to the mid-mountain either on foot or via gondola from the Village. The trail traverses through the woods, and there is no problem finding shade on a hot day. The trail leads to a charming alpine lake, privately owned yet accessible with a special fishing

permit

. Don't miss a few interesting information stands along the route. Did you know that Mount Pluto is an extinct volcano that erupted approximately two million years ago and formed a volcanic dam on the north side of Lake Tahoe?
Heavenly Mountain Resort
Heavenly Valley Ski Resort trail

(California side) is a delightful 7-mile moderate hike. You will pass under First Pride, Gunbarrel Express (remember those huge moguls last winter?), and Aerial Tram to reach the Observation Deck. Traverse upwards, crossing under Patsy and Powderbowl Express to finish the loop. There are lots of wildflowers and vistas along the trail.

Kingsbury Grade to South Camp Peak trail

(Nevada side) – relatively short, moderate, and highly favored by Alltrails users hiking with their dogs! The trail starts at the base of Stagecoach (no lift lines!) Hike up a few switchbacks and then merge with Tahoe Rim Trail at the junction. It will lead you to Van Sickle Trail towards Heavenly Gondola. 
Kirkwood Ski Resort
Snowkirk, Caples Crest, Vista, and Lower Corral loop

– it's a moderate 4.2 miles hike with 850 ft elevation gain. Start at the bottom of Solitude, hike up, and pass under The Wall and Reut. Continue beneath Snowkirk and ascend to the bottom of Caples Crest. From there, venture on a loop to the top of Caples Crest, providing a view of the mountain's backside.
Sugar Bowl Ski Resort
Mt Judah loop trail

is a ~5-mile scenic hike that starts near Donner Pass trailhead. While popular and possibly crowded on weekends, the hike rewards with great views and lots of wildflowers. You can hike clockwise or counterclockwise, passing beneath Mt. Judah Express and Jerome Hill Express. Ascend Mt. Judah and reach the top of the Summit Chair for amazing views. Don't miss the hike to Donner Peak for fantastic vistas!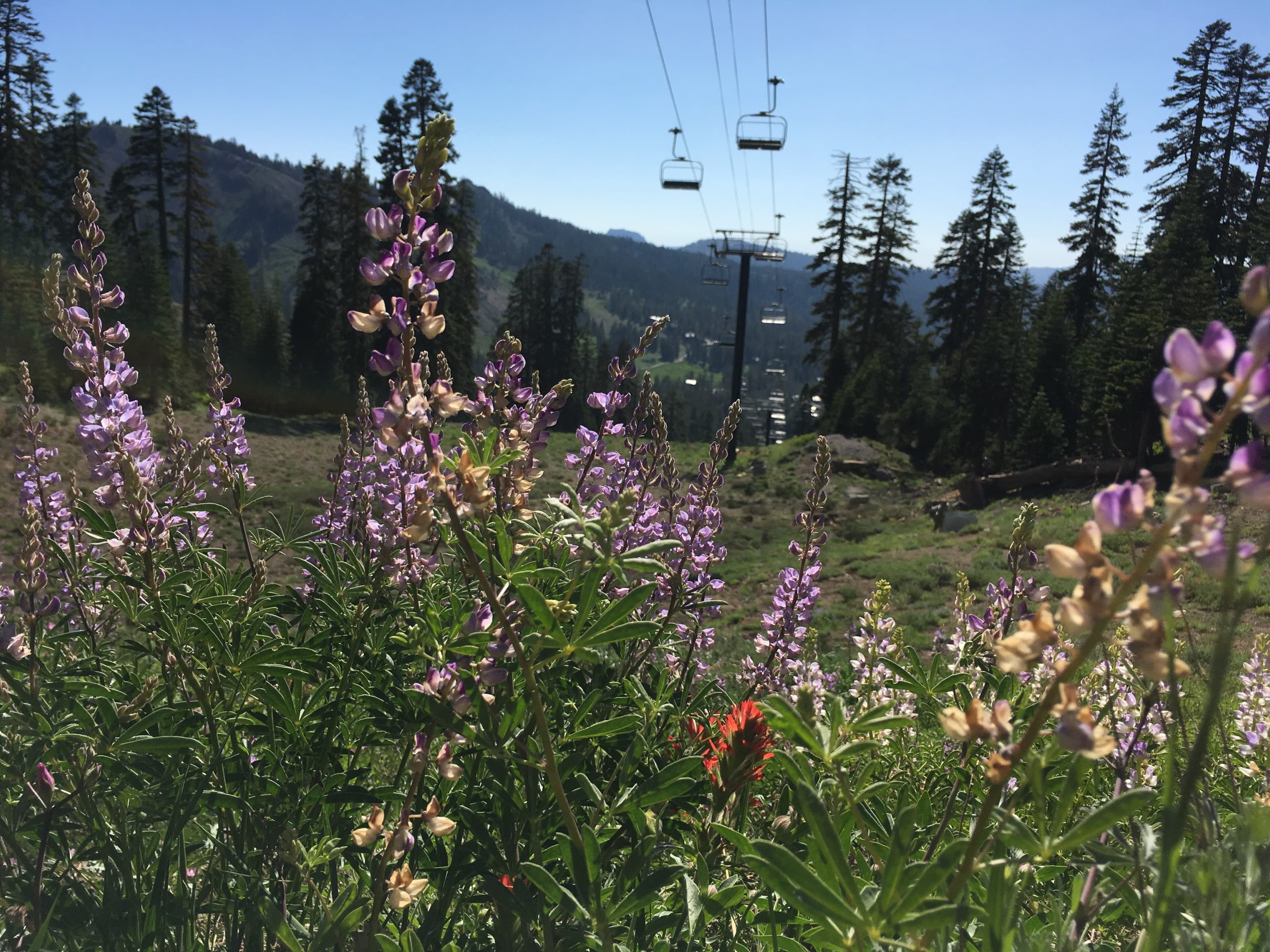 Mt Rose Ski resort
Though there are no official trails on the resort, numerous trails are nearby. Remember that Mount Rose Resort is located on Slide Mountain.
Galena Falls

is relatively short (~5 miles out and back) and a popular route. This season with such an enormous snowfall, the trail was not accessible until recently, but it dried out completely, and you probably won't see any snow patch along the trail. 
Mt Rose Summit

– if you'd like a more challenging route, you can summit Mount Rose itself. It's a pretty but strenuous hike (~10 miles out and back). From the top, you can see your favorite runs on the NorthWest side of the resort. There are a few streams and a lot of wildflowers along the trail. Starting at approximately 9,000 ft elevation, this area is an excellent escape from the summer heat, as long as you're acclimatized to the altitude.
Diamond Peak Ski Resort
Diamond Peak hike

is a relatively short (~2.5 miles) hike to the top of Lakeview quad, where you can enjoy panoramic Lake Tahoe views from the deck of Snowflake Lodge.
Folsom Camp loop

– a 6.3 miles route starting at the resort, ascending to the top of the Ridge chair, and following along the ridge to Tyrolean Downhill, a famous bike trail, but an early start will help you avoid the bustling bike crowd.
Homewood Ski resort
Quail lake vista trail

offers beautiful views of Quail Lake and Lake Tahoe. Homewood, situated closest to Lake Tahoe, provides easy access from the parking lot to Homewood Marina. You can rent kayaks or SUPs there or swim in Lake Tahoe.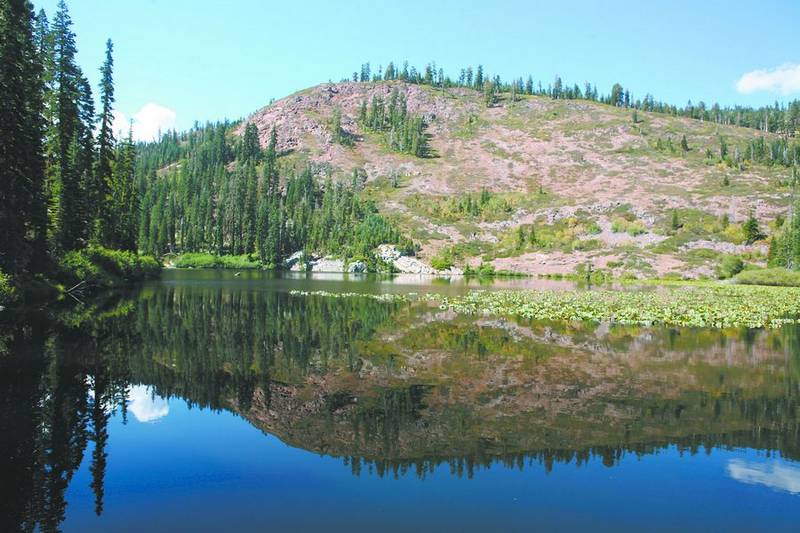 Sierra-At-Tahoe Ski resort
Sayles Canyon loop

– it's a 6 miles loop that starts near Twin Bridges and goes up to the Base area of the resort and then veers along Easy Street to the top of Rock Garden, crossing Nob Hill, then merges to Bryant Trail and goes down and crossing West Bowl under W Bowl Express and Poma. Due to the Caldor Fire in August 2021, approximately 80% of the resort was affected, and you'll encounter some burned areas along the trail.
If you are missing, skiing – Mammoth Mountain is still open until August 6th. So, come for a few laps of summer skiing. If you're lucky, you will watch World Cup champion Mikaela Shiffrin training on the race course near Chair 23.