"A skiing wave will seize the country" – Kim Jong-un/Korean Central News Agency
North Korea's supreme leader, Kim Jong-un, recently visited the site of his future mega ski resort, Masik Hill, to offer "on the spot field guidance".  Kim's military is building an enormous ski center in the Masik area of North Korea.
"He was greatly satisfied to learn that soldier-builders have constructed a skiing area on mountain ranges covering hundreds of thousands of square meters, including primary, intermediate and advanced courses with almost 110,000 meters (68.3 miles) in total length and 40-120 meters (131-394 feet) in width." – Korean Central News Agency report.
Kim is certainly jealous about South Korean getting the 2018 Winter Olympics and this is a good way to show the south what's shakin' in the north ski country.  Kim spent 7 years studying in Switzerland and vacationing in Interlaken with his family.  Interlaken is a ski mecca of the Alps and Kim just might have acquired a taste for skiing and schnitzel there.
Kim is looking forward and feeling a bit insecure about how to get his people ski gear.  Due to UN sanctions on luxury goods, Kim is ordering domestic production of ski gear and clothing so the public has access to the necessary skiing goods.  We're imagining some pretty interesting ski outfits coming out of Korea.  We're hoping they have the potential to influence the next big ski fashion explosion.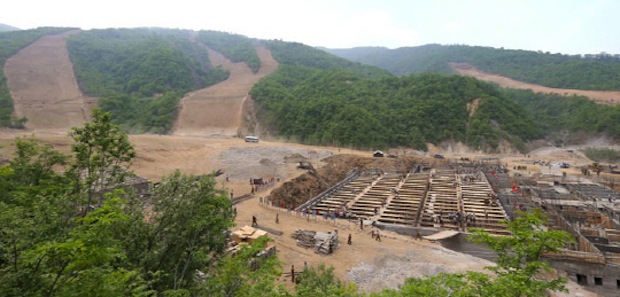 Many question Kim's motives for building such an expensive resort when many of North Korea's people go hungry.
"The fact that North Korea is spending exorbitant amounts of money building a ski resort while its people and even its military don't have enough to eat shows that this is just a move to advertise the image of Kim Jong Un as a leader who cares about his people." – Anonymous North Korean defector told NK News, a South Korea-based media company specializing in North Korean news
This defector also reported that established ski centers are exclusively used for military purposes.  He suspects the new ski area will be used in the same manner.
All this new North Korea ski resort information only leaves one question:  would you ski in North Korea?  If there was a safe way to do it, yeah, why not.  It'd be an amazing travel and cultural experience.  It would be very interesting to see what's actually going on up there.  But there's also the epic, non-politicized, extremely safe skiing and riding of nearby Japan…
NORTH KOREA SKI RESORT DETAILS:
– Located on Masik Hill in the Kangwon Province of North Korea
– 68 miles of runs
– 27 terrain parks for all abilities 
– 2,500 feet = Masik Hill highest elevation.  4,400 feet = Highes  elevation peak in Masik area 
– Heavy snow reportedly falls in the Masik region from November to March
– Tram, exclusive hotel, heliport will be part of the ski resort
– Cold winds come off Siberia and keep North Korea very cold in winter allowing for low elevation snow and skiing