Article originally published by Mark Puleo on AccuWeather.com 10/14/20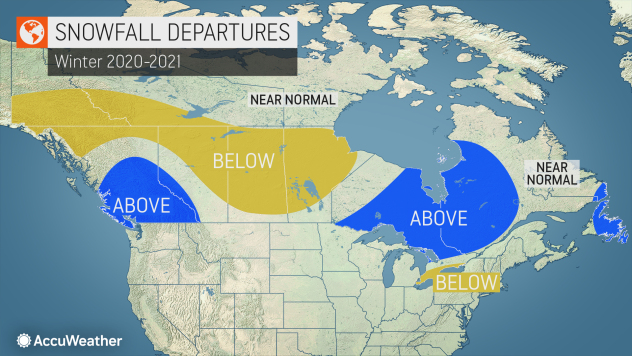 Skiers rejoice! It's time for AccuWeather's annual Canada winter forecast, but which Canadians will get to use those skis most this winter?
That will depend on the region in which they live, AccuWeather meteorologists said after spending weeks analyzing the upcoming winter pattern. Some Canadians might get their money's worth out of a season lift ticket, but for those who live in other regions, winter coats might not get as much wear this season.
Will the slopes be primed for that annual ski trip this winter? Or will conditions be mild enough to stay home and enjoy a local hike? As people batten down the hatches and prepare to follow safety measures amid the coronavirus pandemic this season, people may seek the refuge of the outdoors more so than normal. AccuWeather forecasters have insights on how long people can dress in fall clothing and when people will need to break out the winter weather wardrobe.
Read on to find out what you can expect weather-wise across the country.
How will La Niña shake things up?
Another season of La Niña impacts is likely to play a prominent role in the general weather pattern across North America this winter said veteran Senior Meteorologist Brett Anderson. Anderson has been leading the company's Canada weather predictions and running AccuWeather's Canadian weather blog for more than a decade.
La Niña is a climate phenomenon that results in abnormally cooler sea-surface temperatures along the equatorial Pacific Ocean. According to Anderson, that cooling can impact the strength and position of the jet stream that stretches across the north Pacific and into North America.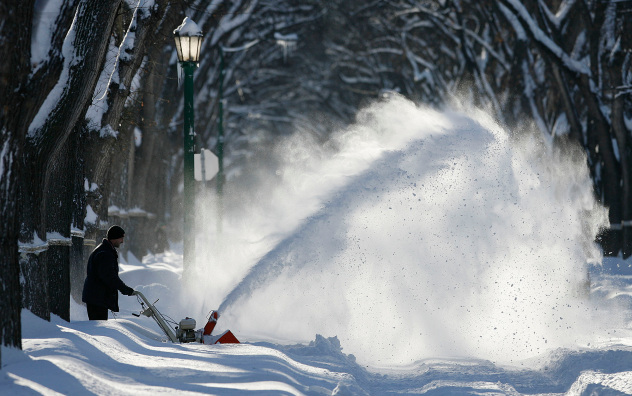 So what might that mean for Canadians this winter?
A snowier and colder season ahead for those in western provinces
Anderson said there will be two distinct storm tracks that will dominate much of the country this winter. The first of those will leave residents in British Columbia and Alberta trying to catch snowflakes on their tongues after the initial need for umbrellas passes.
"This will deliver numerous storms into southern British Columbia this winter, which will result in copious amounts of rainfall along the coast with heavy snowfall for ski country in the Coastal Range and also throughout the Rockies of southeastern British Columba and southwestern Alberta," Anderson said.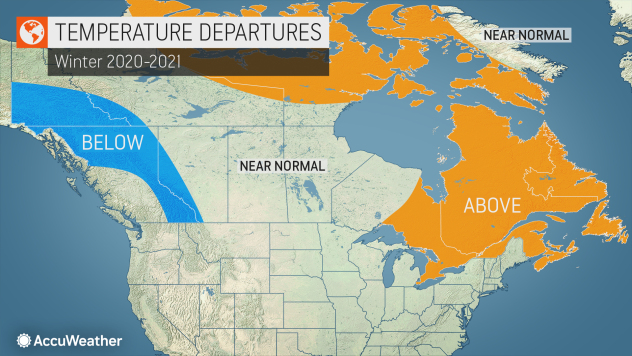 Along with that snow, the presence of that strong jet stream will also likely make conditions windier than normal in those provinces.
Vancouver will be smacked by a higher volume of strong Pacific storms than normal with frequent rounds of locally strong winds and heavy rainfall. The sheer number of storms that the region will face also means a likelihood of significant snowfall for the coastal city, at least by Vancouver standards, Anderson explained.
"Normal snowfall for an average winter in Vancouver is only 38 cm (15 inches), but this year that total may end up closer to 45-50 cm (18-20 inches)," Anderson said. "Cypress Mountain ski area, which is not far from Vancouver, should get an abundance of snow this season," he added.
Farther northwest, residents in Yukon may not get the above-average precipitation as their more southern neighbors, but the region will bear the brunt of colder-than-normal weather.
"In terms of temperatures, the core of the arctic air is expected to hang out across northern B.C. and the Yukon Territory, but there certainly can be brief spells of bitter cold through the Prairies and into eastern Canada," Anderson said.
Snowy yet mild winter ahead for eastern Canada
The second of the storm patterns that Anderson referred to is expected to be a blessing for both skiers and fans of milder temperatures.
According to Anderson, the storm track should be extended from the central Plains of the United States through southern Ontario and into Quebec.
"This will lead to above-normal snowfall for much of northern Ontario and into Quebec, including the major ski areas of southern Quebec," he said. "However, this type of weather pattern will also allow milder air to infiltrate these storms, especially across southern Ontario, which may lead to more mixed [precipitation] and rain events."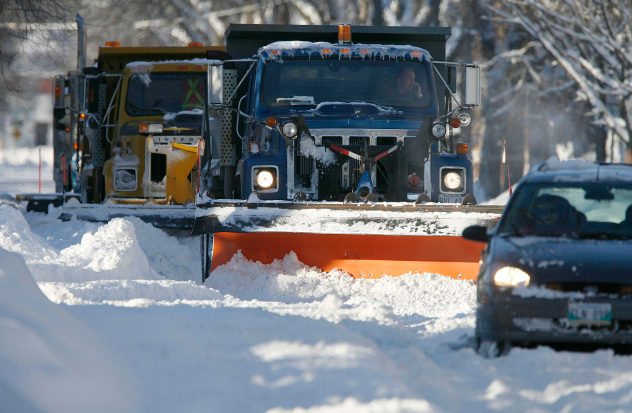 Anderson added that the warmer weather above the Great Lakes will reduce the number of lake-effect snowfall events downwind of the Great Lakes this season. Ice cover on the Great Lakes is also expected to average below normal this season.
Cold weather will often spare Toronto as a storm track remains well to the city's north this season. However, Anderson noted, "When it does get cold — and there will certainly be some Arctic outbreaks — the cold will not hang around for long."
Despite a lack of sustained cold in Toronto, the city will have plenty of wintry storms, many of which may begin as snow then transition into either ice or rain. However, Anderson pointed out, areas just to the north could be in for some major snowfalls.
Cold outbreaks won't be long-lasting from Ottawa to Montreal and Quebec City either this winter, but several major storms could unleash heavy snowfall and ice in these cities.
"Ski areas such as Mont Tremblant and Mont Blanc may be feasting on a deep snowpack by the second half of the winter," Anderson said.
After the new year begins and temperatures fall, snowfall totals in areas farther east, such as across Newfoundland and Labrador, are expected to rise. The same can be expected in New Brunswick and Nova Scotia.
Western snow not expected to make it through the Plains
While neighbors to the west and east are likely to be covered in wintry precipitation, residents hoping to build snowmen and go sledding in Saskatchewan and Manitoba will be out of luck.
"As is usually the case, many of these storms will weaken as they cross the Rockies and into the Prairies, thus we expect below-average snowfall throughout a large portion of the Prairies as the other main storm track will likely be too far to the south," Anderson said.
The Prairies will endure a fair share of bitterly cold air plunging down from the Arctic this season, but the punishing cold is expected to come and go more quickly than usual.