The first major snowfall of the season fell at Afriski Mountain Resort in Lesotho in southern Africa over the weekend. It began snowing at 2 am on Friday, April 30, and continued for a few hours dropping 4″ of fresh snow.
This comes after it was announced earlier in the week that the Lesotho borders are open for leisure and business travel. Afriski is scheduled to open on June 10th, 2021.
"We are very excited about the early snow and to welcome our guests and loyal snow enthusiasts back to Afriski in a few weeks. It might be a little different with COVID protocols in place but we will offer the same quality ski experience people have come to know."

– Peter Peyper, Afriski Managing Director
Afriski is the only skiing resort in Lesotho, located 10,006-feet above sea level (just below Mahlasela Pass, 10,570-feet) in the Maluti Mountains, operating in Southern Africa near the northern border of Lesotho and South Africa. It is one of only three ski resorts in southern Africa. The resort is a 4.5-hour drive from Johannesburg or Pretoria via the steep tarred Moteng pass and the Mahlasela pass; it sits along Highway A1. The resort can accommodate about 320 people and offers a one kilometer ski slope, beginners slope, and operates during the winter months (June–August). Afriski also operates in the summer months and offers a variety of activities, from mountain biking, guided Enduro motorbike trips, paintball, hiking, trail running, and more.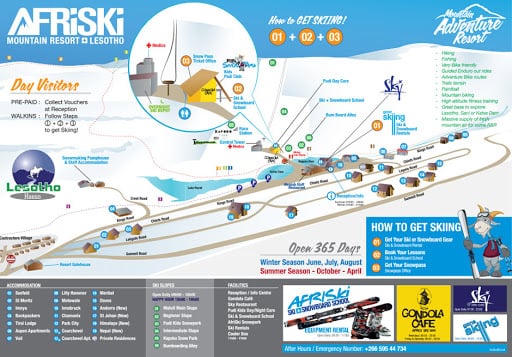 The other two ski resorts in southern Africa are Matroosberg Ski Resort, which is close to Cape Town, and operated by the Ski Club of South Africa with access permitted only to the club members and their guests. They have two permanently positioned, petrol-powered ski lifts plus two portable ski lifts that can be moved to any part of the mountain, i.e. wherever the best snow might lie! But they do not make artificial snow. The second is Tiffindell, a year-round alpine resort, established in 1993 in the Southern Drakensberg. Tiffindell is rated number 19 on CNN's "Top 100 Ski Runs of the World". Tiffindell is located at 8,920ft (2,720m) on the south-facing slope of Ben Macdhui, the highest mountain in the Eastern Cape with an elevation of 9,846ft (3,001m). It is situated 15mi (24km) above the town of Rhodes and about 132mi (212km) east of Aliwal North.
Snowmaking plays an important role at South Africa's resorts. Even with top elevations of 9,515ft (2,900m) at Tiffindell and 10,571ft (3,222m) at Afriski, snowfall can be extremely rare, and skiing natural snow is not guaranteed each season. The season lasts from June through August.
With resorts in Morocco, Algeria, Egypt (indoors), Lesotho, and South Africa, Africa is the only continent to have ski areas in both the Northern and Southern Hemispheres.
Photos