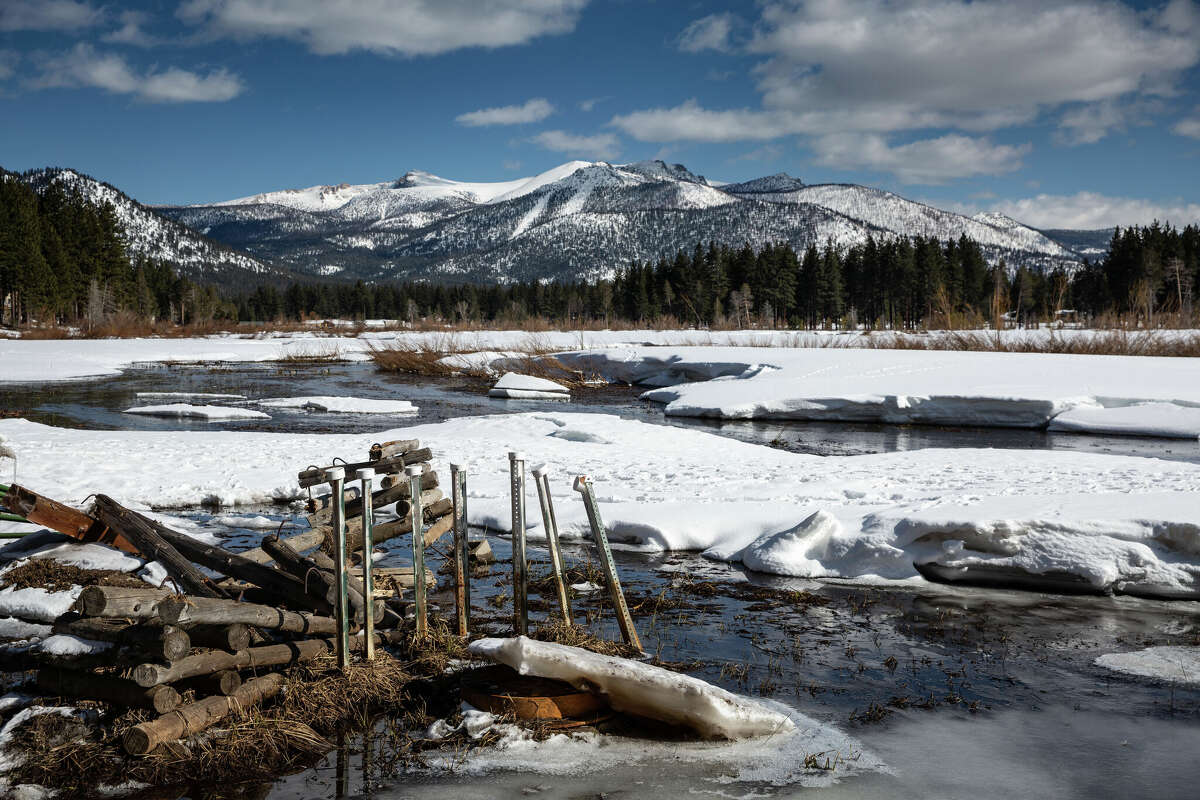 After over 700 inches of snow accumulation in the past six months, it appears 'the big melt' is finally about to take place. Residents of the Sierra Nevada region in California have been hit with a barrage of storms that will be remembered for years to come, leaving a nearly unprecedented amount of snow on the ground as spring weather begins to appear across the mountains. Although conditions this season were as good as it gets, residents of the Lake Tahoe area and surrounding foothills now face the prospect of serious flooding impacting their communities and residences.
With temperatures expected to climb into the low 70s by this weekend, the snow-melting process is expected to increase in speed significantly. With many rivers, creeks, and reservoirs at or near capacity after the wet winter, the danger of these bodies of water cresting over their flood capacity is real and should be taken extremely seriously. For example, the Merced River has already reached its capacity at the Pohono Bridge and is expected to crest 2-3 feet above its flood stage when it reaches its maximum water flow levels in the coming days. This has led forecasters to warn residents and visitors alike to keep a good distance away from the banks of rivers in the area, as the water is extremely cold and the window for survival if one were to fall in, is very small.
Temperatures climbing up to 20 degrees above the yearly average can and will melt snow at an exponential rate. The threat to communities is expected to decrease if the forecast takes a turn and the rise in temperatures is more spread out, allowing for time for these creeks and rivers to deposit water before more snowmelt makes its way in. The tremendous amount of precipitation California experienced this winter has been a welcoming sight after drought conditions have plagued the region for most of the last decade, but the immediate switch from winter to late spring-like conditions has the potential to cause some serious issues.
Local experts and residents have issued their thoughts and concerns regarding the situation. In an article that originally appeared on CBS San Francisco's website, weather expert Daniel Swane opined,
"The big melt is now here. Right now it is looking like this week is going to an exclamation point on this melting process. Increasing temperatures with near-record, or record-breaking afternoon highs and warm morning lows will expedite snowmelt across the Sierra through the upcoming weekend. Low elevation snow has recently taken a big hit so with temperatures expected to reach up to 20 degrees above average, we anticipate melting to begin rapidly eating away at the higher elevation snowpack as well."
Ron Caetano, a resident of the central valley who started an emergency help network for residents through Facebook, also offered his thoughts in the article. He states, " The water is coming this way. I am preparing for the worst and praying for the best and that's all we can do."
Lake Tulare, a lake that was once the largest body of water west of the Mississippi River during the 19th century, is set to reappear and grow quickly in size. The vast basin is located in the southern portion of California's fertile central valley and is now lined with mostly wheat and tomato crops. However, in especially wet years such as 1983 and 1997, the lake has reappeared and left farms, utility poles, and other structures submerged for significant periods of time. Considering the set of circumstances that are present in 2023, this outcome seems extremely likely to take place again. Only time will tell how large the lake will get this year, and the area that surrounds it is bracing for water levels that haven't been seen for decades.
Can nearly 800 inches of snow be too much of a good thing? The benefits this winter has had on drought-stricken California are undeniable, but there is a serious possibility of catastrophic floods taking place very soon. The area is certainly hoping that temperatures rise at a slower rate than what is currently in the forecast, but preparing for the worst is an absolute must at this time.