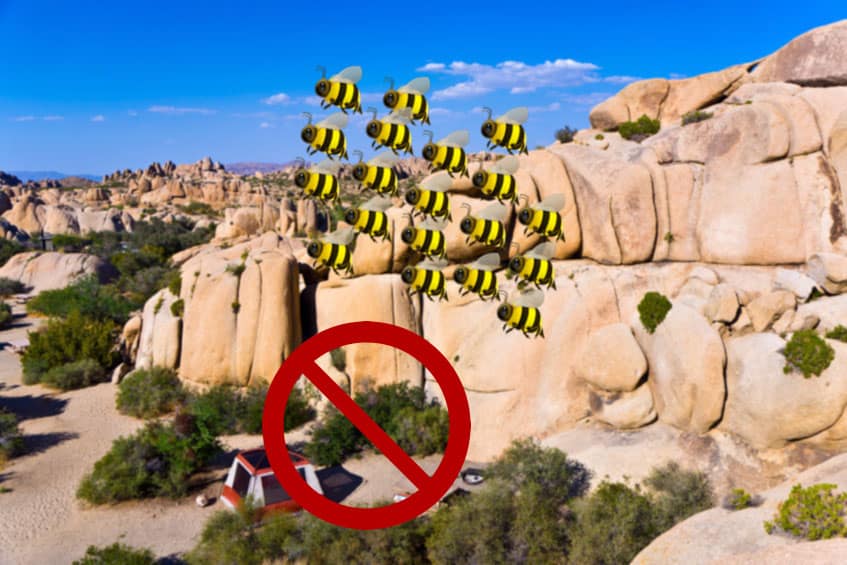 Beginning Thursday, July 9th at noon, effective until Friday, July 24th, Jumbo Rocks Campground in Joshua Tree National Park, CA will be temporarily closed due to aggressive honey bees. Campsites and picnic areas in the campground will be closed during these dates.
"There were a couple of vehicles with a lot of bees in them. And campsites. Visitors were very uncomfortable. No stings were reported, the bees are "standard honey bees" and the park's many other campgrounds remain open."

– Joshua Tree Superintendent David Smith
Other campgrounds and services are currently not affected by this closure. Please use caution when recreating in the greater Jumbo Rocks area.
Scientists estimate that there are hundreds of bee species in the park, reports the LA Times, and it's not the first time they have forced temporary closures. Last year, the park's Keys View overlook was closed due to swarming bees.
Accordning to Superintendent Smith, bees are very thirsty creatures, and if natural water supplies are not available, they resort to moisture on picnic tables, or on the air-conditioning condensers of vehicles. By closing the campground, not only will the safety of the public be protected, it will also force the bees to discover natural water sources elsewhere.
Joshua Tree National Park is an American national park in southeastern California, east of Los Angeles, and San Bernardino, near Palm Springs. The park is named for the Joshua trees (Yucca brevifolia) native to the Mojave Desert. Originally declared a national monument in 1936, Joshua Tree was redesignated as a national park in 1994 when the U.S. Congress passed the California Desert Protection Act. Encompassing a total of 790,636 acres (1,235.4 sq mi; 3,199.6 km2)—an area slightly larger than the state of Rhode Island—the park includes 429,690 acres (671.4 sq mi; 1,738.9 km2) of designated wilderness. Straddling the border between San Bernardino County and Riverside County, the park includes parts of two deserts, each an ecosystem whose characteristics are determined primarily by elevation: the higher Mojave Desert and the lower Colorado Desert. The Little San Bernardino Mountains traverse the southwest edge of the park.
Honey bees belong to the family Apidae which includes bumblebees, carpenter bees, long horn bees and many other species. The genus Apis has been around for 60 million years and today contains seven recognized species of honey bees including the giant honey bee (Apis dorsata), the little honey bee (Apis florea), the eastern honey bee (Apis cerana) and the European honey bee (Apis mellifera) is now found around the world. More recent discoveries include Koschevnikov's bee (Apis koschevnikovi), Philippine honey bee (Apis nigrocincta) and the black dwarf honeybee (Apis andreniformis). All the species of honey bees described are native to south and southeast Asia with the exception of the western or European honey bee (Apis Mellifera) that is now commonly found around the globe.