Many people believe the best skiing and snowboarding in the world is in Alaska. The massive mountains, abundant snowfall, and expansive terrain are just a few reasons why. However, the number of actual lift-accessed ski areas is limited. Using snowmobiles and alpine touring are common ways to access the spacious area. Or you can pay for one of the many backcountry heli and cat skiing operations.
Now a passionate group of residents has received a preliminary decision from the state to build an all-season resort overlooking Prince William Sound, just six miles from downtown Valdez, AK. The project is called East Peak Resort, and the vision is for it to be the biggest in the state.
Ultimately the plan is for the resort to have a 3-mile long, 4,700 vertical foot chairlift and cover over 5,500 acres.
Why Valdez?
Valdez may be the perfect spot for a new resort like this. It is one of the snowiest cities in the US, where over 300 inches falls annually, just in the city at sea level. It is also already a mecca for backcountry heli-skiing and cat skiing. The resort would complement the other operations in the area, allowing riders to resort ski during inclement weather or on "no-fly" days.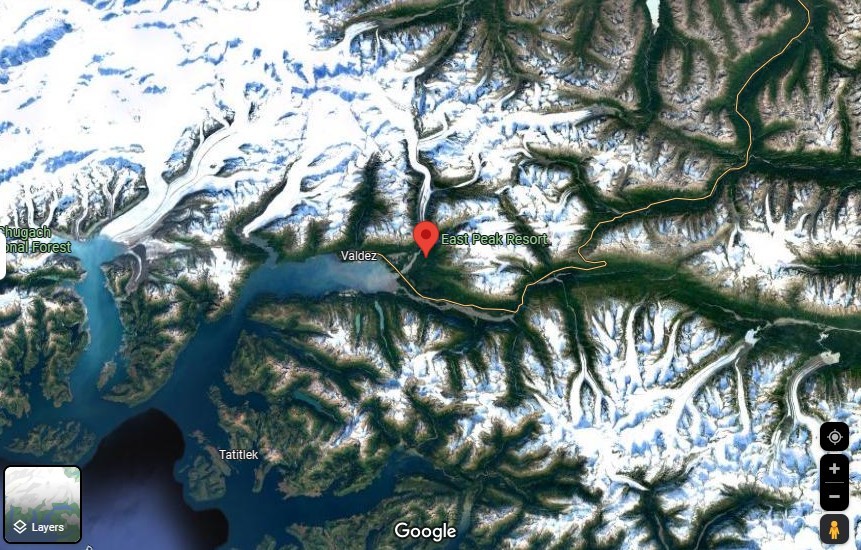 In the summer, there would be mountain bike trails and other attractions like sightseeing and ziplining. This would help support the estimated 50,000 incoming cruise ship tourists that travel to the city every year. It could also revive and sustain the small fishing town as oil-related jobs dwindle in the future.
The initial decision includes a 20-year lease, with the first three years having a $2,000 lease fee. This could change once an appraisal of the land is completed. Final approval would then allow construction of the early phase of the project. This would include building an access road, clearing trees, and constructing a warming hut mid-mountain. Ideally, the resort will have a 6-person chairlift with alternating chairs and gondolas or a "chondola."

The vision is inspiring, and it will take patience for the entire project to be completed. It seems both the state and the city are on board, as it would boost tourism and the economy. Final approval could attract more investors to make it a reality. If it does happen, it would give skiers, riders, and adventure seekers another reason to visit the last frontier.