To celebrate his birthday, Alex Honnold decided to just SUP the length Lake Tahoe, CA from South Lake to Kings Beach. The ~21-mile journey took five and a half hours, and he did it solo, without any support boats.
Not enjoying his birthdays and not a lover of receiving presents, he asks people to instead donate to the Honnold Foundation, promoting solar energy for a more equitable world.
I celebrated my 35th birthday today by paddling across Lake Tahoe. Something like 20.5mi from South Lake to Kings Beach – I started at 3am and was done by 8:30. Pretty awesome adventure to watch lightning over the north end of the lake through the night – pretty peaceful to just paddle away all night.
I've always kind of hated birthdays – I don't like feeling older (especially as I near middle age!) and presents have always made me deeply uncomfortable. If I needed something then I'd already have it, so if I don't have it then I obviously don't need it… slightly circular reasoning but it does keep me unencumbered.
The only kind of birthday presents that feel comfortable with are donations to the @honnoldfoundation – at least that all goes to supporting solar projects around the world, something that actually matters.
So if you're willing or able, check out the link in bio and support the work…
(Also, I've been posting paddling pics because I've been mostly training in a home garage – my outdoor time right now is mostly MTB or paddling… maybe I'll get into training pics but they hardly compare to sunrise on the lake…)
Alexander Honnold (born August 17, 1985) is an American rock climber best known for his free solo ascents of big walls. His 2017 accomplishment of free soloing El Capitan, in Yosemite National Park, is regarded as one of the greatest athletic achievements of all time.
Honnold is the only person to free solo El Capitan, and holds the fastest ascent of the Yosemite triple crown, an 18-hour, 50-minute link-up of Mount Watkins, The Nose, and the Regular Northwest Face of Half Dome. Honnold says he likes tall, long routes and that he tries to do them quickly. He is the author (with David Roberts) of the memoir Alone on the Wall (2017) and the subject of the 2018 biographical documentary Free Solo, which won a BAFTA and an Academy Award.
Honnold says he is inspired by such climbers as Peter Croft, John Bachar, and Tommy Caldwell, and even more by beautiful sites like El Capitan.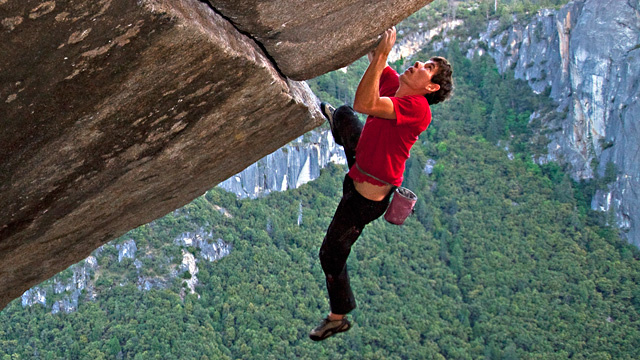 Lake Tahoe is a large freshwater lake in the Sierra Nevada mountain range of the United States. Lying at 6,225 ft (1,897 m), it straddles the state line between California and Nevada, west of Carson City. Lake Tahoe is the largest alpine lake in North America, and at 122,160,280 acre-ft (150.7 km3) trails only the five Great Lakes as the largest by volume in the United States. Its depth is 1,645 ft (501 m), making it the second deepest in the United States after Crater Lake in Oregon (1,949 ft or 594 m).
The lake was formed about two million years ago as part of the Lake Tahoe Basin, with the modern extent being shaped during the ice ages. It is known for the clarity of its water and the panorama of surrounding mountains on all sides. The area surrounding the lake is also referred to as Lake Tahoe, or simply Tahoe. More than 75% of the lake's watershed is national forest land, being the Lake Tahoe Basin Management Unit of the United States Forest Service.
Lake Tahoe is a major tourist attraction in both Nevada and California. It is home to winter sports, summer outdoor recreation, and scenery enjoyed throughout the year. Snow and ski resorts are a significant part of the area's economy and reputation. The Nevada side also offers several lakeside casino resorts, with highways providing year-round access to the entire area.