***Update:  1:14pm MT
Highway 210 will remain closed and Alta Ski Area will not open today. For road updates, please consult

Alta, UT 2/6/20 at 1:14pm MT
***Update:  1:34pm MT:
Due to the intensity of this storm, Snowbird will remain closed today. Interlodge will be in effect from approximately 2pm – 4pm for @UDOT avy avalanche control work.

Snowbird, UT 2/6/20 at 1:34pm MT
At 1:14pm MT, Alta announced that the road will not open today and that Alta will not open today.
At 1:34pm MT, Snowbird announced that they will not open today.
****
***Original Article:
"HWY SR 210 is closed. There is currently no estimate as to when it will re-open. Straightline travel is permitted between buildings in the Snowbird Village, but parking lots are restricted. The storm intensity continues to remain high with strong winds and heavy snowfall. At this time, the resort is closed for skiing and riding. We will re-evaluate conditions at Noon." – Snowbird, 2/6/20
Alta, Snowbird, and Highway 210 (Little Cottonwood Canyon's highway) are currently (12:32pm MT) closed due to high avalanche danger.
🚧 #RoadClosureAlert: #LCCroad #SR210 is CLOSED to the public for @UDOTavy avalanche control work. This closure is in place until further notice.🚧 @UDOTTRAFFIC @CanyonAlerts @Snowbird @AltaSkiArea pic.twitter.com/ZgX64LF6ms

— UDOT Cottonwood Canyons (@UDOTcottonwoods) February 6, 2020
Alta & Snowbird are on "Interlodge" meaning that no one is allowed to leave the buildings for any reason whatsoever.
"Interlodge travel restrictions for the Town of Alta will go into effect at 6:30am. The estimated opening time is TBD." – Alta, 2/6/20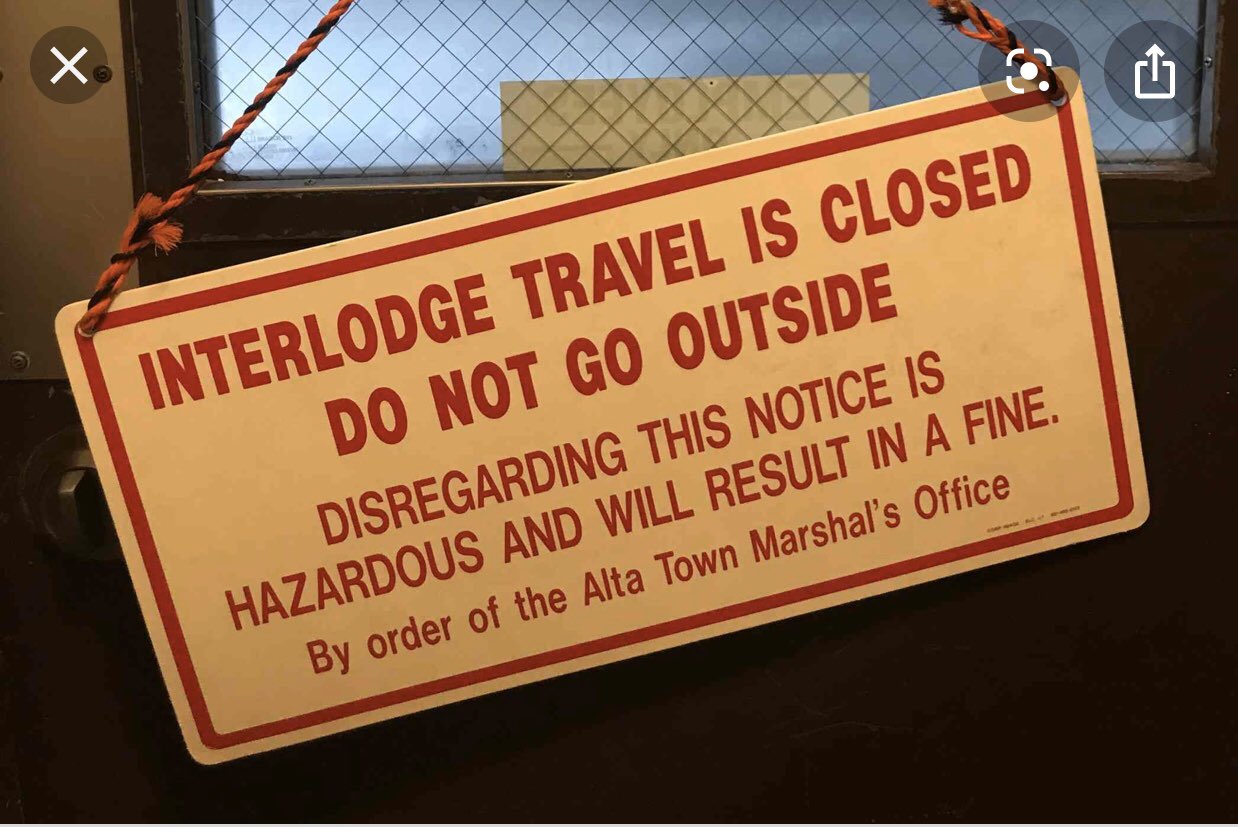 The status off of these closures was to be re-evaluated at noon MT but that time has come and gone without an update.
Little Cottonwood Canyon saw dry snow, then wet snow, making for an "upsidedown" snowpack that is very susceptible to avalanches.
The new snow is denser

 (about 7% this morning) than the very low density powder under it. On many slopes there is a hard ice crust underneath snow that has fallen since Monday. North facing slopes do not have this crust. Riding conditions shouldn't be the best with this 

upside down snow

. Looking ahead, as the snow settles and compresses, riding conditions should be much better sometime this weekend.

Below 6000 feet – precipitation should switch to rain late this morning. It shouldn't be heavy rain that causes widespread wet avalanches but enough to make the snow surface wet.
Alta has reported 8″ of new snow in the past 12 hours.
Avalanche danger is rated as "HIGH" above 9,500′ in the Salt Lake region today.