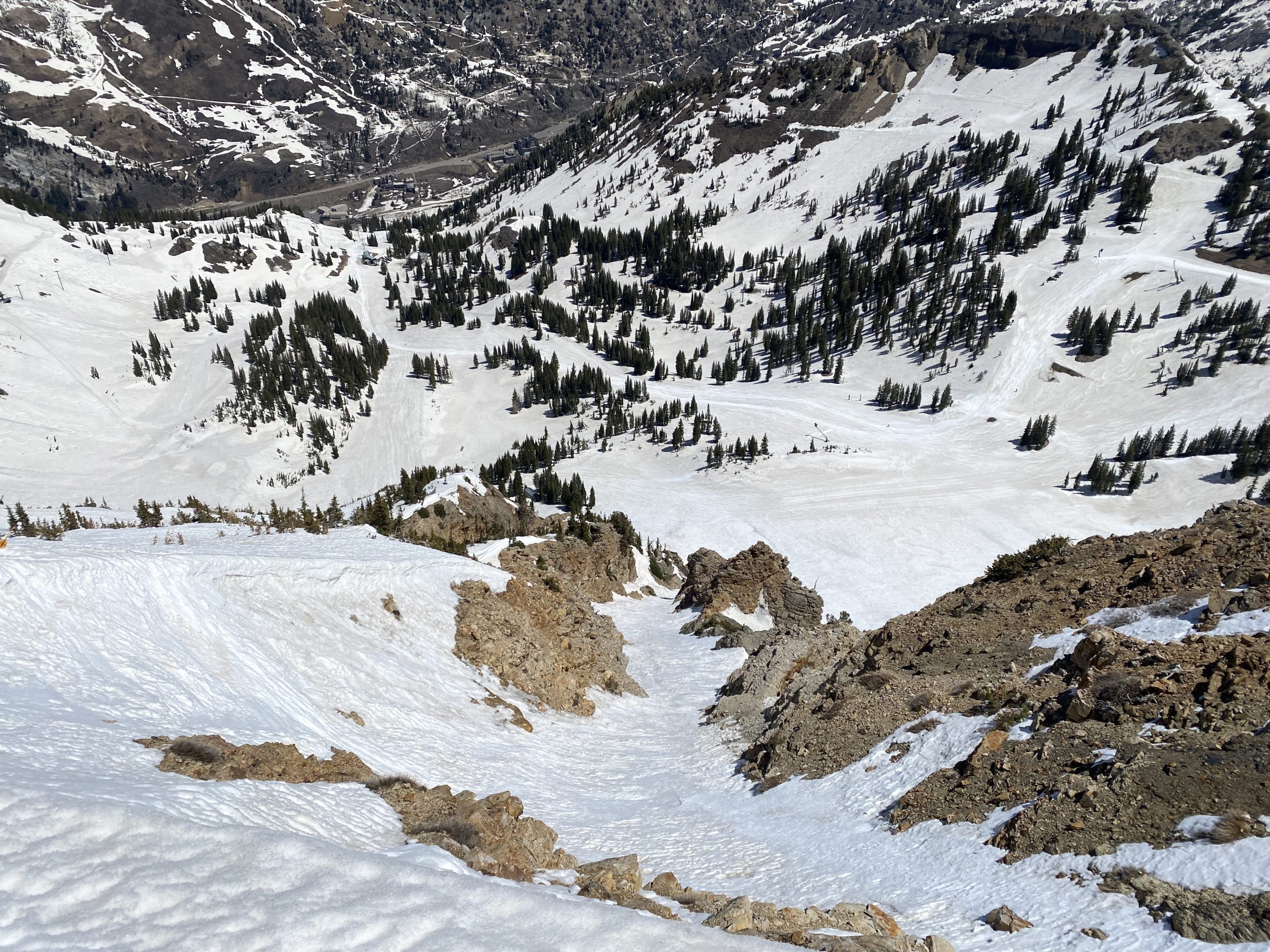 Report from Wednesday, May 25, 2022
Mt. Baldy on the border of Snowbird/Alta has a lot of solid descent options, but if you hear someone talking about "the chutes," they're referring to:
Main Chute (NE facing)
Little Chute (NE facing)
and Dogleg. (East-NE facing)
Main Chute is big, wide, fun, and not that gnarly.
Little Chute is steep, feels a little technical but not crazy, and is a little steeper than Main Chute.
Dogleg is the chute that branches off from Little Chute to the skier's right and is less of a chute in the traditional sense of the word.
It's got a steep, technical entrance at the top between rocks, which is only about two and a half feet wide. This thin entrance leads into a short couloir that only feels like a couloir for about two turns before it widens out into a small apron-type line on Baldy.
It's steep and fun, but it's more of a novelty than a good ski run because of the tricky, aesthetic entrance.
There's also a lower entrance to the chute that's a little further down Little Chute, which I took today because the top entrance was already melted out and rocky.
It took me 1 hour and 45 minutes to get to the top of Baldy from the base of Alta today—there was still snow all the way from the parking lot, so the tour up was easy.
The sun was shining, there wasn't any wind, and it was HOT.
By noon when I had got to the top of Baldy, the snow inside the chute looked slushy.
It was.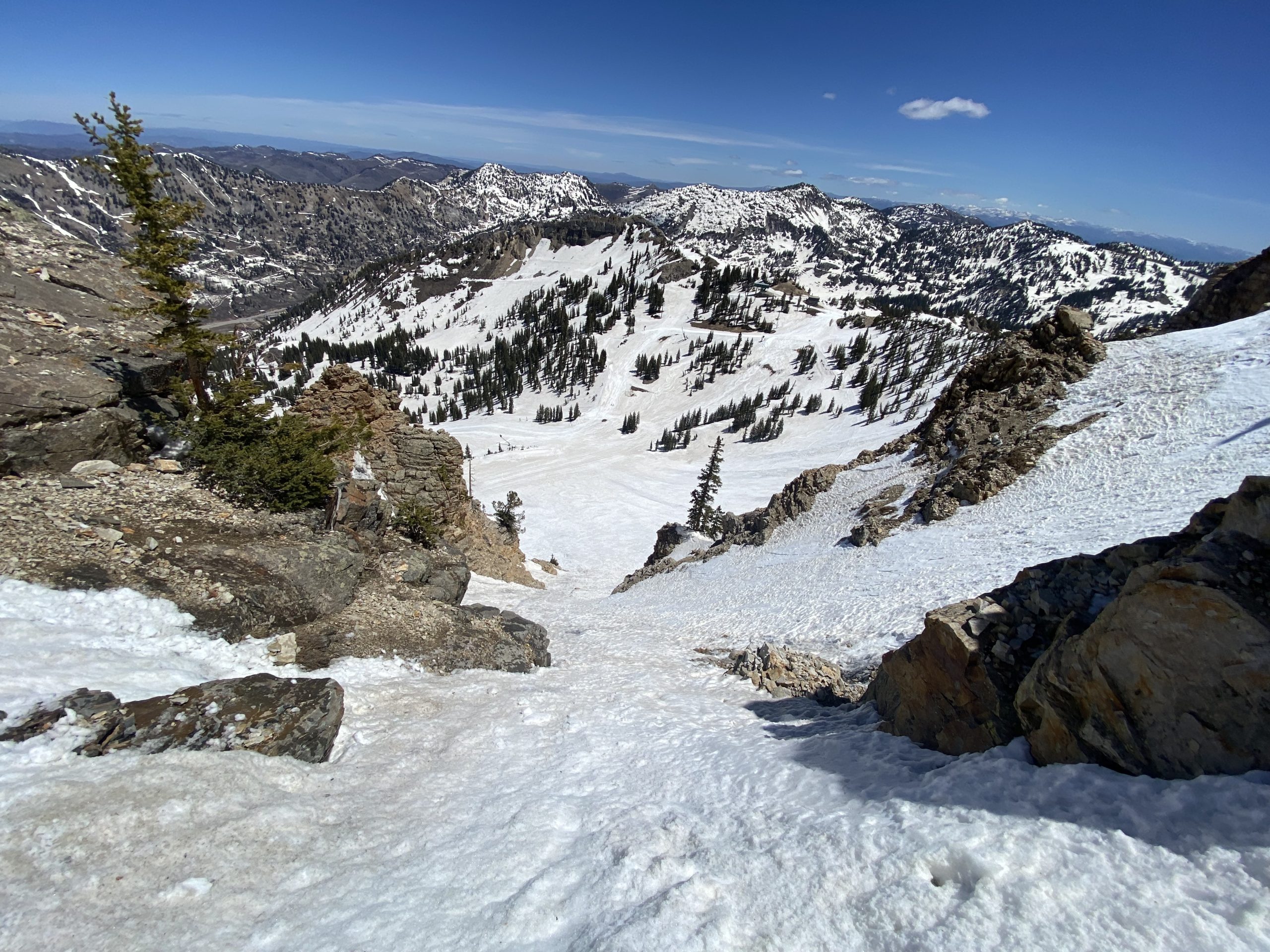 I took some mellow turns into Little Chute and kicked around a bunch of slush. It was hot and heavy but not too sticky. Yet.
I scoped the first entrance to Dogleg but saw that it didn't go, so I went for the lower entrance.
The entrance was thin and I shuffled in between sharky rocks.
Once I was properly inside Dogleg, I started making turns down the thinning snow.
The snow was dirty brown and sprinkled with small rocks, some of which had fallen from the adjacent rock faces on Baldy.
I kept razor focus to avoid hitting rocks and did a fairly good job but there were some sneaky ones that bested me.
After the main section of Dogleg on Baldy, I skied into the Ballroom below, which was sun-cupped and sticky.
I stayed on my tails and blasted through the suncups at speed—a fun sensation in itself, just trying not to fall.
Once I got to the bumpy groomer below, the skiing got mellower and I relaxed.
I sailed the slushy groomer home to the parking lot, smiling at happy spring tourers on their way up, and savoring every hot turn.
The snow seems to still be holding on as June approaches, but for how much longer it will, I don't know.
Gear
Weather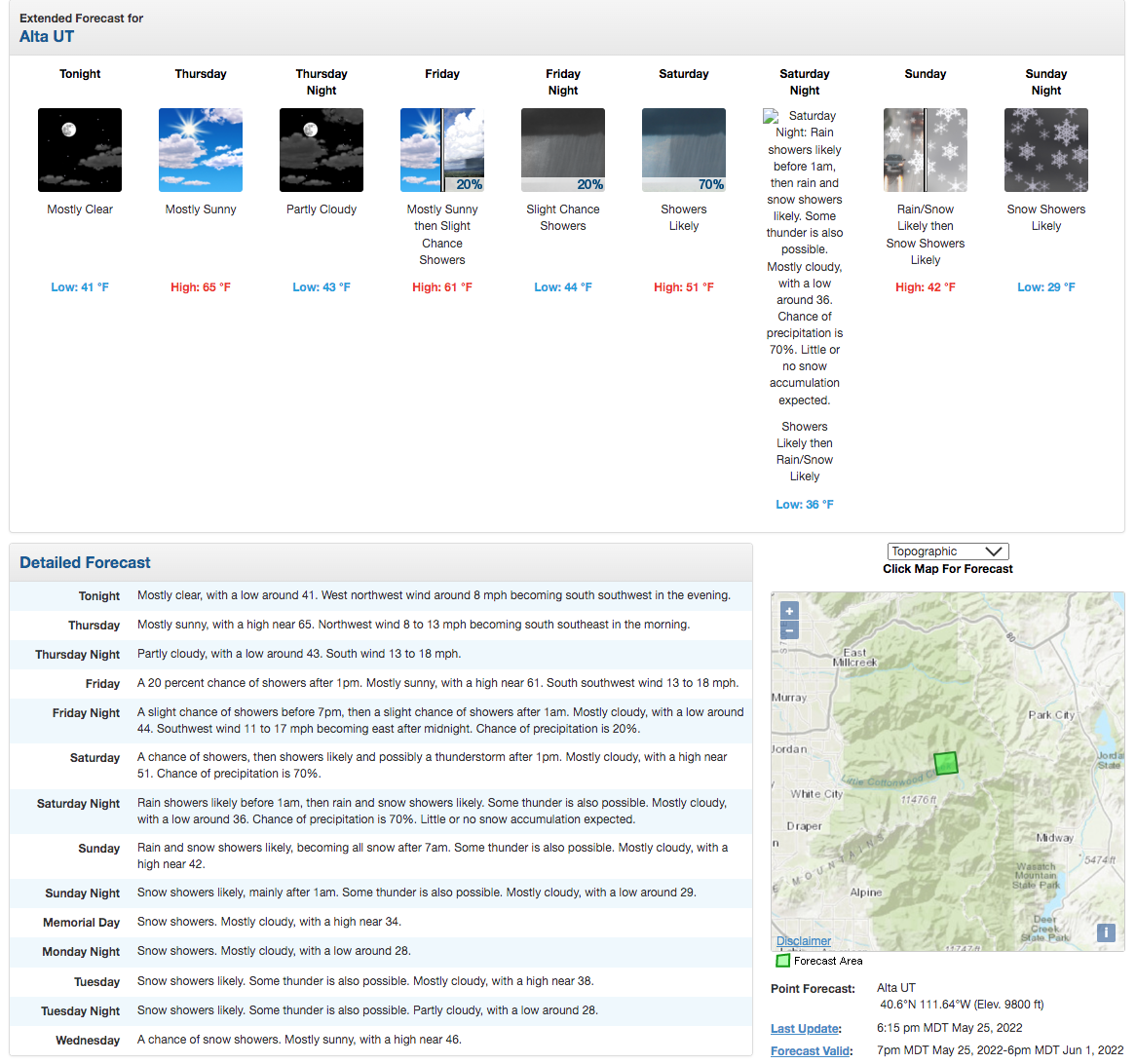 Photos