Our early season here Alaska has been a challenge.   Alyeska Resort has pulled through for the holidays. Some might say it's a Christmas miracle.  The last week has been a nice change of pace as it's beginning to feel a lot like winter.  Although it's still raining at sea level, the snow line has dropped and it seems as if we've had our first real powder days of the season.  
Yesterday, the resort was closed due to high winds, allowing snow to accumulate during this last storm.  Today the winds died down letting Alyeska open up the Aerial Tram, Chair 1 (midway laps only) and Glacier Bowl Express (Chair 6). There was only one wind hold on the tram and and Chair 6 the entire day. Chair 4 and the rest of the lower mountain still remains closed due to lack of snow. Alyeska is working very hard to open these areas by blowing snow, but temperatures keep fluctuating above freezing.
Today the upper mountain was skiing great. The resort received 11 inches overnight at the top of Chair 6 and about 6 inches mid mountain. The winds were fierce making some areas deep and soft and other areas wind blown and icey. Over all, most places were skiing soft and creamy.
Gail's Gully, Prospector, Chilkoot Ridge all the way to Wicks knoll were skiing the best. Even though the visibility was low, the snow was dense, soft and fast, allowing riders to open up a bit. Also, some good lips have formed in the gullies making for some all-time jumps and wall slashes. Kitchen Wall, coming off of Mighty Mites, was also skiing wonderfully. Kitchen Cliff was my favorite hit of the day. A nice lip has formed off of the cliff, making it a great feature to get tricky on! Tower 10 on Chair 6 was holding the afternoon stashes which always seemed to get overlooked until the end of the day.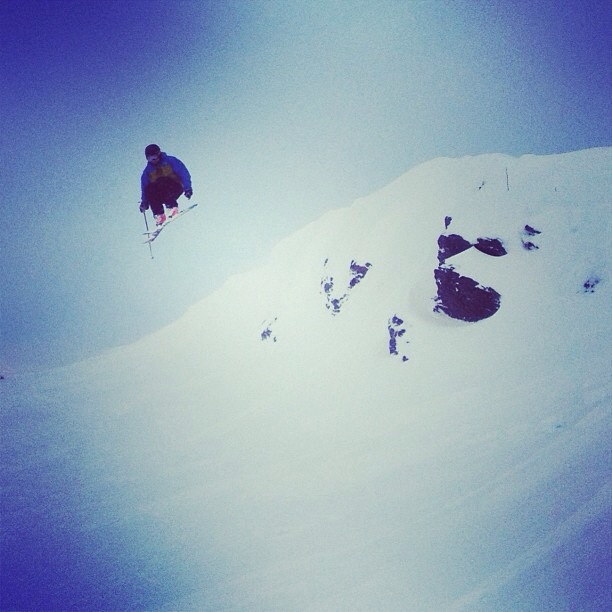 Just after 1pm ski patrollers popped open some new terrain for the first time this season. They opened up a small portion of South Face just below the tram. This was a great treat since everything else had been skied out. It's still a bit thin and we need much more snow to bat down the alders and to allow them to open up the rest of South Face. What they did have open was more than expected thanks to the hard work of the ski patrol.
Most outer areas are still closed such as North Face, Max's, and even much of the south bowl. Alyeska still needs to receive way more snow from top to bottom until it's even a consideration. Luckily miracles do happen in Alaska, and we could get a single storm at any moment that could open everything with one dump. Lets keep our fingers crossed and pray for snow!