We have all been impressed by the incredible sit-skier carving down the mountain or even hitting Corbet's Couloir at Jackson Hole, WY. Just going down a moderate run on a sit-ski appears daring to any skier, and that is what makes Militaries to the Mountain such an incredible program. A yearly program through the charity HighFives assists disabled veterans on a week-long ski trip to Squaw Alpine, CA!
In addition to offering a great season pass discount to military veterans, Squaw Alpine also hosts this incredible group every year. The sale of Squaw Alpine's military discount season passes for $60 funds the program. It all started when Roy Tuscany, an up-and-coming pro freeskier who had a crash that left him paraplegic in 2006, met David Vobara, a retired NFL player who ran a workout center for disabled people. Together, they had a thrilling idea:
"What if we take veterans, some of whom have never seen snow, all of whom are missing a leg or two, stick em on skies and point em down a mountain?" -Tuscany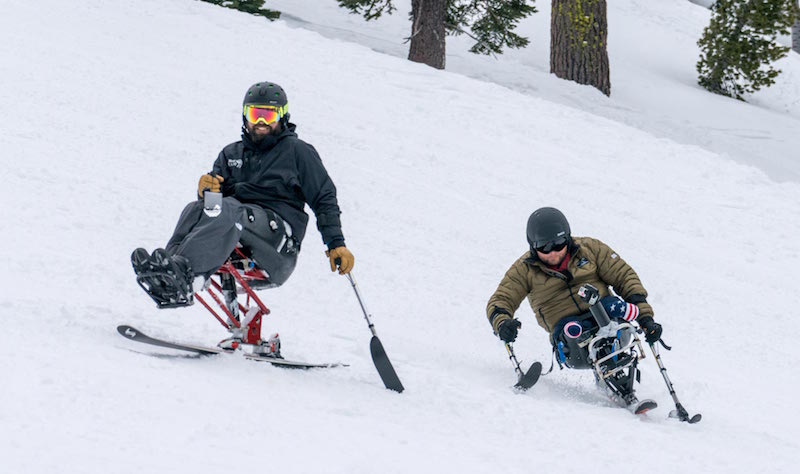 This was the beginning of an amazing program of showing an incredible sport to incredible individuals. The video above highlights this incredible idea becoming a reality. The charity mostly focuses on injury prevention and alternative recovery of severe injuries, but also provides the opportunity for a group of military amputees to ski.
Not to get political, but the US does not provide the best care for our veterans. It is awesome that people like Vobara and Tuscany, as well as resorts like Squaw Alpine, are out there making a difference. Outdoor exposure for military vets is not a new idea. One of the most popular outdoor podcasts, The Dirtbag Diaries, featured two army veterans who share their love for nature with other veterans.
Their primary goal is to get vets outside. Nick Watson and Stacy Bare, the founders of VetExpeditions, experienced first hand how much the outdoors nurtured their assimilation back into civilian life.
"The way the war has impacted me is constantly evolving. I'm not cured and might never be. But the wilderness showed me where I was broken and slowly started stitching my body and mind back together." – Stacy Bare
Activities range from multi-day mountaineering trips to simple day hikes. Psychological wounds of war are nothing new, and the transition back into civilian society is met with its share of difficulties. An average of 20 US veterans take their own life each day. Watson and Bare are not psychiatrists, only peers who know the power of nature. They explain how being with those who share your pain creates a community. Coupled with the vastness of the outdoors, necessary teamwork of tricky routes, and the pure serenity of a beautiful landscape allows them to get out of their own heads. Allows them to experience a sense of calm no drugs or clinical therapy can provide. Allows them peace of mind.
Donate to HighFives or to VetExpeditions to help out our military veterans.