My group traveled April 2nd-5th throughout Northern California including Olympic Valley, Truckee, Sierraville, Loyalton, Chilcoot, Vinton, Graeagle, Iron Horse, Portola, Quincy, and the outskirts of Lake Davis. During the day we skied inbounds at SquawAlpine  then ventured into the woods at night.
Related:
The adventure started by packing up early and taking I-80 West from Reno to CA-89 into Olympic Valley. It was cold and rainy at the base with mixed precipitation up top. We skied a single run then picked up an additional skier at the Truckee bus depot and headed North to Sierraville, Graeagle, and Portola.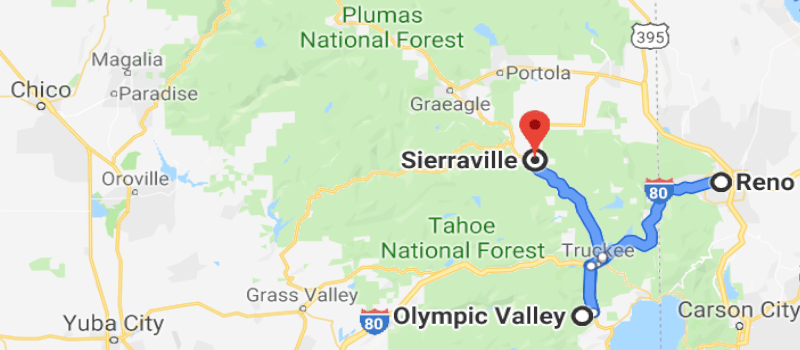 The route was clear between Olympic Valley and CA-70 on HWY-89, but very few of the side roads were plowed as we ventured into the forest. Within a few miles the road became treacherous so we decided it was time to park and finish the rest of our trip on foot. While attempting to turn around and park facing uphill our driver pulled just a few feet into the snow. In an instant the car was stuck.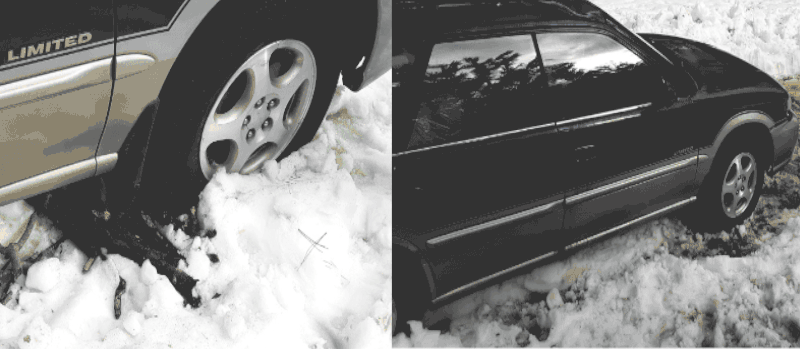 We tried for a few minutes to free our vehicle, but the tires started spinning and it was obvious it was going to take a bigger effort than we could afford before ensuring entrance to our lodging. Because of spring bear activity we were careful to take our food with us and checked the car for recent food wrappers. We left the car and headed across the meadow on skis, but did not make it far before the snow was broken by large patches of mud.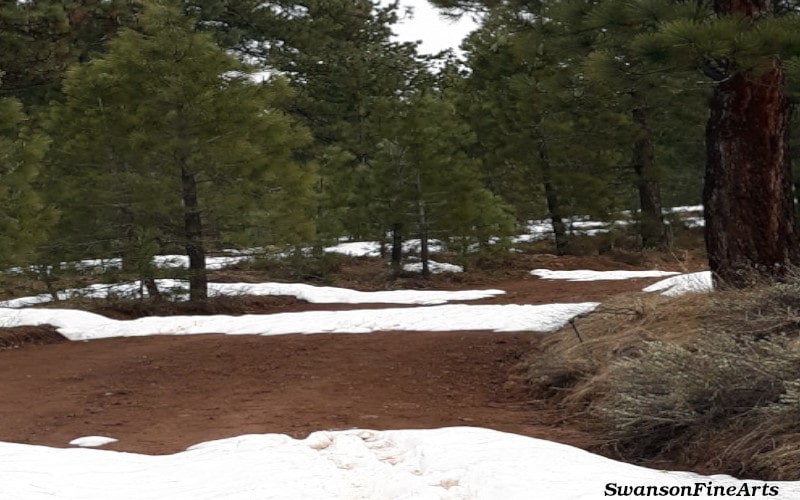 Upon arrival  we discovered a small amount of snow blocking the door and got to work with an avi-shovel. In just minutes we used teamwork to loosen the ice and quickly cleared the snow. We all held our breath as we inserted the key into the door, but on the first try the door swung open and invited us in. There was no electricity or water but the gas appliances and wood stove allowed us to melt snow and cook while maintaining a rustic experience.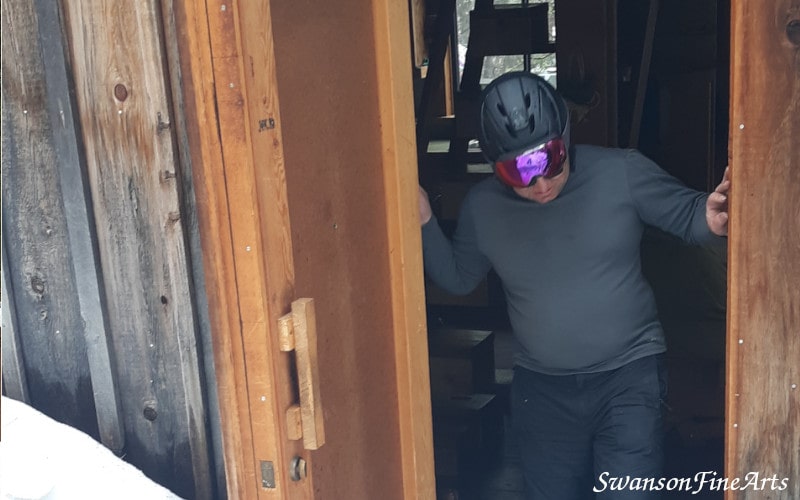 After a short lunch break we headed back to try to free the car. The rain had finally stopped and a little bit of sun peeked out over the horizon as we hiked in our ski boots in the same path we started on the way down. Some of the team tried to ski back up through the meadow while others picked up their equipment and continued the hike.
Since adding a few sticks and rocks for traction had not been enough to get the car out, we fully emptied it before trying again. Although we were careful to not leave the wheels spinning in place when they lost traction, the car was in a slight rut and we decided that the best chance would be to clear all the snow from the sides, rear, and in front of the car then pull forward. After a lot of digging and other preparation, it worked! We pulled forward onto branches and planks of wood then backed up and out of the snow. Once the car was safely parked in a stable place and turned around facing uphill we could all breathe a sigh of relief.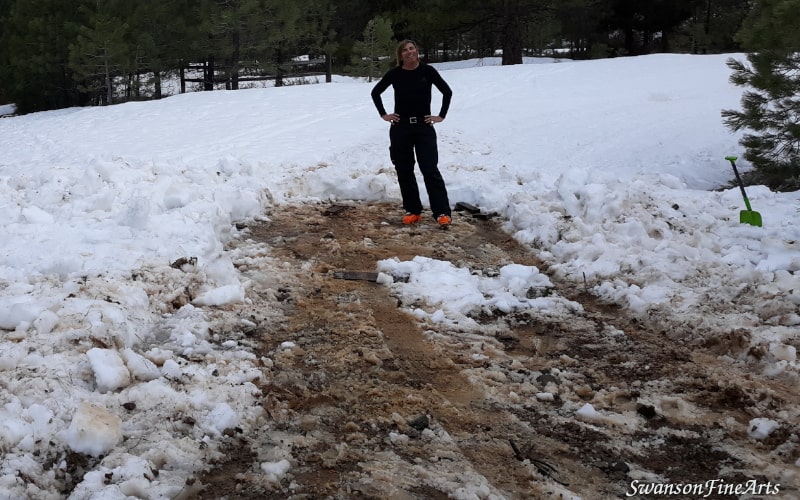 By this point we were all exhausted but saw it as an excellent team-building exercise and were happy that we had resolved it in good spirits. Soon after we finally got our chance at warm dry clothes and hung our wet gear to dry near the fire. Après consisted of shishkabobs, corn, and hot chocolate followed by an early bed time.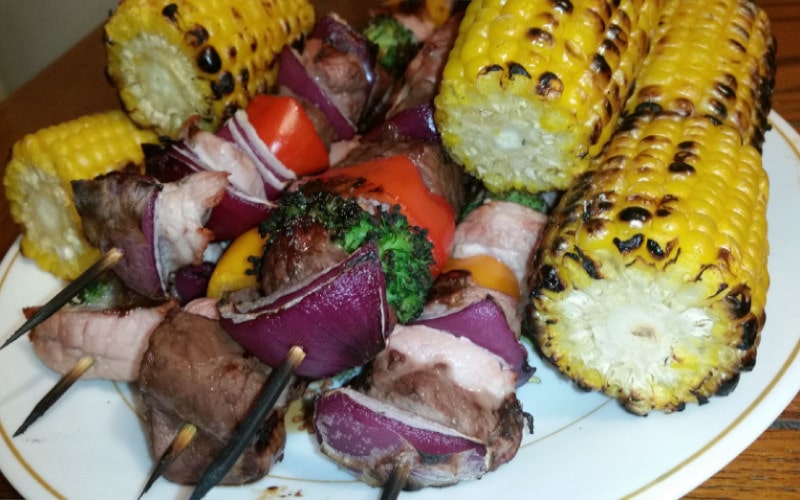 The second morning the fire was still going because one of our teammates had added wood during the night. We enjoyed a nice slow morning getting up, making breakfast, making lunch, and sitting by the fire talking. Before long we were running late and still had plenty to do but our team pulled together and got everything packed.
Related:
We hiked through our tracks up the mountain to the car, using our ski poles as walking sticks. Since it was relatively early it was more frozen than the last trip and provided us with more support as we walked through the snow drifts. I hiked in my ski boots to support my ankle and try to make walking more like skiing while the rest of the party walked in regular hiking boots. It was my first time hiking since surgery and I was happy to be with a supportive team.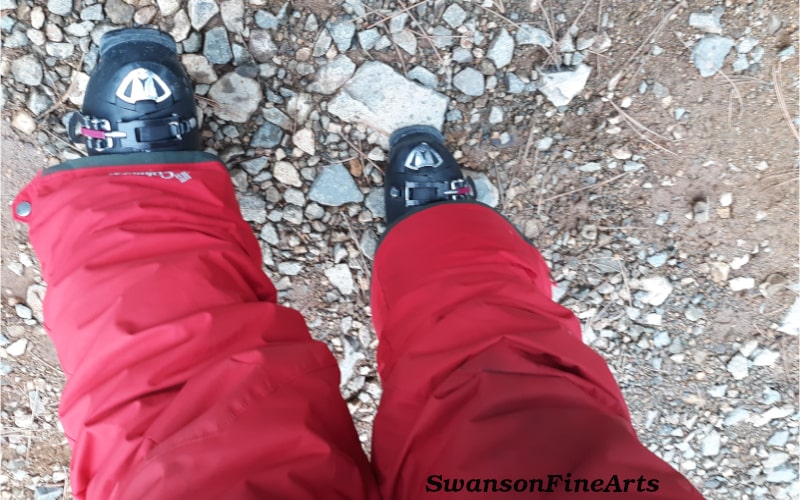 Then we traveled back to Truckee and stopped to get some coffee. At the gas station I tried to go into the store in ski boots, but there was already a sign prohibiting them. I walked back to the car to look for my shoes, then decided to just leave my boots at the door and go in with just my socks. It was that kind of morning!  Finally we found ourselves back on the road and headed to Squaw-Alpine, excited about skiing. On the upper mountain we had variable terrain. Some turns were deep powder while other turns had ice where wind had polished and relocated the snow into the deeper areas. It was difficult skiing, so our group took a short lunch break before heading back into the extreme mix of snow types. It was tricky, but we managed to ski until after three then hit the road to make our hike during daylight.
On day three we woke up and started our hike earlier. The ground was solid, giving us hope for an excellent ski day. When we arrived at Squaw-Alpine it was icy so we took a few runs to test conditions and warm ourselves up after the long drive. Each run we tested a different area and worked our way up the mountain slowly. It was originally supposed to be the end of our trip, until the first snowflake hit. In a moment we decided to extend our lodging and reschedule a crew member's bus ticket to be able to ski one more day.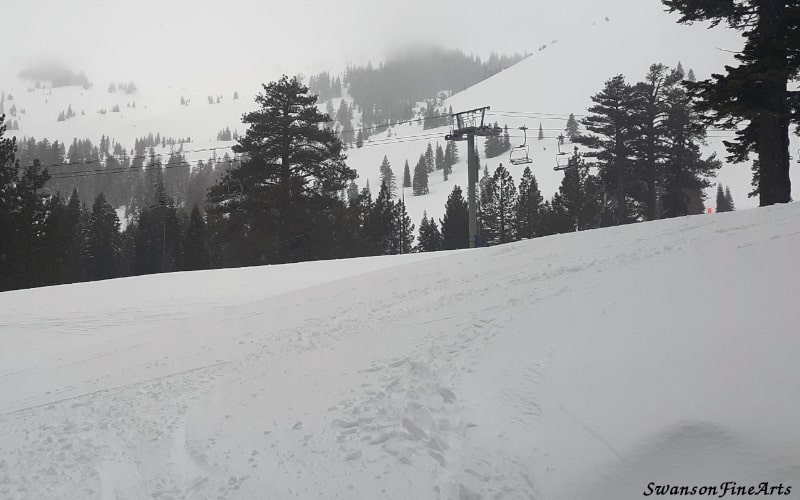 DAY FOUR: The morning hike was promising with only a few steps that weren't frozen. Most of the trail was ice with our footprints showing us the best places to step. By Friday my legs were feeling heavy but the thought of fresh snow and better health kept us motivated to keep hiking back to the car.  The drive was beautiful, with new snow on tall mountains and no ice on the road. The conditions were perfect and it made the drive very enjoyable. We stopped in Loyalton at the Sierra Station for morning coffee and hot chocolate, then continued on our way.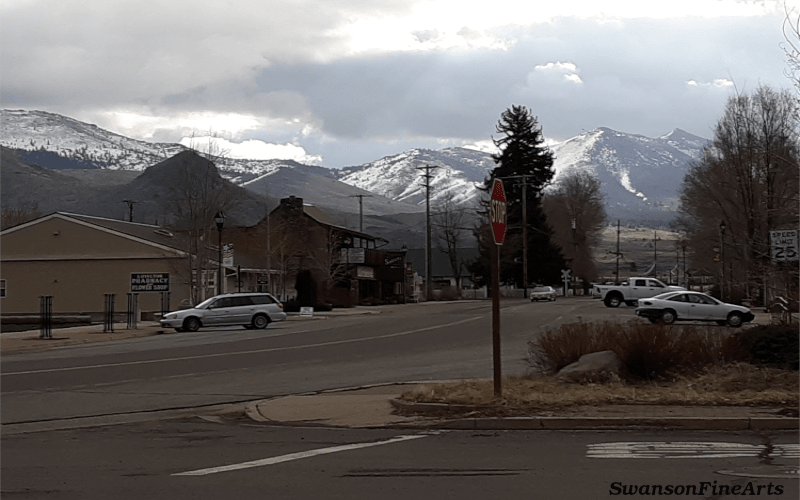 We arrived at Squaw-Alpine and were greeted by fresh snow. After several days of mixed spring conditions, we finally had powder! We skied as many runs as we could and made sure to watch out for clumped snow that could be ice. We skied both on and off-piste, pushing our limits and learning new things.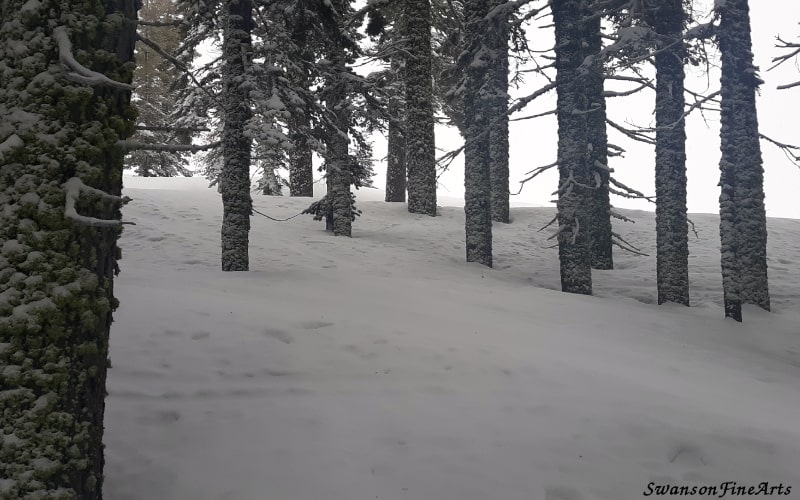 Lift status was great with only a few lifts on afternoon wind hold. There was very little wait time between runs and we skied most of the day. During our return drive we highlighted the importance of good communication between team members and checking-in with each other regularly. We talked about what worked, what didn't work, and started planning for future adventures. Where will adventure take you next?
Photo Tour