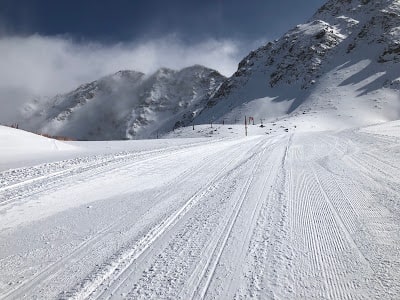 Arapahoe Basin, CO, the nation's first open ski resort this winter, announced today that as of this afternoon they will be offering top-to-bottom skiing. That's 2,530 vertical-feet of skiing!
Top to bottom skiing will open at 2 pm today or earlier. Make sure you join us for $20 lift tickets and $5 beers and apps between 2 and 4 PM today. With even more terrain open this will be the BEST happy hour to be a part of! Slide into the weekend with us. #ABasin #LetsLegend #toptobottom
Recent temperatures below zero on the mountain have enabled continuing snowmaking, and conditions are looking pretty sweet. COO Alan Henceroth offered this update on his blog this morning…
I did just take a couple passes through the area. Beautiful. The Snowcat operators (drivers) are doing the last of their dozing. That will be followed up with a final till. The Snowmakers are moving some of their gear out of the way. Ski Patrol is standing up their closures, signs, pads and B-Nets. The Lift Crew is buffing out the maze and the bottom and top terminals.

The skiing is very nice………….and we have a stunning, crisp November day to enjoy the conditions.