Colorado has obviously developed a world-famous reputation for being home to amazing skiing, and Aspen and Vail are arguably the two most internationally known Colorado resorts. Both are famed destinations for celebrities and the elite, in part due to luxurious accommodations, but also in part due to the world-class skiing either resort offers. The two resorts have developed a friendly rivalry, partially due to their geographic proximity but mostly due to the inherent similarities the two resorts share. 
Comparing Vail and Aspen from a skiing perspective is a unique comparison since Vail is one contiguous resort whereas Aspen consists of four separate locations under one name. These locations are Snowmass, Buttermilk, Aspen Mountain (Ajax), and Aspen Highlands. For comparison's sake, we'll include Aspen's four resorts as one contiguous resort.
Skiable Acres
Vail:  5,289 acres
Aspen: 5,500 acres
Vail has the most acreage, coming in at 5,289 standalone acres. This makes Vail the fourth-largest ski resort in North America, behind Whistler/Blackcomb, Park City, and Big Sky. Vail is famed for its seven back bowls, which compromises over half of the resort's skiable acreage. Being the fourth largest resort in North America, Vail has no shortage of terrain for all skill levels.  
Snowmass has 3,362 standalone acres, making it the largest resort in the Aspen resort collection. Aspen Highlands, famous for its hikeable Highland Bowl, has 1,040 skiable acres. Aspen Mountain (Ajax), famed for runs that descend directly into the historic mining town of Aspen, has 625 acres. Buttermilk has only 470 acres, but is home to family-friendly terrain and hosts the annual winter X-Games. Altogether, the Aspen conglomerate has a total of 5,500 skiable acres, which are connected by free bus shuttles. 
Top Elevation/Vertical Drop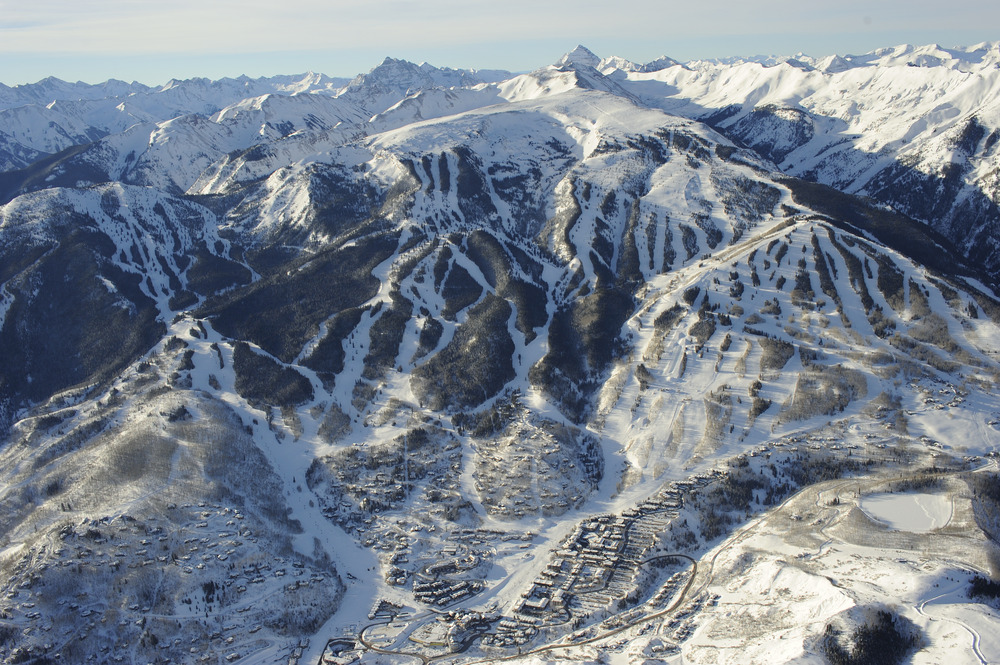 Vail: 11,570 feet / 3,450 feet of vertical drop
Aspen: 12,510 feet (Snowmass) / 4,406 feet of vertical drop (Snowmass)
Since both resorts are in Colorado, both resorts have admirable top elevations and vertical drops. Snowmass comes at the fifth highest resort in Colorado, and Vail comes in at the fifteenth highest (Silverton Mountain is Colorado's highest ski resort, and North America's, coming in at 13,487 feet). Snowmass admirably has the longest vertical ski drop in the United States at 4,406 feet, putting it in the company of vertical legends such as Jackson Hole or Big Sky, although the drop at Snowmass arguably isn't as direct or easily navigable as Jackson/Big Sky. Still, runs at Snowmass seem to last forever. If you hike up to Highland Bowl at Aspen Highlands, you can get 4,292 vertical feet of skiing. Buttermilk and Aspen Mountain don't have as much vertical drop, but still pack a vertical drop punch. Vail has 3,450 feet of vertical drop, roughly 1,000 feet less than Snowmass, but 3,450 feet is still admirable.
Annual Snowfall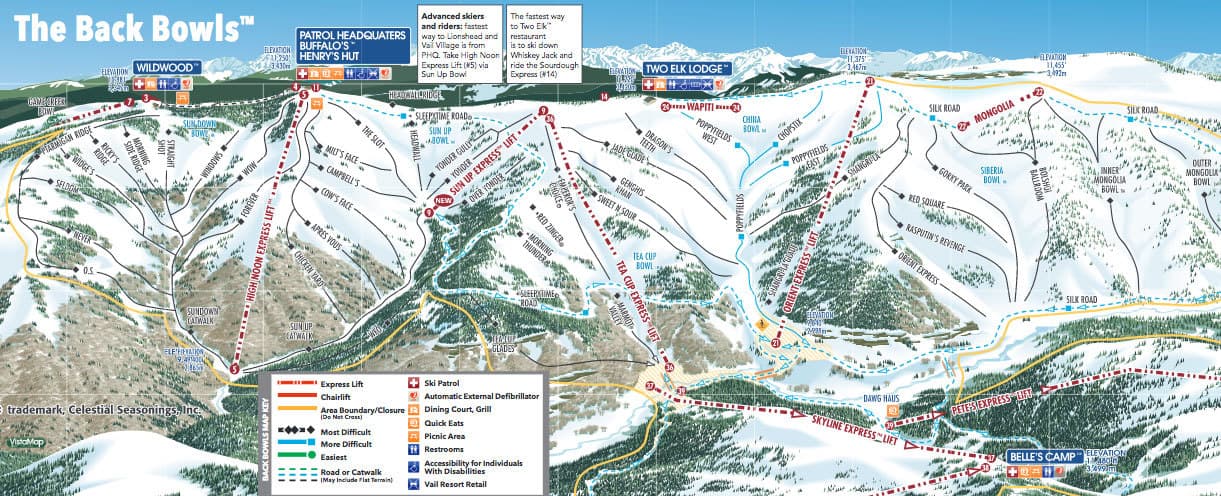 Vail: 360 inches
Aspen: 310 inches (Snowmass and Highlands)
Both Vail and Aspen get over 300 inches of snowfall, most of it falling as the dry powder Colorado is famed for. Last year was good for both resorts, Snowmass/Aspen received 400 inches, and Vail received 300 inches. Due to the high elevation of these resorts, the colder temperatures, and a multitude of north-facing slopes, snow at both resorts tends to stick around for a while after falling. As is the case with most Western resorts, the snowpack will typically be deepest in March.
Terrain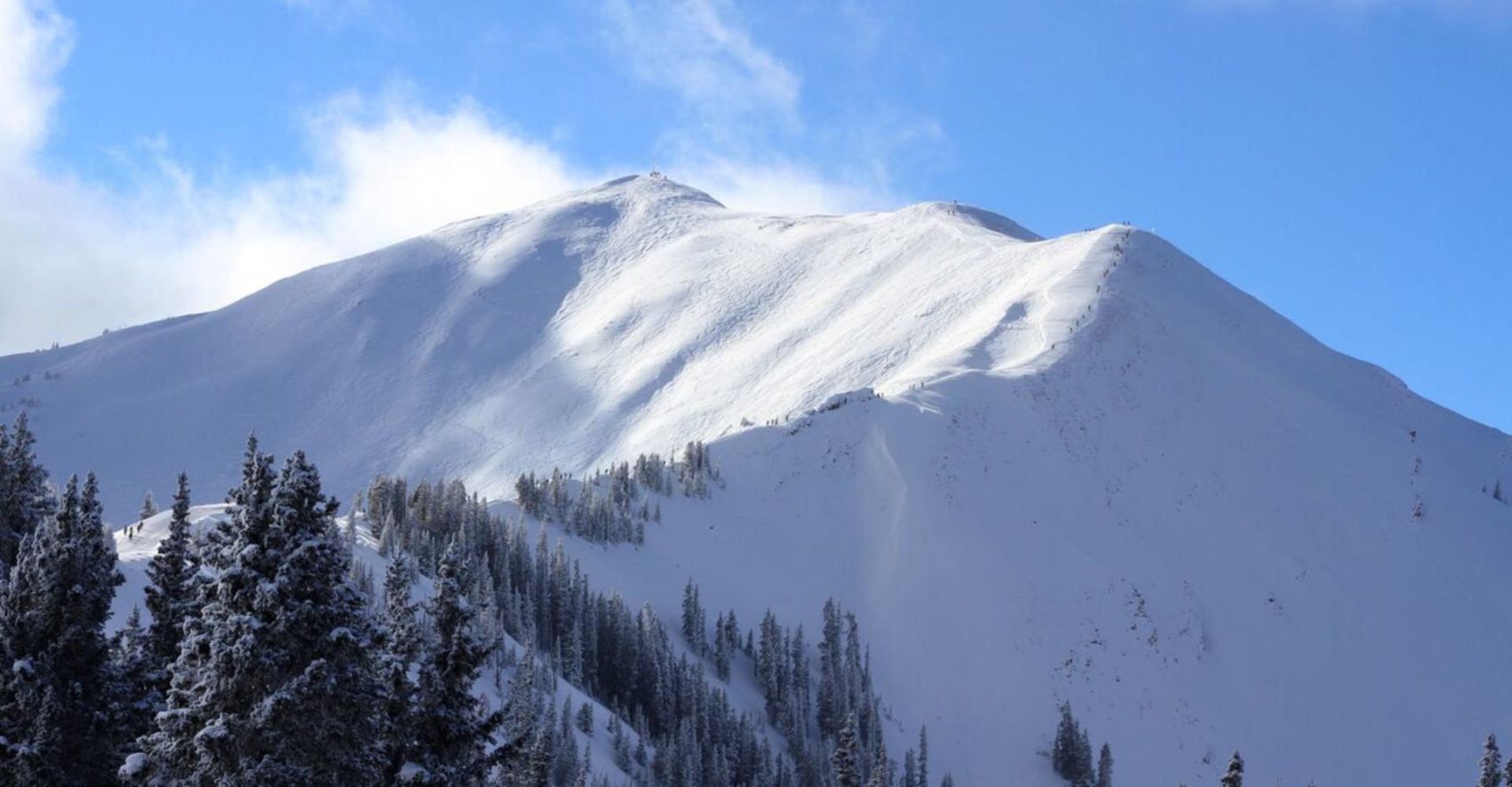 The powder-filled bowls are what give Vail much of its character, but Vail's front side is home to immaculately groomed slopes, helping Vail achieve their reputation as one of the country's best destinations for intermediate skiers. Riva Ridge is reportedly Lindsey Vonn's favorite trail, spanning four miles and combining numerous carvable blue & black trails. One of the more admirable things about Vail is the family-friendly terrain, in the sense that it's easy for families of different skill levels to ski together. Many intermediate, beginner, and advanced/expert trails lie in close proximity to each other and end at the same lift, meaning that families don't need to split up. With over 5,000 acres, there's no shortage of terrain for all skill levels. 
Aspen's four mountains each have a distinct terrain-feel. Buttermilk is the best designation for younger families, or those learning how to shred. If you're a parkrat, you'll love Buttermilk, home of the annual winter X-Games. Aspen Mountain is certainly a more advanced mountain, there's not a single beginner run on the entire mountain, and 65% of all trails are ranked as advanced or expert. Some of the best mogul-skiing in Colorado can be found at Aspen Mountain. Aspen Highlands is another advanced mountain, any trip to Aspen isn't really a trip to Aspen unless you hike and ski Highland Bowl. The steep glades off the Deep Temerity lift are also worth a visit, but only if you're an advanced skier. Snowmass, the largest resort in the Aspen collection, offers an abundance of diverse terrain for all skill levels. Half of Snowmass's terrain is intermediate, including Long Shot, a leg-burning five-mile run that requires a quick hike to access the run.
Nightlife/Town
Of course, any comparison between Vail and Aspen would be incomplete without discussing the towns themselves. There's a reason celebrities own properties at these towns/resorts, the luxurious amenities offered are out of this world. Aspen was originally a mining town that was established in the 1880s, and much of Aspen retains an old-west atmosphere. Downtown Aspen has some historic buildings that any history buff should visit. Vail was established in the 1960s, but has still garnered a reputation for being a luxurious destination. Top-notch luxurious restaurants, hotels, and spas can be found at both locations. For those seeking a better price, amenities in Vail tend to be cheaper than Aspen, partially due to Aspen's geographic isolation (Vail is closer to Denver). Many argue that Vail also has more of a laid-back atmosphere, it's said that many in Aspen prefer to apres in elegance, whereas those in Vail prefer a more low-key atmosphere. However, it's still easy to find laid-back atmospheres in Aspen. Just keep an eye out for celebrities! Which resort do you prefer?