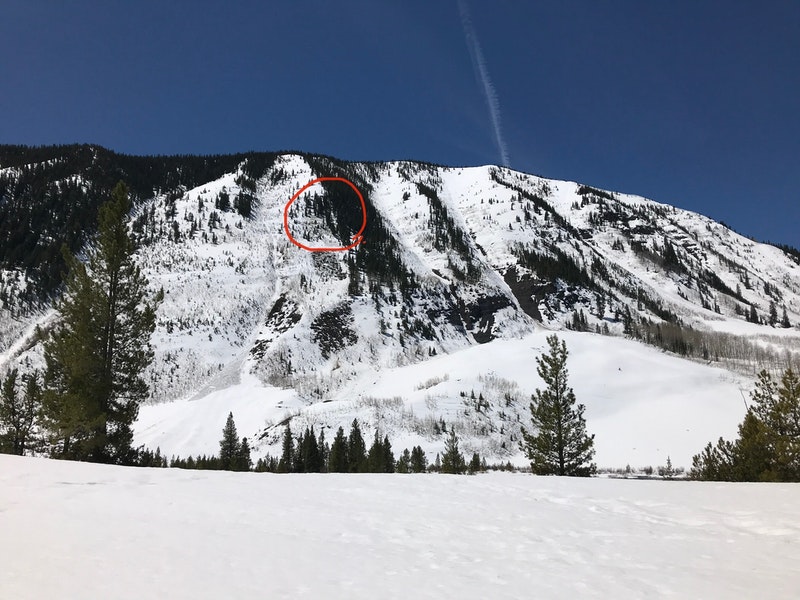 Mount Emmons near Crested Butte, Colorado claimed a life today. A skier in his 40s was caught in an avalanche on Tuesday morning while skiing the Climax Chutes and succumbed to his injuries sustained from the slide. The man was a Crested Butte local with 'extensive experience' in the backcountry, according to Crested Butte News.
According to emergency rescue personnel, the victim was carried by a wet slab avalanche which threw him into the trees where he sustained fatal injuries. The Colorado Avalanche Information Center website said he was "in very steep northeast facing terrain" when he was caught in a wet slab. He was not buried by the slide, but his injuries were not survivable. His touring partners that day attempted resuscitation for an extended period of time but were unsuccessful.
The CAIC wrote an initial report on the April 28 avalanche that killed the skier & can be read below:
Avalanche Details

Location:

 Mount Emmons, near Crested Butte

State:

 Colorado

Date:

 2020/04/28 (Estimated)

Summary Description:

 1 skier caught and presumed killed

Primary Activity:

 Backcountry Tourer

Primary Travel Mode:

 Ski

Number

Caught:

 0

Fully Buried:

 0

Injured:

 0

Killed:

 1

Avalanche

Type:

 WS

Trigger:

 AS – Skier

Trigger (subcode):

 —

Size – Relative to Path:

 —

Size – Destructive Force:

 —

Sliding Surface:

 G – At Ground/Ice/Firm

Site

Slope Aspect:

 NE

Site Elevation:

 10200 ft

Slope Angle:

 —

Slope Characteristic:

 Convex Slope,Sparse Trees

Accident Summary
Preliminary Report: Four skiers recreating on Mount Emmons, in an area locally known as the Climax Chutes, were involved in an avalanche. One skier was caught and injured in the avalanche. Gunnison County Sheriff's Office and Crested Butte Mountain Rescue responded, but reduced their response based on avalanche hazard and the condition of the skier. The skier is presumed to have perished awaiting an official announcement.
If you must recreate in the backcountry during the Coronavirus crisis, please follow these guidelines:
There have been 31 avalanche related deaths in North America this winter. 23 in the United States, and 8 in Canada.