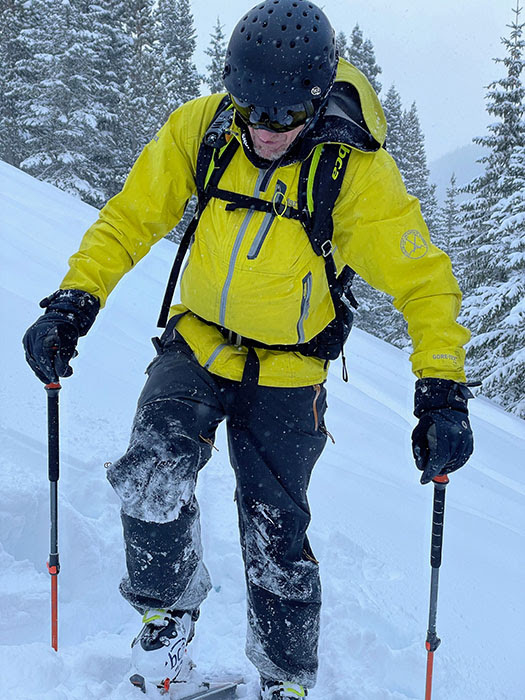 Backcountry Access recently introduced their new BC Air backcountry ski and snowboard helmet. If you're like me, you do a lot of backcountry touring in terrain where you might want to be wearing your helmet on the way up while approaching your ski objective, as well as on the way down. I do a lot of Sierra spring and summer skiing that often involves skinning and climbing in terrain where rockfall is a serious hazard. I've been looking for the right helmet for these conditions, and the BCA Air might be the ticket. Like many other backcountry skiers and riders, I've considered wearing a climbing helmet due to their lightweight and rockfall protection, but I don't feel like they are adequate protection for a skiing wreck.
Backcountry Access also has traveling in avalanche terrain in mind with the BC Air. Protecting yourself from avalanche-related trauma is not only important on the way down, but it's also important on the way up. The reality is, we expose ourselves to avalanche risk while on the skin track. And climbing steep terrain, we might be exposed to avalanche hazards and rockfall danger. We should consider wearing helmets on the way up. In a recent email from BCA, Bruce Edgerley said:
"The goal is to be able to leave your helmet on all the time: whether you're going up or coming down the mountain. Do you turn your transceiver off on the uphill? Do you put away your airbag trigger? Of course not. And you also shouldn't be taking off your helmet.

We're always excited to address the 'bigger picture' regarding safety. By addressing the trauma side of backcountry safety, we're broadening our scope and increasing our ability to save more lives."

— Bruce Edgerley – VP and Founder, Backcountry Access
The Backcountry Access BC Air helmets are the same as the K2 Route. BCA has introduced them into their line to further reach out to their unique backcountry ski and snowboard users. With a full ASTM snow sports certification, the BC Air touring helmets provide a high level of safety in the event of a ski crash. Designed specifically for backcountry skiing and snowboarding, the BC Air helmets have great ventilation, headlamp clips, and a BOA adjustment system. They weigh in at just 11.9oz (340g) for S & M sizes and 13.5oz (385g) for size L, making it one of the lightest options on the market.
Check out the Backcountry Access BC Air Ski and Snowboard helmet.