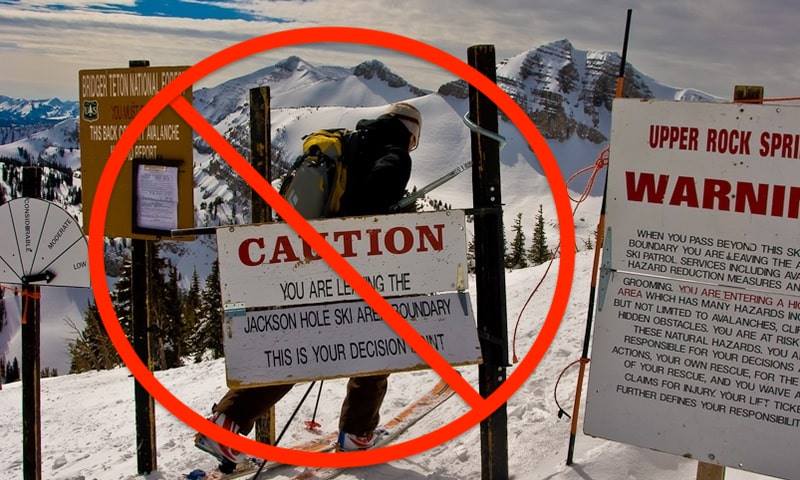 After review of the winter storm situation, a collaborative decision has yet again been made to keep the backcountry gates at Jackson Hole Mountain Resort (JHMR) closed for one more day. Jackson Hole Mountain Resort (JHMR), Grand Teton National Park (GTNP), Bridger Teton National Forest (BTNF) and Teton County Search and Rescue (TCSAR) have determined that the backcountry gates will remain closed Thursday, with the goal to re-open them on Friday, March 1.
Three consecutive days is unheard of and is surely unprecedented in the history of Jackson Hole Mountain Resort.
This closure includes all gates that provide access to the Granite Canyon drainage and all gates to the south of the resort's boundaries. Road closures, elevated avalanche danger, the potential risk to rescuers, and continued weather events are all factors in this decision to close the resort exit points.
It was first reported Tuesday that Grand Teton National Park had requested that, due to heavy snowfall and the subsequent avalanche risks, Jackson Hole Mountain Resort close their gates that provide access to the backcountry. The unprecedented measure was to protect the safety of staff and skiers. The resort obliged, closing the gates for what might be the first time in their history.
SnowBrains will be in Jackson Hole for the next few days. Look out for our reports and pictures as we shred this epic, record-breaking snow year, and follow us on Instagram for the most authentic and powderlicious stories in the business.
"We're in another massive snow cycle," stated Vice President of Operations Tim Mason. He went on to note, "we have been working very closely with key community stakeholders, and feel it is in the best interest of safety to keep the backcountry access points closed for at least one more day. We are monitoring the storm, and will re-open the gates as soon as we feel comfortable."
The mountains around the Jackson Hole area have received over 4 feet of snow in the last 3 days, with 3-4 more feet anticipated in coming days. The current Teton area avalanche forecast is high at all elevations and backcountry travel is not recommended. JHMR has experienced record snowfall for the month of February thus far at the upper mountain and mid-mountain snow plots.  Base area snow depths are also on track for a record for the month.