What is the TRT?
High in the Sierra Nevada mountain range, located on the California border with Nevada, lies North America's largest alpine lake. Lake Tahoe may be well known for its many major tourist attractions, but what backpackers may not recognize is that it is also home to an incredible multi-use trail system, the Tahoe Rim Trail (TRT).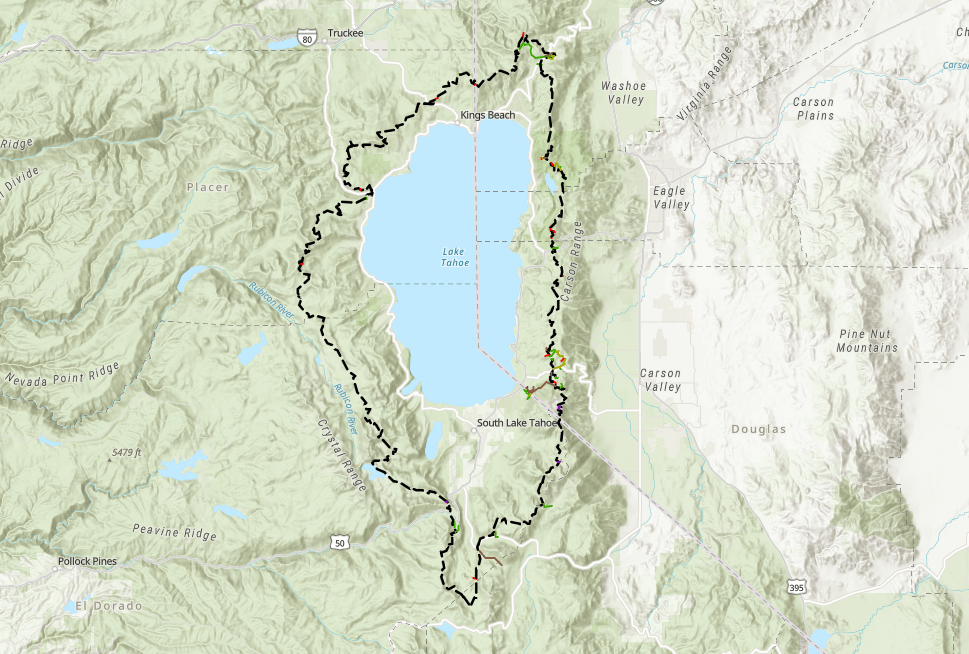 In 2001, after 17 years and more than 200,000 volunteer hours, the TRT was finally completed and ready for public use.  The TRT system totals 165 miles over 24,000 feet of elevation gain as it winds its path around majestic Lake Tahoe. TRT's recreational uses include mountain biking, hiking, backpacking, camping, and horseback riding. TRT allows all dogs (certain rules permitting) and is open year-round.  (Permits are required in some locations and with some activities, please visit their website for details.)
Guided backpacking trips?
Established in 1982 with a mission to maintain, enhance and preserve the trails' natural beauty, the Tahoe Rim Trail Association (TRTA) oversees the use of the trail. In addition to its volunteerism and community outreach, it also offers educational outdoor programs for both youth and adults alike. TRTA provides a vast amount of high-quality information and access to important resources.
One of their feature programs is called Taste of TRT which follows either a 4 or 5-day guided hike for adults. It includes pre-planning, full support with camping gear, permits, food, and water caches as well as expert local guides who can help you optimize and memorialize this amazing experience.
TRTA also offers Youth Programs (ages 12 – 17 years old) with 4-day backpacking experiences. These treks are also fully supported with everything you may need, from food to gear to permits, even transportation to and from the trailheads. You really only need to bring your clothes and a toothbrush!
Backpacking with Confidence
TRTA's expertise lies in the fact that they truly offer something for everyone. Whether it is self-guided day hikes for beginners where they can help you with the pre-planning and trip support or a more rigorous and committed trip like the fully supported and guided 15-day thru-hike around the entire lake. TRTA has the talent and resources to help make your trip successful!
Endless Wonders
Backpacking your way around Lake Tahoe seems like a fantastic way to spend your summer months.  And with an expert to help show you around, it's anyone's guess what you might find. Who knows, maybe your local guide can help point out some new backcountry lines to you? Then with TRT staying open year-round, and options for guided winter treks, I can begin to see the possibilities forming in the distance…. you just never know how it might all turn out, right?