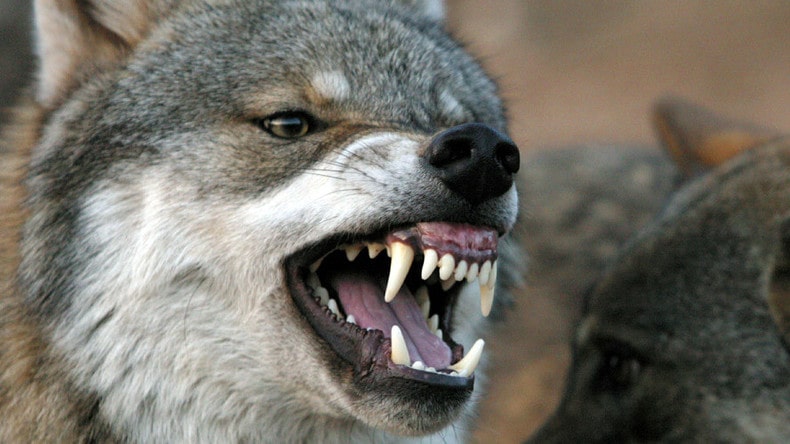 More terrifying details of the wolf attack in Banff National Park last Friday have emerged, with the wife of the man attacked describing what she saw from within the tent on that night. The wolf, which was later found and euthanized, tried to drag Matt Rispoli of New Jersey out of his tent that he occupied with his wife and two young sons in the middle of the night.
Another camper, Russ Fee, who heard the commotion and tried to help by kicking the beast, also gave his account. Russ saw the wolf trying to drag something from a destroyed tent, like a dog yanking at a bone.
"It was just so much larger than any dog I've ever seen," Fee told the Calgary Eyeopener on Tuesday. He went on to say that he kicked the wolf and immediately regretted it, as it was out of his "weight class". "I immediately regretted kicking it, but as soon as it popped out of the tent, Matt came flying out. His whole half side was just covered in blood, but he was pretty amped up too, so we both just started screaming at it."
In an emotional Facebook post, Matt's wife Elisa described the horror she and her two sons were experiencing, and the heroic behavior of her husband.
This is a hard thing to post, since I haven't fully comprehended that it happened yet. Last night, while sleeping in our tent in Banff National Park, we were attacked by a Wolf.

It was like something out of a horror movie. Matt literally threw his body in front of me and the boys, and fought the Wolf as it ripped apart our tent and his arms and hands. We were screaming for help as he was fighting it and trying to save us, for what felt like an eternity (but I think was anywhere from 1-3 minutes). I laid my body on top of the kids and Matt pinned the Wolf to the ground and held open its jaw with his hands, and the Wolf started to drag Matt away, while I was pulling on his legs trying to get him back. I cannot and don't think I'll ever be able to properly describe the terror.

A guardian angel from the tent site next to us, who we later found out was named Russ, heard our screams and came over to our site and kicked the Wolf and it finally let go of Matt. They had to continue to throw huge rocks at the Wolf while we ran as fast as we could to Russ' mini van to safety. It continued to follow Matt.

The rest of the night is a blur of EMTs, good Samaritans, waiting for treatment, no phone service and crying. But here we are in Banff hospital, where Matt's puncture wounds, and lacerations on his hands and arms have been treated and he's ok. We are pretty traumatized but ok. They evacuated the campground and Parks Canada killed the wolf in the early morning today.

It could have been so so much worse, and we are just feeling so thankful that we are all still sitting here as a complete family. Matt is our absolute hero (I mean, way more than he normally was) and we are forever grateful to Russ who came to our aid and likely saved Matt's life.

I love you Matthew- thank you for being our hero, a complete fucking badass and for fighting with everything in you. 💗

Thank you for all the calls, texts and love so far. Flow all your good thoughts toward us in Canada, please! And, do us a favor and go give the people you love most a big kiss and let 'em know.