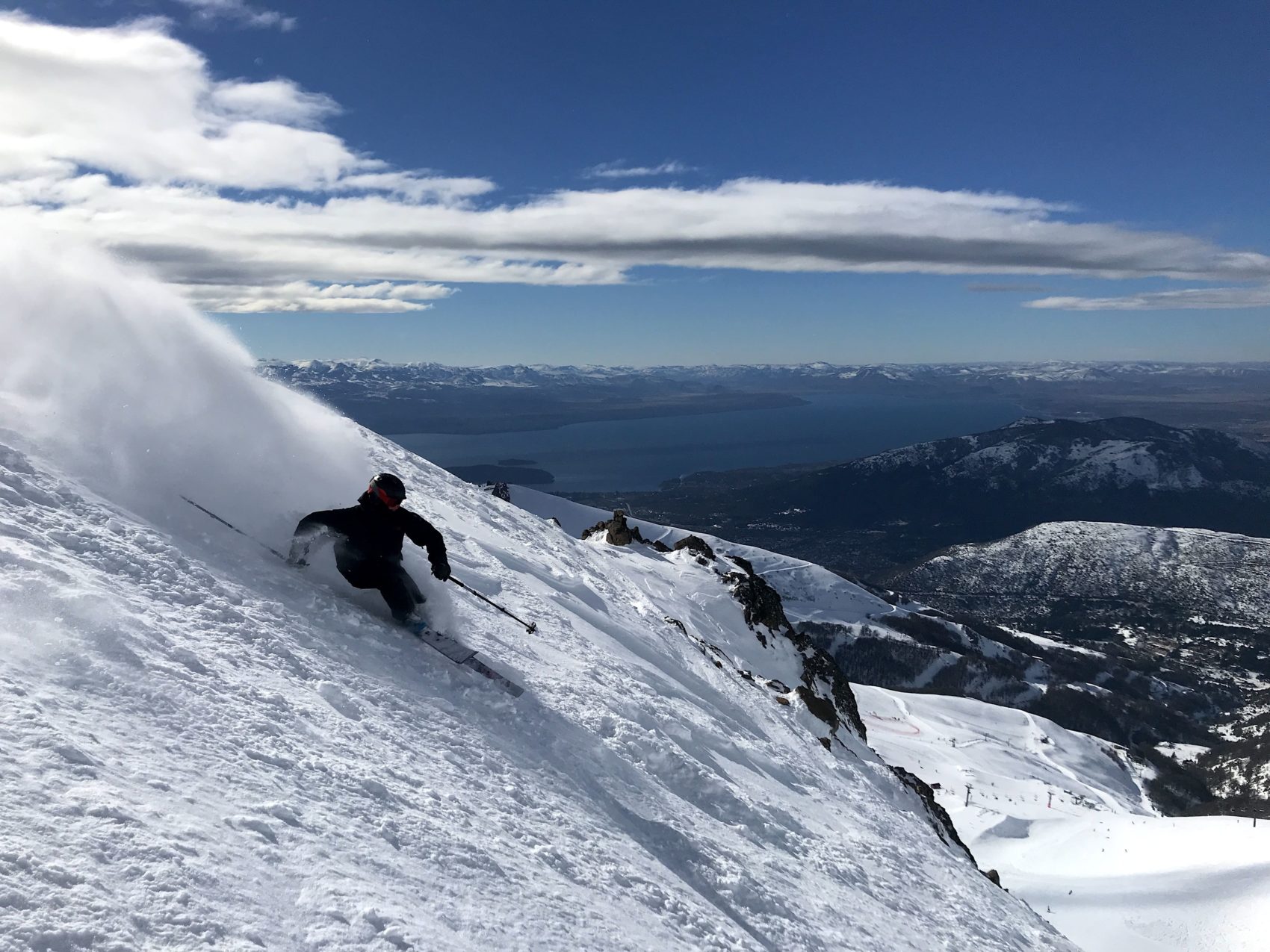 Keen to be a ski bum but sick of drunk Aussies in Whistler or aggressive Yanks in Colorado? Feel like making everything slightly more complicated but much more of an adventure?  Things we usually take for granted—transport, accommodation, food, drink, weather, and security—are much more fun (cough – "an experience") when you have no idea how they work.  That's why you should do what I did and spend the winter in Patagonia, Argentina.
If you want big mountains in the Southern Hemisphere (or either hemisphere) but feel like "roughing it" a bit more, a true adventure, then Patagonia is the place to go.  It's big, gnarly, remote, extreme, variable, and mesmerizing.
Once I decided to do a snow season in Patagonia, the trick was figuring out where because Patagonia is a big place.  I wanted a mix of decent resorts, vibrant town life, and easy access to big backcountry lines.  Chile has its volcanoes, and northern Argentina has Las Lenas, famed for its dry snow and powder days. However, the best combination of all three requirements was Bariloche, Argentina.
Cerro Catedral (the biggest resort) is only 25mins from town, Cerro Bayo is 1.5 hours away, and Chapelco is a three-hour bus ride away.  Resorts: tick.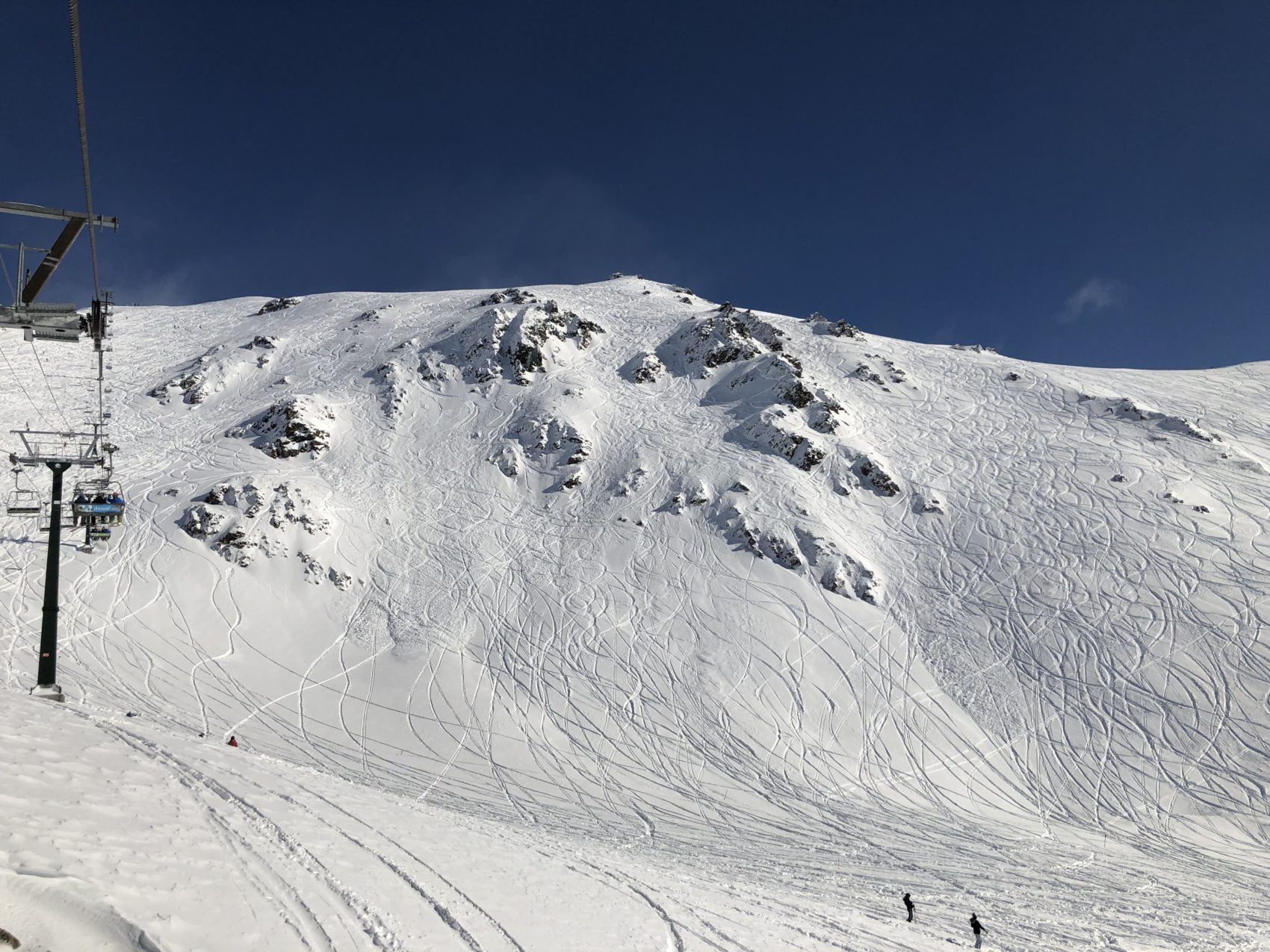 Google Bariloche, and you will see that it's a tourist hotspot.  The main street is as lovely as any first world ski town (even if once you're off the main street, it's a bit rougher around the edges – which I came to prefer in the end), and there is an abundance of bars, clubs, restaurants, cafes, Air BnB's, hostels and hotels.   Vibrant town: tick.
The last but most crucial requirement for me was access to the backcountry.  This is where the Bariloche region truly streaks ahead, in my opinion.  Tick, tick, tick.
However, it's not exactly easy to find information on the different places to go skiing around Bariloche in the winter.  Having now spent nearly three months in the region and done more than a month's worth of ski days outside of the three main resorts, I think I can provide a bit of a run down for those first-timers wanting to come skiing in this region without having to pay through the nose for an organized tour with a foreign (gringo) guide.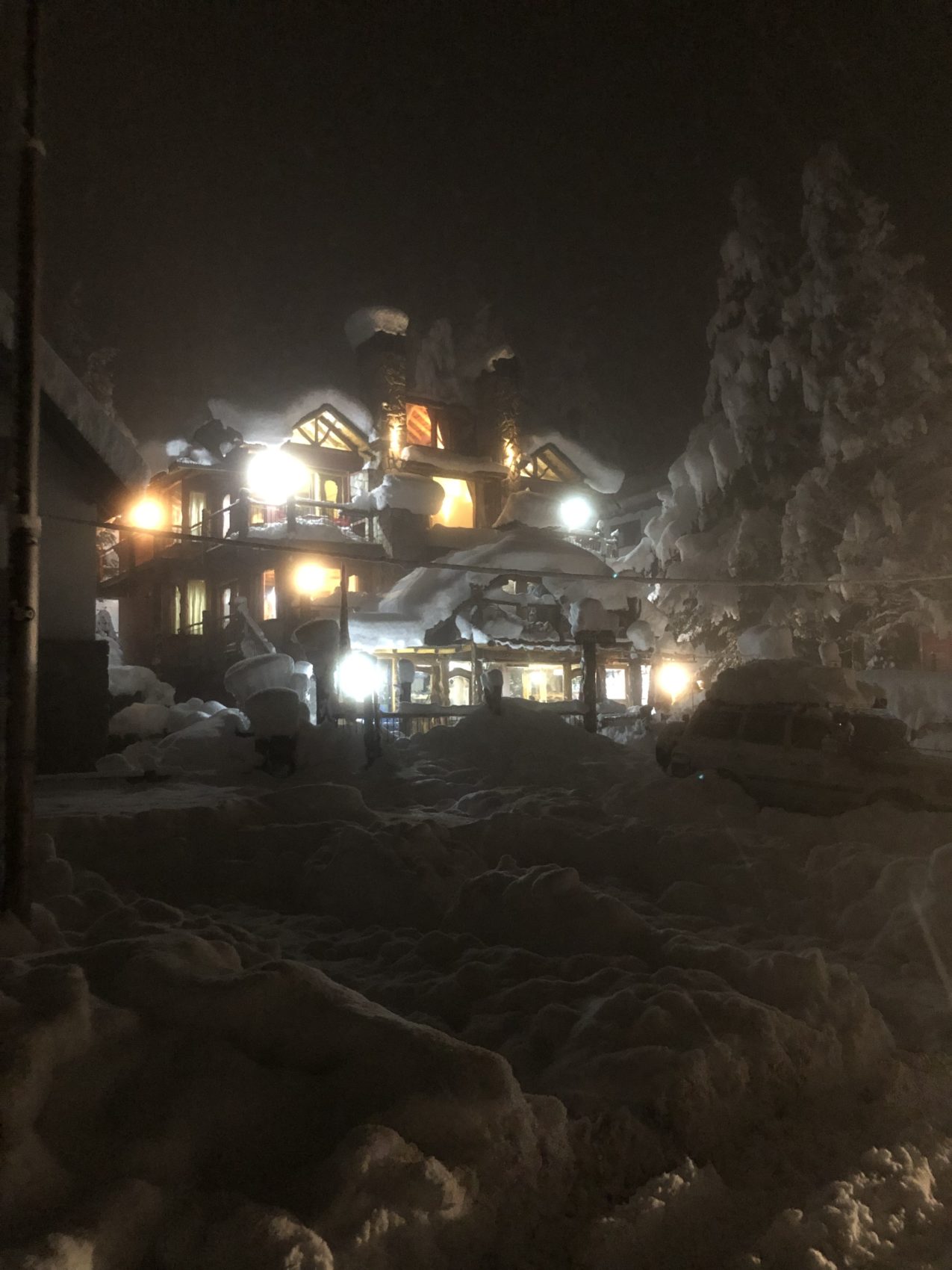 Before you arrive
The more preparation you do, the better, but no respectable snow lover is overprepared (save for Jeremy Jones or Travis Rice).  Despite that, there are a couple of things I would recommend doing before you get to Bariloche:
Learn some Spanish (the more you know, the more people you will meet and the more enjoyable your season will be);
Purchase all necessary gear because there is not a lot of it in Argentina and what is there is ridiculously expensive (especially if you plan to go into the backcountry);
Purchase adequate travel insurance (even though it nearly cost me an arm and a leg, getting full cover for out of bounds skiing was worth it – I knew more than one person during the season who was injured off-piste);
Get a cost-effective credit or debit card because transaction fees, exchange rates, and ATM fees are ridiculously high in Patagonia (I got a Transferwise debit card as it was the best option in New Zealand).
You can fly (2-3 hours) or bus (20 hours) to Bariloche from Buenos Aires, and there are many hostels downtown where you can get to know people.  When booking things (especially flights), be aware that strikes are a constant occurrence in Argentina, so your flight may be affected.  Learn to leave some downtime between travel plans just in case.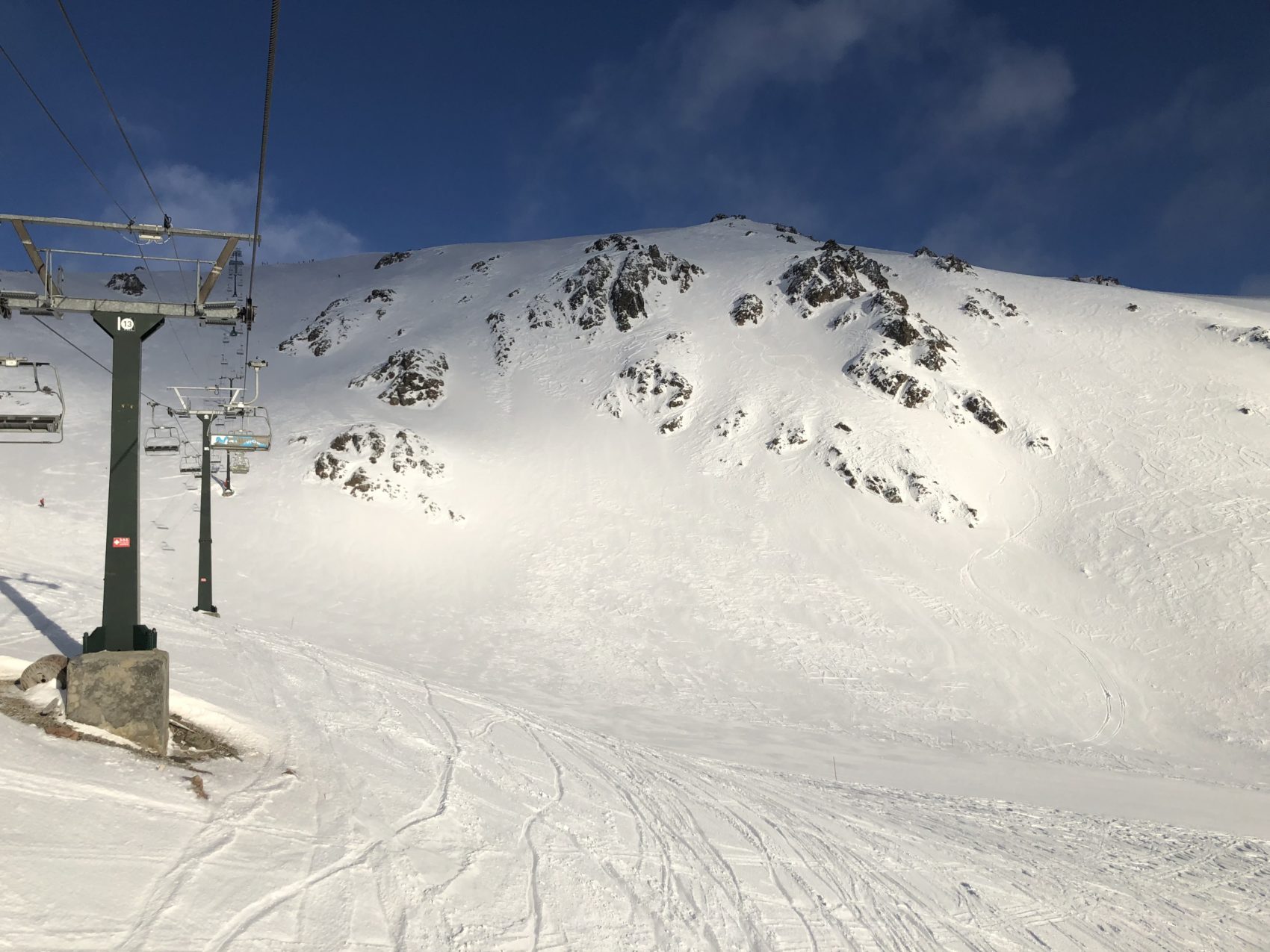 Once you arrive in Bariloche
Once you get to Bariloche for the first time, I recommend getting a taxi.  Whether you are at the bus terminal (there is one main bus terminal on the edge of the city which all the buses go through) or at the airport, get a taxi and get them to take you wherever your first night's accommodation is. The taxis there are much cheaper than in first-world countries, and it is worth the extra few dollars not trying to lug all your ski bags on crowded buses, especially if you speak little Spanish and don't know where you're going.  However, make sure you have cash ready because the taxis don't take cards.
The hostels in Bariloche are a bit more expensive than in the rest of South America; however, they won't break the bank by any stretch.  I'd recommend the Penthouse Hostel, as there are plenty of travelers there, and it's an excellent location for your first few days in town, with great views over the lake from the top floor of an apartment building.
If Cerro Catedral is open (it can be the end of June if it's a good season), then jump on the 55B or 55P bus, which takes you up to the mountain, experience what the resort has to offer, and get talking to the locals on the chairlifts and bars at the bottom of the resort.  Beware, however, that the buses only run once every hour and are super crowded most of the time.  Make an effort to get to the bus stop 10-15 minutes before the bus is scheduled to leave to make sure you're in line to get on the bus.  They pack them full like sardines, but people still miss out (especially in high season, which is the end of July during the Buenos Aires school holidays).  Also, make sure you have purchased a SUBE card as they don't take cash (you can get these from most Kiosks).  However, worst comes to worst for the first day or two, get a couple of mates together and pay for a taxi to the mountain; it's only 25 minutes away.  Also, hitchhiking is acceptable and very common, so you can quickly put your thumb out for a ride to the mountain (waiting times vary from 30 seconds to two hours).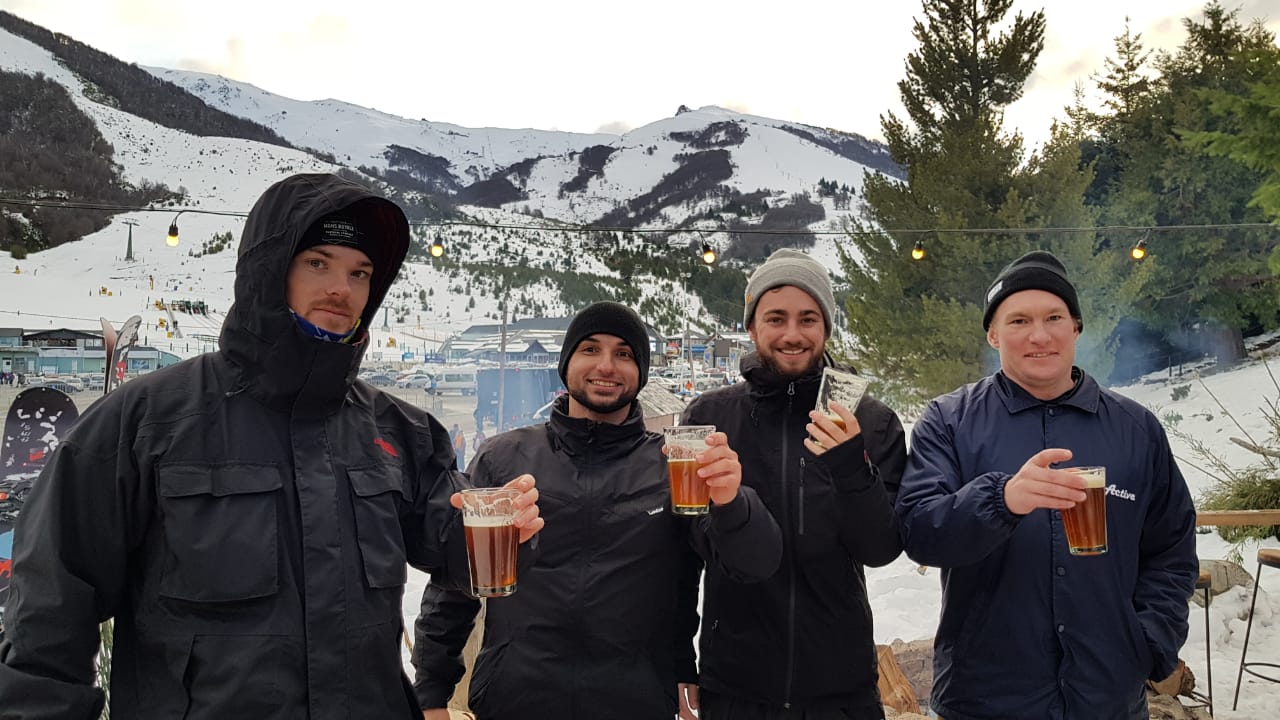 Once skiing or riding, talk to everyone you can.  Most decent local skiers and boarders are happy to meet good riders and show you around.  You never know when a simple "Buen dia" will end up with an offer to show you a cool ski spot or sound après-ski watering hole.
Also, there are various season pass ticket options, but unless you have a crazy amount of money to blow, I would not recommend paying for an entire season pass lift ticket as they are costly.  Talk to the local riders at the local bars (I would recommend La Cruz, next to the bus stop at the bottom of the resort at Cerro Catedral) about the different ticket and season pass options. The resort itself and its staff have such limited information (and are not very inclined to help you) that it's best to discuss what to do with those who have been there a few seasons and know the best deals.  For this reason, shell out for a day pass if you have to for the first few days until you have talked to the locals to get the lay of the land and how to go about obtaining the best pass for you.
On the fourth or fifth day riding at Cerro Catedral, an American friend (who I met at Penthouse Hostel) and I met a local rider in La Cruz who had an apartment for rent for the season right on the resort.  You can find these kinds of perks if you talk to the locals.  There are always a couple of people trying to do cash deals or know other people who want to.  If you keep asking for something, you will eventually find it.  Ski-bum communities are tight-knit like that, even in South America.  Just keep on talking and asking the right questions.
I'd recommend trying to get a place right on the resort or finding some form of transport if you don't because you don't want to be catching the 55P or 55B bus to the mountain from Bariloche every day.  It's always packed and not very reliable.  It just adds extra stress and time to the beginning and end of every ski day, which is the last thing you want when you want to be hooking into the beers.
I would also recommend joining the "Expats in Bariloche" Facebook page.  There you will find others like yourself who will be able to help you with skiing, accommodation or whatever else you need.  People are generally pretty helpful because they know how overwhelming it can be if you don't know the place.
The good thing about Bariloche and Cerro Catedral is that it's straightforward to navigate once you have been there a couple of weeks and figured out how things work. Timetables and opening hours aren't always online, or if they are, they are usually incorrect. Still, you will get to know these things by heart and eventually laugh as you skip lines, avoid queues and find the cheapest meals and beers while the other tourists get frustrated.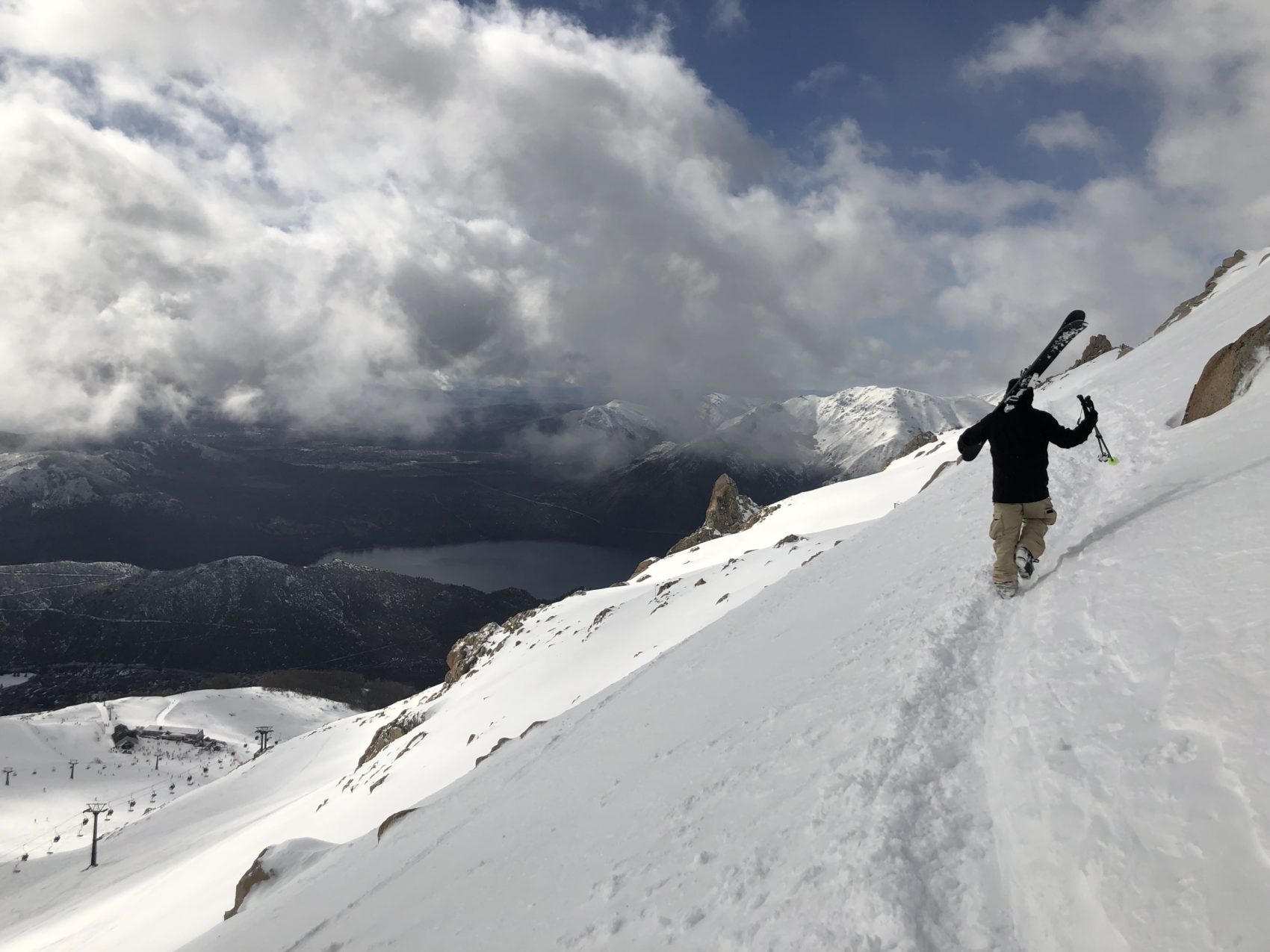 Some tips on skiing in Patagonia
Find some local shredders and buy them beers.  Then get them to take you white line hunting (in the snow, I mean). Chances are they'll be more than happy to help you out.
There are several backcountry mountain refugios near Cerro Catedral, surrounded by insane terrain.  I won't go into detail on them here but take my word that if you are into backcountry riding, they are where you want to be.  Check out Refugio Frey, Refugio Lopez, and Refugio Jakob.  You can sleep, eat and relax in the refugios, but you have to pay cash, so bring lots of pesos.  Oh, and you must also remember to bring your own toilet paper!  You can buy your meals there (and beers) if you want, but it adds up.
On Cerro Catedral itself, the best places are the Nubes chutes (underneath the Nubes chairlift) and La Laguna (the valley to lookers left of the Del Bosque chairlift).  La Laguna requires a 15 – 20-minute hike to access it, but you will see a well-established bootpack as it's pretty popular.  Bring your touring gear out here as it's not patrolled, and avalanches happen.  I spent days and days and days out in La Laguna, and there are so many aspects and so many great runs out here.  You can always find a fresh line that hasn't been skied.
Cerro Bayo and Chapelco in Villa La Angostura and San Martin are also nice mountains, but both are much smaller than Cerro Catedral.  You can take a taxi, hitchhike or bus up the mountains. You can get a 1.5-hour bus to Villa La Angostura from Bariloche and a three-hour bus to San Martin. However, their infrastructure is nicer and has beautiful views, so they're worth checking out.
My biggest tip for skiing at Cerro Catedral would be to get to the mountain bang at 9 am.  So many of the locals don't even bother getting there until 11 am, so you will have powder runs to yourself for two hours before everyone else gets there, or you will get fresh turns on corduroy to warm up the legs before a coffee at 11 am when everyone else is just arriving.
Get your skis waxed and sharpened by a fantastic local guy called Lauti, who has a container behind the Epic ski shop at the base of Cerro Catedral. You can drop your skis in the Epic shop or walk directly to his container out the back. Lauti is a legend of a guy and is always happy to help.  He also has a blossoming ski apparel and ski building business called Klan Co-working.
Spring skiing
Even though Bariloche mountains get the odd excellent snow season (which I was lucky enough to experience in 2019), most of the time, the snow is hit and miss, so the best time to ski, according to most locals, is later in the season when you can consistently ski spring slush as it warms up each afternoon.  Therefore, I'd recommend sticking around into September to make the most of this.  Later in the season is usually better than the early season, especially if you're into touring.  Not much beats skiing in a t-shirt at 7:30 at night as the sun sets behind the epic Andes skyline.
If you have any other questions, big or small, detailed or not, feel free to get in touch in the comments below, and I'll do what I can to help out.  Otherwise, disfrutante la nieve!!