Base layers – the foundation of your warmth and the difference between crushing it all day and going home early
Wool-based tops and long underwear have kept skiers warm since the invention of chairlifts. And in the last couple of decades, merino seems to have taken the crown as the best, softest, and warmest base layer you can choose. Polyester alternatives may be lighter and dry quickly, but they won't keep you warm like wool, especially when wet. And now there's a new generation of merino in town, and it makes some big claims – in the form of Artilect.
We took a couple of options from the Flatiron series for a spin: 185 Crew and 185 1/4 zip.
Featuring a blend of 185gsm NuYarn merino wool (91%) with a smidge of nylon (9%), the NuYarn patented twist-free process of spinning the Australian Merino wool claims to be lighter weight, faster drying, and more breathable. Oh, and more durable too.
The attractive range features two-tone fabric with a slimline silhouette and comes in a choice of vibrant colors.
Time to test – warmth = happiness
First up: a day of downhill skiing. My initial thought was that it's not the super softest merino I've ever worn, but as a hypersensitive person, I think I'm extra conscious of the 'scratch factor,' and in no way did it bother me. Straight after my scratch test, my thought was, boy is it warm; for a 185gsm, it feels as warm as my 260gsm big brand competitor version – worth noting I was wearing the 1/4 zip, not the crew neck. As an experienced skier, I no longer generate a lot of heat or moisture when skiing downhill, so it's essential I trap that body heat in, and this does the trick.
More breathable – let's work up a sweat
For us, further testing came from skinning uphill in sub-zero conditions. Teamed with a Polartech Alpha mid-layer and lightweight synthetic mittens, even at -5F, my body temperature was always on the cozy but comfortable side – not cold and, importantly, not too hot. I ditched my shell within the first 200ft climb.
Coupled with a deep zip, the perforated panels under the arms provided extra ventilation when I was working up a sweat. A mistake in planning meant that we forgot to bring a change of underclothes, which meant that we had to stay in our damp base layers all day. It's true what they say – warm even when wet.
A couple of days later, we also took it for a few classic XC laps on a sunny day. Worn alone, I got a little sweaty but nothing noticeable, which means a lot. The last thing I want is sweat patches on my Insta posts. As always with merino, the secondary benefit is always the stink factor – after several days of continuous wear and even serious workouts, it still doesn't smell bad. And when you have a coin-operated laundry, this is good for your pocket too.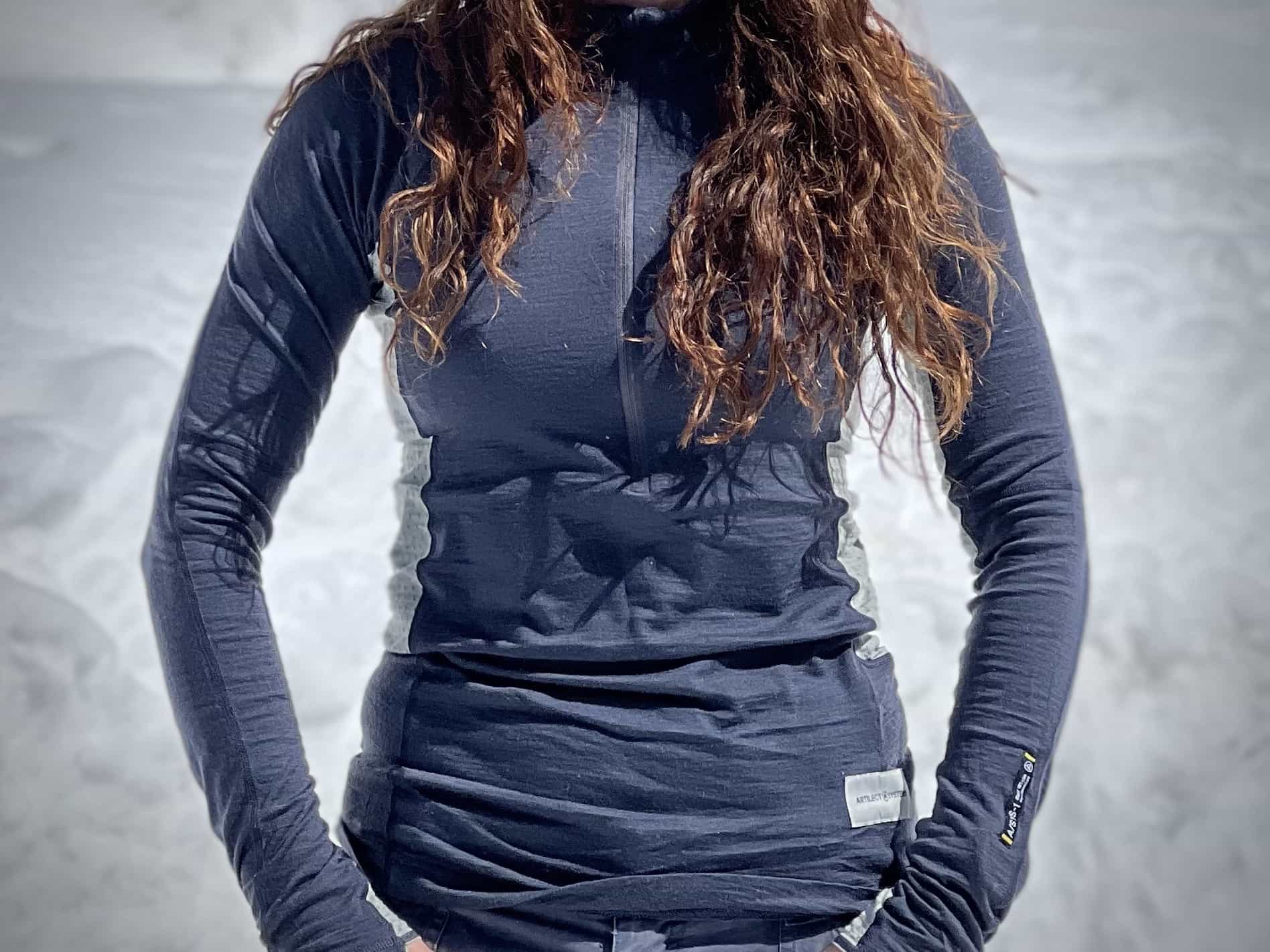 Tough like rock – time will tell
Named after the formidable Flatiron rock formations in Colorado, the range is touted as rock solid.
Too many of my not-so-old base layers are covered in holes, and I always thought it was just part of the downside of owning merino. Sooner or later, they will get holes in them, and I stitch them up (often in contrasting colored cotton – think Kintsugi) and wear them with pride. But according to Artilect, they claim that the NuYarn component is 50% more durable than traditional core or ring spun merino wool. It's early days for the testing, but I like the sound of what it offers. I guess only time will tell on this one – but remember, keep your merino away from Velcro. In terms of my ski base layers, it's most definitely the devil's work.
Sustainable – not just a buzzword
It seems everywhere I turn, I read or hear about sustainability. I believe in the concept, but I'm wary that it's become a marketing buzzword to appease our conscience when making a purchase. What makes something sustainable? I say trying to balance the earth's resources in our pursuit of outdoor happiness. My take on it, when talking about tech gear, is if you can buy less often and keep/use it for as long as possible, you can go some way toward helping a product be sustainable. So if the claims of extra-long durability stand the test of time, I, for one, am happy to get behind this brand. I want technical gear that lasts. I get quite attached to my stuff and only replace it when I have to. And let's not forget that the merino is a premium product with a premium price tag, so buying less often is also good for your bank account.
Worth their weight in gold (perhaps not entirely)
There are plenty of choices when it comes to merino base layers, but having worked my way through a few, I think the cheap doesn't last long, and the expensive ones still get holes, but I'm a merino kinda gal. But the stink-free factor makes it fit my ski bum life. I only take three for my season and wear them for happy hours, happy in the knowledge I don't smell too bad.