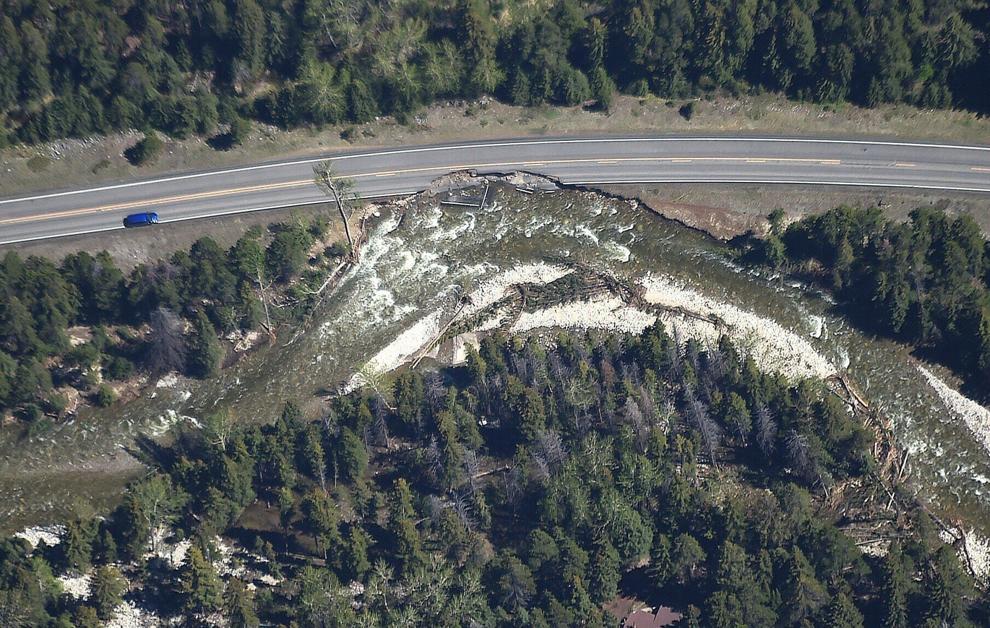 The famous Beartooth highway will be closed until further notice following the severe damage caused by the recent flooding in Yellowstone National Park.
Full statement below:
We snapped this shot along the world-famous Beartooth Highway last summer. This is a popular route into Yellowstone Park, as this incredibly scenic road runs from Red Lodge, Montana up and over the magnificent Beartooth Mountains, and eventually reaches Cooke City, Montana, which is the Northeast Entrance to Yellowstone Park.
Recently, there has been severe flood damage to sections of the Beartooth Highway just beyond Red Lodge. (Red Lodge was also significantly affected by the flooding as well.) This damage has caused the road to be closed indefinitely. Once the road is open again, visitors can go up and over Beartooth Pass (10,947′) and drive down the other side into either Cooke City, or head the other way through the Chief Joseph Scenic Byway into Cody, Wyoming.
If the Beartooth Highway opens and visitors want to go into Yellowstone Park via the Beartooth Highway, they will then need to use the Chief Joseph Scenic Byway into Cody, Wyoming. From there visitors can gain access to Yellowstone Park by taking U.S. Highway 14 to the East Entrance of Yellowstone Park near Yellowstone Lake.
PLEASE NOTE: If the Beartooth Highway opens and you wish to drive over it, we ask that you consider driving this incredibly scenic road into Cooke City and Silver Gate, Montana and enjoy all that these remarkable tourist towns have to offer. Then, if you want to go into Yellowstone, go back a short distance to the Chief Joseph Scenic Byway to get to Cody, then the East Entrance. These charming and historic Yellowstone Park gateway communities of Cooke City and Silver Gate would greatly appreciate your business as they are essentially cut off from Yellowstone Park traffic until the roads in the park are repaired. Thank you for your consideration.
MONTANA DOT ROAD STATUS REPORTS: https://www.mdt.mt.gov/travinfo/alerts.aspx
LET US HELP PLAN YOUR GLACIER/YELLOWSTONE/TETON VACATION!!! CLICK THIS LINK FOR MORE INFO: www.EnjoyYourParksTravel.com.
Beartooth Basin ski area, the only summer-only ski area in North America, relies on the opening of US-212 to open itself. However, due to low snow, the ski area has announced it will not be opening this summer.
The road, which closes each winter because of excessive snow and adverse winter conditions, typically opens by the Friday of Memorial Day weekend.
Snow levels vary, and drifts can be as high as 26 feet at the higher elevations, according to the Montana Department of Transportation. 
MDT is responsible for the highway to the Montana/Wyoming border, where the National Park Service takes over maintenance responsibilities through Wyoming, back into Montana, and into Yellowstone Park. MDT and NPS coordinate closely in keeping the road open throughout the summer.
Opening the Beartooth Highway is a huge undertaking.
Map of the Beartooth Highway