Putting together a "best of" list can seem rather arbitrary and so wildly subjective rendering the list almost meaningless. To stave off the naysayers, making the cut on this VIP inventory was restricted to those Small Ski Resorts that met all of the following criteria: copious amounts of deep, blower-light powder (300+ inches minimum), maximum of seven real-deal lifts (moving carpets excluded) and mountain terrain befitting of advanced/expert riders.
There are numerous ski resorts in North America offering great options for skiing, but the list below is reserved exclusively for the Top 10 Small Ski Resorts for Powder Hounds. Escape from the crowds and grab some fresh tracks.
#1 – 

 Grand Targhee, WY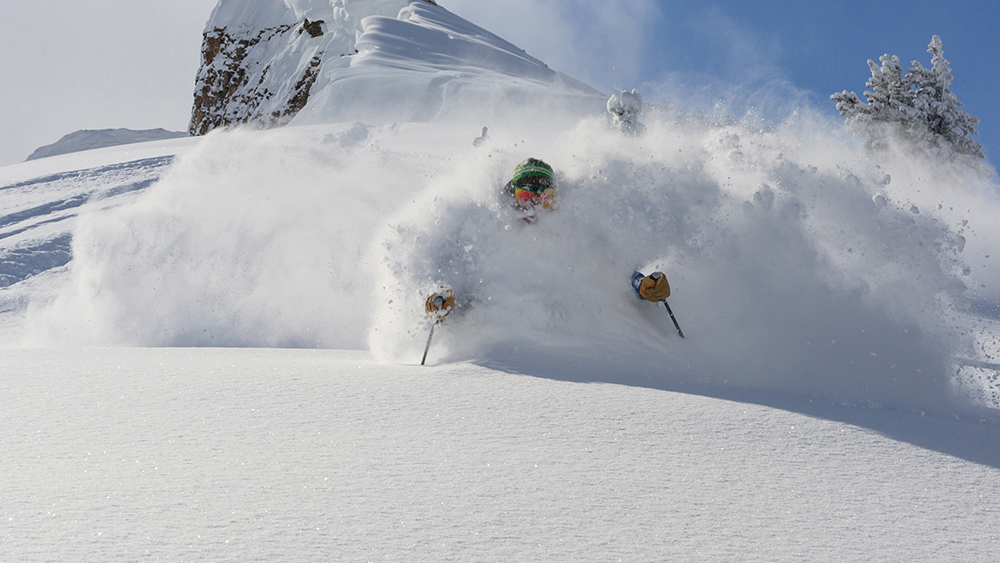 Overview: Deep, light, consistent powder
Snowfall = 500+ in
Summit elevation = 10,000 ft
Inbound runs = 72
Percent advanced = 30%
As the saying goes, if Grand Targhee doesn't have snow, it's summer. Located in Alta, Wyoming on the western side of the Teton's where the geography works in its favor to trap the snow from every passing storm resulting in a steady dose of blower, light powder. The stunning views of the Tetons are said to be some of the most beautiful in North America. The inbound terrain consists mostly of powder bowls and gorgeous glades but includes the rare inbound cat skiing to over 600 additional acres. Grand Targhee earned its spot in the countdown with the winning skiing trifecta including abundant amounts of deep, dry, powder, a variety of backcountry and inbound terrain, and perennial lack of pushy crowds.  Targhee has 98 runs.
#2 –
Brighton Ski Resort, UT
Overview:
Snowfall = 439 in
Summit elevation = 10,500 ft
Inbound runs = 66
Percent advanced = 39%
The oldest ski resort in all of Utah is also one of the most progressive as the first in the state to allow snowboarding. The main draw here is the abundance of the good stuff – tons of deep, dry, powder. Overshadowed by the more prominent resorts in the area, Brighton still offers up a variety of noteworthy terrain including the aggressive Millicent side with its deep bowls and drop-offs. The open boundary policy allows for an expansive backcountry opportunity and, if that's not enough, Brighton is interconnected with Solitude, opening up an additional 1,200 acres. A local hotspot that has a big snowboarding culture and a down-home family vibe complete with free skiing for the 10 and younger set.
#3 –
Whitewater, BC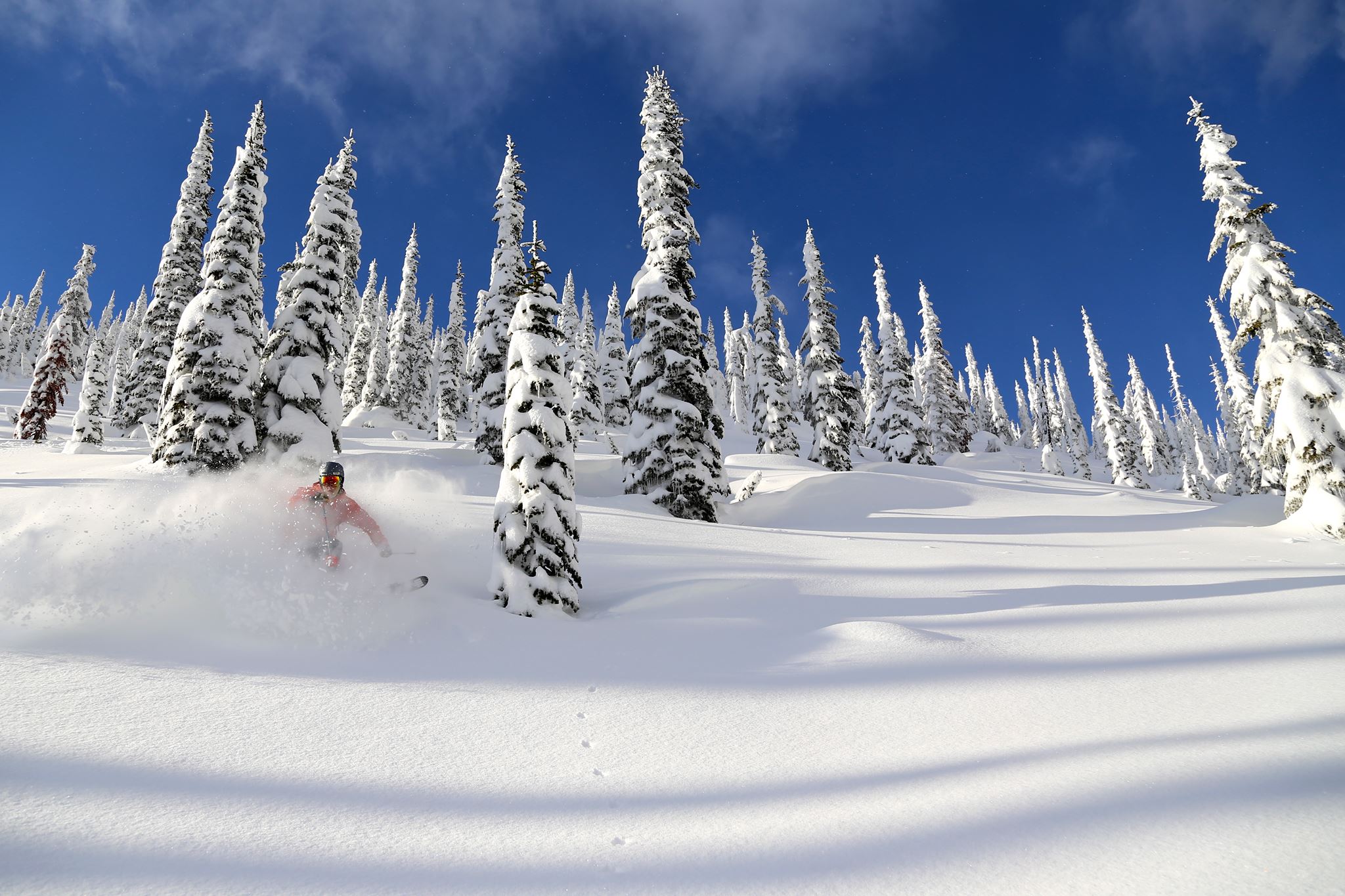 Overview:
Snowfall = 392 in
Summit elevation = 6567 ft
Inbound runs = 76
Percent advanced = 50%
Kicking it old school, Whitewater is ideal for those seeking to ski fresh powder sans crowds. More local charm than big resort flash this sleepy little locale won't stay that way for long as the awards continue to pile up. Located in the Selkirk Mountains of British Columbia, this out-of-the-way destination favors the adventurous as Whitewater is best known for its off-piste options of chutes, bowls, steeps, and glades. A few of the aforementioned awards bestowed on this Canadian ski area include best powder, best tree-skiing in Canada, and best value.
"It's probably the capital of the powder highway and considered by many aficionados to have the best skiing and snow conditions in North America." Powderhounds
#4 –
Wolf Creek, CO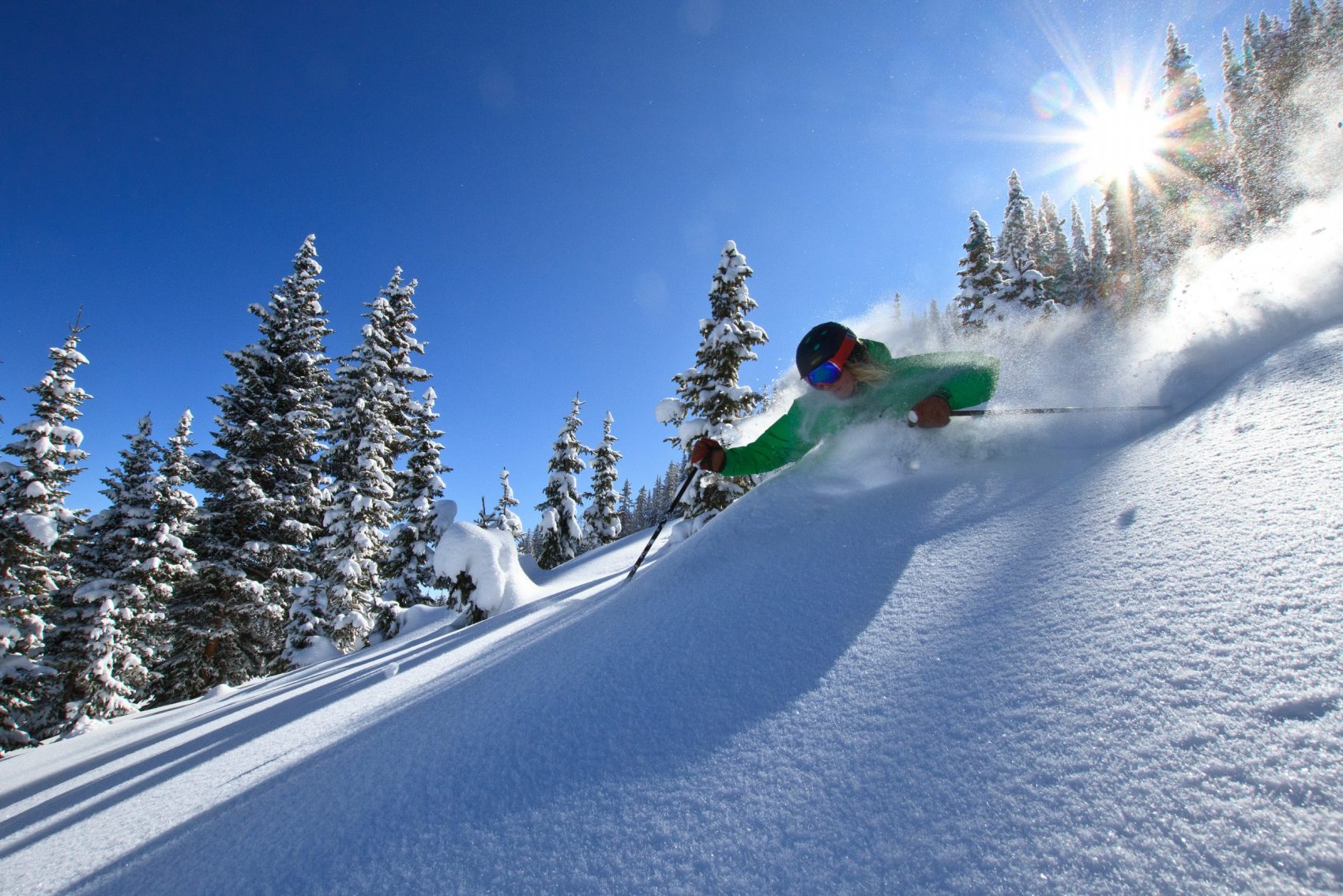 Overview: "The most snow in Colorado"
Snowfall = 389 in
Summit elevation = 11,904 ft
Inbound runs = 77
Percent advanced = 45%
Tucked in the southwest corner of Colorado, Wolf Creek is 1,600 acres of powder playground entertainment. The main hub is 600 acres of beginner/intermediate terrain, the remaining 1,000 acres is what puts Wolf Creek on the map. The Alberta chair services this terrain chock full of phenomenal tree skiing, steeps, cliffs, and chutes. The farther you travel from this lift, the fewer the people and opportunities for fresh tracks. Also off the Alberta lift, you can access some of the best hike-to terrain around, leading to the Knife Chutes, Dog Chutes, and Horseshoe Bowl. Snowboarders take note  – the terrain in this area has some stretches of flats that will need to be managed.
#5 –
Red Mountain, BC
Overview:
Snowfall = 300 in
Summit elevation = 6,800 ft
Inbound runs = 88
Percent advanced = 45%
Located in the powder triangle of British Columbia, Red Mountain is known for its laid-back, friendly vibe. It's also known for its bounty of great terrain, including perfectly cultivated tree lines and plenty of requisite quality powder. The resort is comprised of two mountains, Red Mountain and the larger Granite Mountain. Granite Mountain's north face offers up loads of expert terrain. Like many of the resorts on this list, a big drawing card here is the lack of crowds.
#6 –
Revelstoke, BC
Overview:
Snowfall = 350 in
Summit elevation = 7,300 ft
Inbound runs = 69
Percent advanced = 27%
Revelstoke is ideally suited for those seeking something outside the traditional ski area. Located in southeastern British Columbia, far removed from the beaten path, just getting to this mountain is an adventure all it's own. Once you do arrive, Revelstoke will make you glad you made the trek. It offers big terrain, long runs, and the biggest vertical in North America at 5,620 feet. North Bowl and Greely Bowl offer up some of the most aggressive skiing on the mountain to say nothing of the extensive backcountry options. One of the unique features of Revelstoke is the heliskiing offered on-site with helipads literally sprinkled throughout the ski-in/ski-on accommodations.
#7 –
Silverton, CO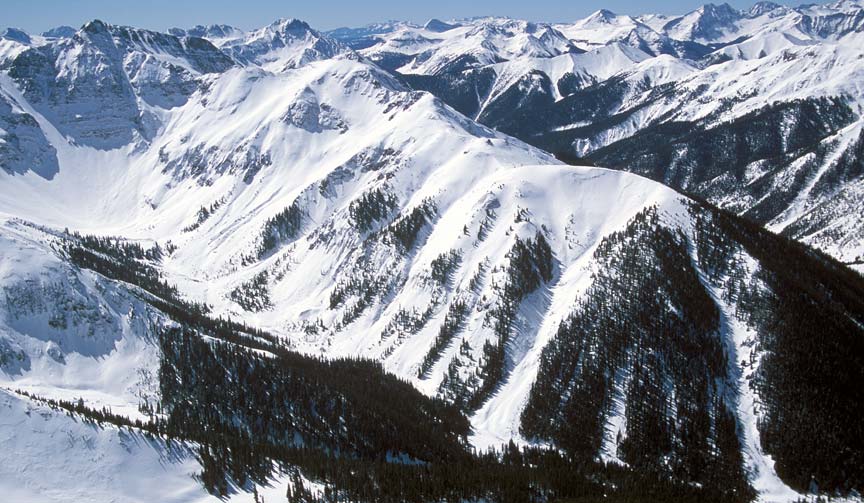 Overview: 
Snowfall = 400+ in
Summit elevation = 13,487 ft
Inbound runs = ?
Percent advanced = 100%
Think all thrills and no-frills. This southwestern Colorado ski area is not for the timid and caters exclusively to advanced and expert riders only. The sole chairlift requires every rider to have an avalanche pack to board and, for most of the season, a ski guide as well. No need to worry about the crowds here. What you will find are lots of chutes, steeps, trees, and bowls, making up some of the most aggressive inbound skiing anywhere. There is no grooming nor any cut runs on any of the slopes resulting in no easy way down once you hit the summit. If that's the sort of skiing you're after, welcome home.
#8 –
Arapahoe Basin, CO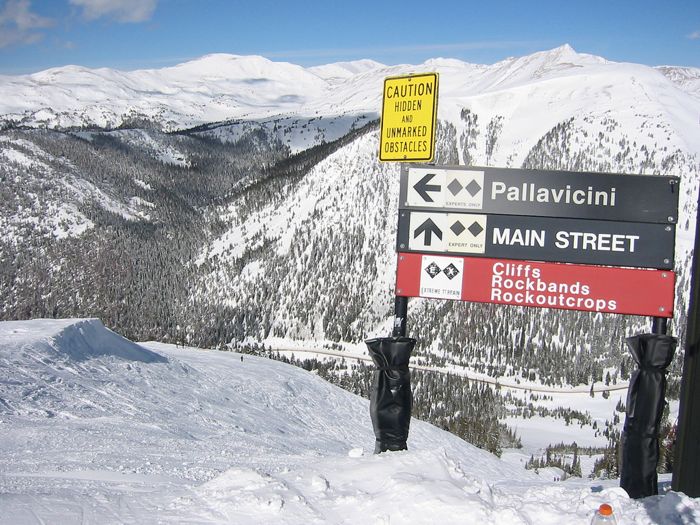 Overview: 'The Legend'
Snowfall = 315 in
Summit elevation = 12,472 ft
Inbound runs = 108
Percent advanced = 48%
Roughly ninety miles west of Denver, Arapahoe Basin is perched at a high elevation lending itself to early season openers and late closing dates. Generally less crowded, this close-packed resort has extensive backcountry options in its famous East Wall area.
"Experienced skiers have two basic options: head far skier's left to Pallavicini or far right to the East Wall and the gnarly terrain that lies above." Zrankings
#9 –
Jay Peak, VT
Overview:
Snowfall = 324 in
Summit elevation = 3968
Inbound runs = 76
Percent advanced = 40%
Located in northern Vermont's Green Mountains, just south of the Canadian border, Jay Peak is in a snow belt that dumps more annual snow than many of the bigger mountains out west. Well known for its extensive, liberal inbounds glade skiing, this resort is home to one of the only aerial trams on the east coast. Not to be missed: Beaver Pond, Timbuktu, and Valhalla glades. It's also home to Big Jay, the northeast's best backcountry skiing.
#10 –
Bridger Bowl Ski Area, MT
Overview: 'Ski the cold smoke'
Snowfall = 303 in
Summit elevation = 8800 ft
Inbound runs = 71
Percent advanced = 30%
Located near Bozeman Montana, Bridger Bowl falls in that gray area between locals area and real-deal resort. With an abundance of deep, dry, powder locally referred to as the cold smoke, it offers up a wide diversity of terrain options. Bridger Bowl is likely best known for it's extensive inbounds expert terrain, much of it lift accessible, such as the chutes off the High Traverse. The rest of this variety is a hike-to proposition for access to the notorious 'Ridge Terrain' area. Not just for the experts, Bridger Bowl's geography offers up plenty of terrain for the beginner as well and all stops in-between.