The Big Basin Redwoods, California's oldest State Park, has been completely destroyed by wildfire. The CZU August Lightning Complex Fire swept through the park this week, damaging the park's headquarters, built in 1936, and on the National Register of Historic Places.
We are devastated to report that Big Basin, as we have known it, loved it, and cherished it for generations, is gone. Early reports are that the wildfire has consumed much of the park's historic facilities. We do not yet know the fate of the park's grandest old trees.
The beautiful park is famous for the 80 miles of trails that meander through the majestic redwoods that are up to 2,000 years old. The following statement was issued on Tuesday by California State Parks:
California State Parks issued full or partial closures today for more than two dozen parks due to the ongoing wildfires burning across much of the state. Camping reservation holders impacted by the wildfires are being contacted with cancellation information. Some parks remain partially open but with limited services.

One of the closures includes California's oldest state park, Big Basin Redwoods State Park (SP), which on Tuesday sustained extensive damage from the CZU August Lightning Complex Fires in Santa Cruz County and is closed until further notice. The fire damaged the park's headquarters, historic core and campgrounds. All campers, day-use visitors and State Parks staff at Little Basin and Big Basin were evacuated.
There are multiple large lightning-caused fires burning in southern San Mateo County and Northern Santa Cruz County totaling 48,000-acres, CalFire updated last night. The fires have merged and continue to actively burn throughout the day due to low relative humidities, inaccessible terrain, and limited resources. Several communities have been evacuated or are under a warning. Fire activity may dictate more evacuations and road closures in the days to come. Damage Inspection Teams have begun to survey areas where fire activity has diminished. Firefighting resources are limited due to the number of fires burning throughout Northern California. Limited visibility due to smoke is hampering aircraft operations.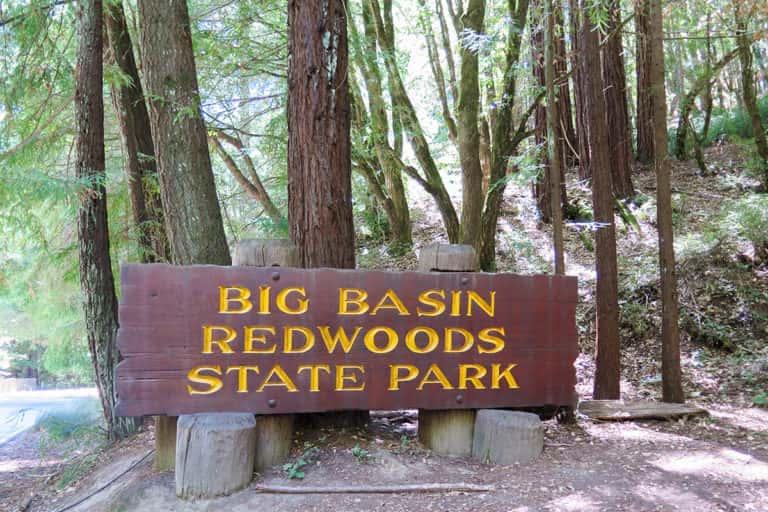 Tens of thousands of residents have been evacuated and at least 50 structures have been destroyed.
Big Basin Redwoods State Park is a state park in the US state of California, located in Santa Cruz County, about 22-miles northwest of Santa Cruz. The park contains almost all of the Waddell Creek watershed, which was formed by the seismic uplift of its rim, and the erosion of its center by the many streams in its bowl-shaped depression.
Big Basin is California's oldest State Park, established in 1902, earning its designation as a California Historical Landmark. Its original 3,800 acres have been increased over the years to over 18,000 acres. It is part of the Northern California coastal forests ecoregion and is home to the largest continuous stand of ancient coast redwoods south of San Francisco. It contains 10,800 acres of old-growth forest as well as recovering redwood forest, with mixed conifer, oaks, chaparral, and riparian habitats. Elevations in the park vary from sea level to over 2,000 ft. The climate ranges from foggy and damp near the ocean to sunny, warm ridge tops.
The park has over 81-miles of trails. Some of these trails link Big Basin to Castle Rock State Park and the eastern reaches of the Santa Cruz range. The Skyline-to-the-Sea Trail threads its way through the park along Waddell Creek to Waddell Beach and the adjacent Theodore J. Hoover Natural Preserve, a freshwater marsh.
The park has many waterfalls, a wide variety of environments (from lush canyon bottoms to sparse chaparral-covered slopes), many animals (deer, raccoons, an occasional bobcat) and abundant birdlife – including Steller's jays, egrets, herons, and acorn woodpeckers.