Report from Friday, March 20, 2020
Yesterday, we skied Little Cottonwood Canyon so today it was only fair that we hit Big.
A few more inches of snow fell making for about a foot of powder skiing.
A buddy of mine recommended a certain north-facing line about halfway up Big Cottonwood Canyon and I'm super glad we took his word for it.
The snow was epic and the line was LONG.
The avalanche danger was low today.
And the best part was, there was hardly another person around.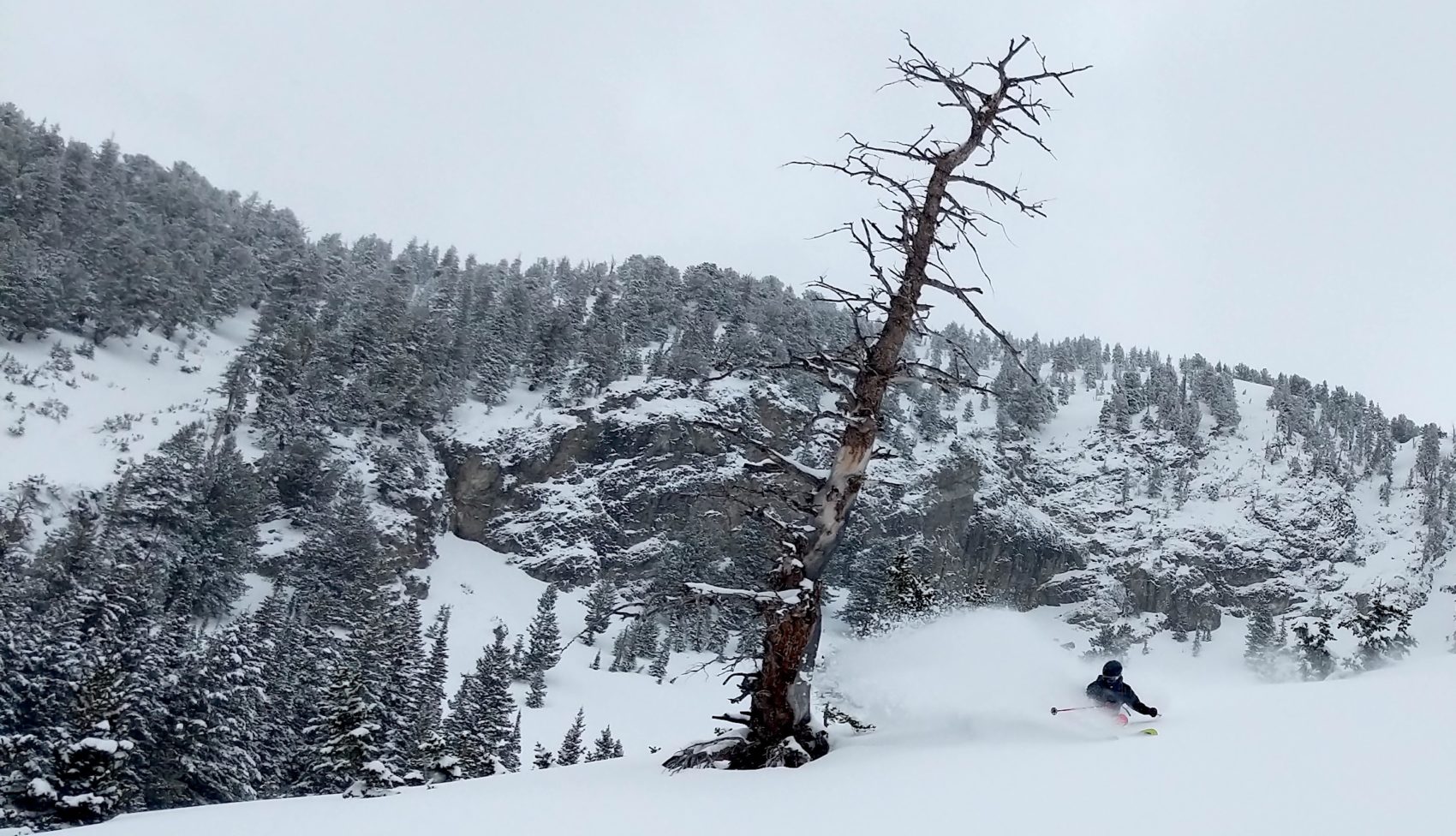 The skinner up was solemn — my touring partner and I barely said a word to one another.
It was quiet up there.
Eerie quiet.
But also quiet in a delightful, serene way.
It made for plenty of time to think about the current state of the world, and the snowpack.
It was a beautiful day, even with the cloud cover that rolled in about halfway up the ascent.
We made good time and had toured up about 2,800 vertical feet in roughly two hours and 15 minutes.
There was a dramatic rock face above us gently blowing snow off the tops of jagged rocks, whispering to us in the calm wind.
Almost to the top, I yelled to Miles but he signaled me to be quiet as he gazed at something just beyond my line of sight.
My mind started racing — what could it be, some sort of dangerous animal, a moose?!
Yet, I was also curious.
When I skinned up to where he was, he pointed out something I had never seen before up here in the Wasatch.
It was a snowshoe hare, white as the surrounding snow.
A kindred mountain spirit; a gentle soul. 
It was a good omen, I thought.
Another 30 seconds of touring from there and we transitioned to ski before dropping in on a ridge with untouched, powder pillows below it tucked between trees.
Miles with his trained eye spotted a cliff that looked just about sendable.
From where we were positioned on the ridge, it was hard to tell if this cliff was safe to pop off of into the powder field below.
From one side it looked HUGE and the other, not so much.
Miles decided to go for it and hit it beautifully, stomping into the virgin powder below.
I was inspired and dropped right behind him to the right of the cliff, popping pillows and slashing the best powder I had skied in weeks.
Cue the hoots and hollers and pow-induced orgasms.
The line was amazing.
The first half of our descent had no tracks and excellent, north-facing snow, generating lots of stoke between he and I.
The second half of the line was a bit more tracked out but it was long, flowy, and fun.
And then just like that, 2,800 feet of powder skiing down to the highway below had ended.
We couldn't have been happier.
Another incredible day in the Wasatch.
Avalanche Danger
Forecast 
Photos/Videos
https://vimeo.com/user44413467/review/399475869/a54a380930