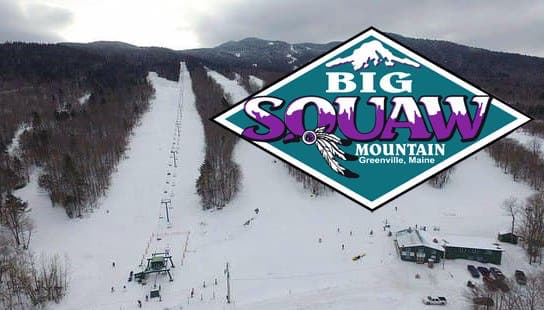 The owner of Big Squaw Mountain Resort, ME refuses to change the name of his resort under increasing pressure to remove the derogatory word 'squaw'. James Confalone has no intention of changing the name, saying 'squaw' is a tribute to American Indians and his resort stands as a monument to Maine's Indian tribes.
Earlier this week, Squaw Valley ski resort in Lake Tahoe, CA committed to changing their name from the word "squaw" since the word "squaw" is considered a racial & sexist slur against Native Americans.
In 2000 Maine Governor Angus King passed a law to remove the word 'squaw' off all public places on their maps. This was then tweaked in 2009 to include different variations of the word, which many Native Americans say is offensive and translates to prostitute or whore. This summer, name changes for six locations that still contained the word were approved by the US Board on Geographic Names. In addition to Maine, Minnesota, Montana, Oklahoma, South Dakota, Oregon, and Nebraska have all passed legislation to change geographic names containing the word.
"It's unfortunate it took 11 years. I thought as a civilization we were a lot further along than I guess we were at this time."

– Wayne Mitchell, the Penobscot Indian Nation's representative
The law doesn't affect Big Squaw Mountain resort as it is privately owned, and the owner insists that the word squaw means Indian woman and has only become offensive since the early 1970s.
"The intent here is not to disparage Indians. The intent is to carry on the name."

– James Confalone, owner of Big Squaw Mountain Resort, ME
After Squaw Valley Ski Resort in California announced it would change its name, three Maine women started a petition on Change.org on Facebook for Big Squaw Mountain Resort to follow suit.  
"Why would I ever do that? What do you think the Kennedy compound in Massachusetts is called? Squaw Island. If it's good enough for the Kennedys, it's good enough for me."

– James Confalone in a phone interview
Big Squaw Mountain Resort is a ski area in Greenville, Maine. Opened in 1963, the ski area is located on the north side of Big Moose Mountain (named "Big Squaw Mountain" until 2000), overlooking Moosehead Lake. The resort featured two chairlifts that covered 1,700 vertical feet.
After a chairlift accident and subsequent closure, the ski area operated on a limited basis from 2004 to 2010.
A community group called "Friends of Squaw Mountain" has recently fixed up the ski area, and the Lower Mountain reopened in January 2013.