Many United States National Parks may be seeing some sizeable and much-needed infrastructure improvements in the very near future. This is in large part thanks to the Great American Outdoor Act – a bill that was introduced by Colorado Senator, Cory Gardner. The bill would allocate up to 1.9 billion dollars annually for national parks to use on deferred maintenance projects.
The proposed bill would also cover the Bureau of Land Management (BLM), U.S. Fish and Wildlife Services (USFWS), and U.S. Forest Service (USFS) for their deferred maintenance projects as well. Furthermore, this act would provide complete and consistent funding for the Land and Water Conservation Fund (LWCF). The LWCF, which has been one of the most impactful national conservation programs, would receive 900 million dollars annually.
If this bill is signed into law, National Parks would be able to upgrade and fix infrastructures such as trails, campgrounds, restrooms, and visitors centers. According to The National Parks Conservation Society, there is an estimated 12 billion dollars worth of repairs that are needed in America's National Parks. Additionally, this new funding would create approximately 100,000 new jobs in order to fulfill the maintenance needs of the parks. Finally, this bill would promote further conservation and improved access to outdoor recreation in many parts of the country. This would likely fall under the responsibility of the LWCF, an organization that has already created and completed at least one recreation, conservation, or access project for every county in the nation.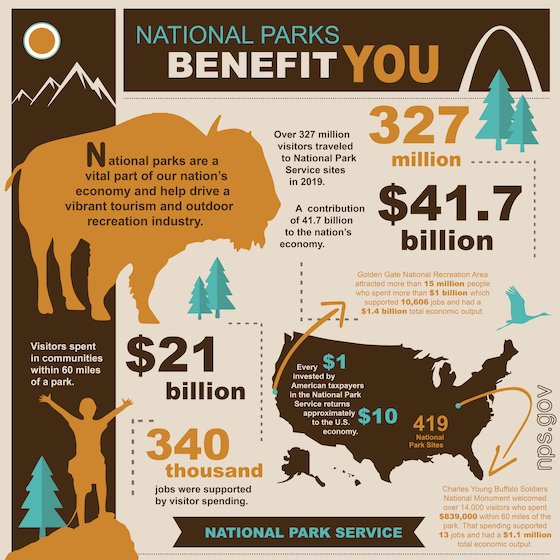 On June 17, The Great American Outdoors Act passed in the Senate with a vote of 73-25. Now, this largely bipartisan bill must pass in the House of Representatives and become signed into law. There is much optimism that this bill will pass in the House, however, it is still not certain. If you would like to help ensure that this bill successfully passes, the American Hiking Association has created a fast and simple form that you can fill out and send to your state's representatives. Ultimately, this bill could prove to be a significant landmark in preserving the beauty and longevity of the national parks that we know and love.
If you would like to fill out the American Hiking Association's form- follow this link (it takes less than 30 seconds to complete!):  https://americanhiking.org/advocacy/take-action/