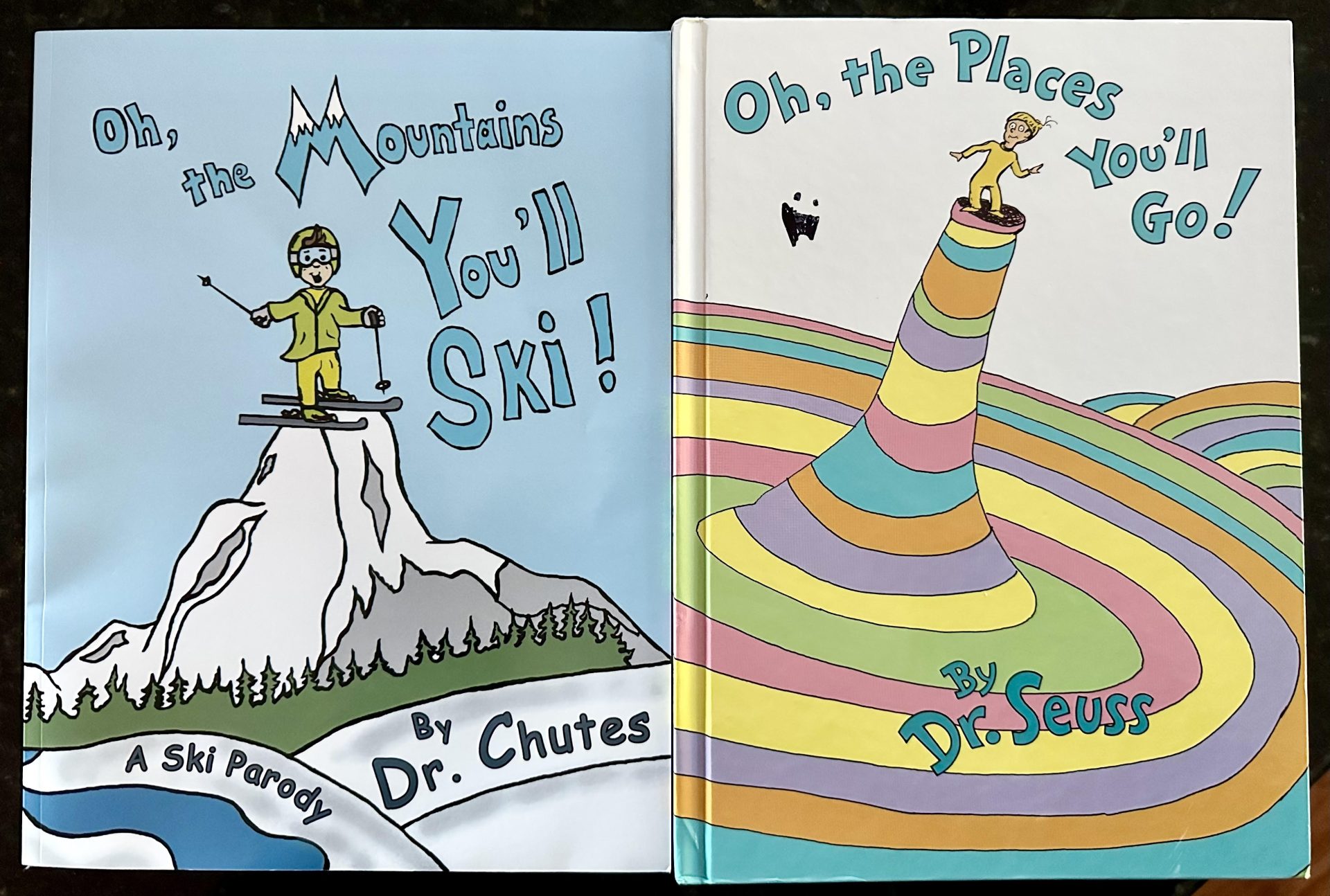 No doubt you've heard of the famous Dr. Seuss book Oh, the Places You'll Go! It is a classic book that talks to the young (or old) about what life is like and what you can expect as you get older. It provides advice on how to move through both good and challenging experiences.
I have two copies in my home as both my wife and I were gifted the book on separate occasions before we met when we graduated and were starting our careers. The book provides great metaphors for circumstances that could arise in life and encourages persevering through the ups and downs.
Much like that famous Dr. Seuss book, the ski parody by Dr. Chutes titled Oh the Mountains You'll Ski! provides a similar parallel but completely through the eyes of a skier.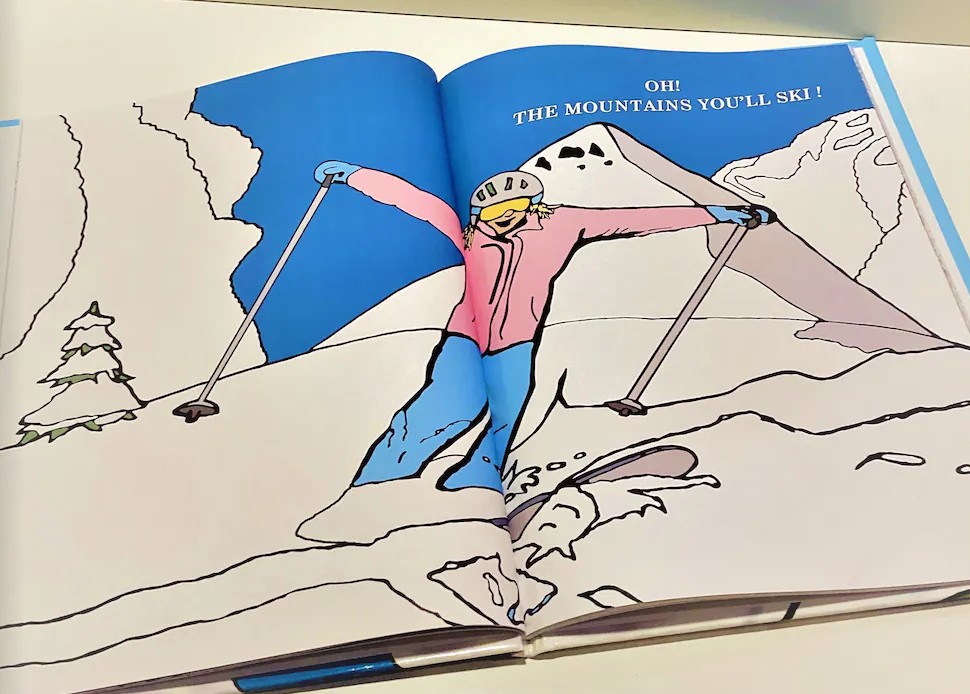 Almost page by page, you can see the comparisons. Instead of "With your head full of brains and your shoes full of feet, you're too smart to go down any not-so-good street," the ski parody quotes, "With your helmet full of wits and your feet tight in your boots, you're far too clever to descent those most dangerous of routes."
My favorite comparison is when Dr. Chutes mentions the "Delayed Place," which refers to when you encounter long lift lines due to severe weather, power outages, or an array of other reasons. It is a direct comparison to the original "Waiting Place," which is a metaphor for when your life seems to be stuck in a rut and you're not progressing anywhere, either personally or professionally.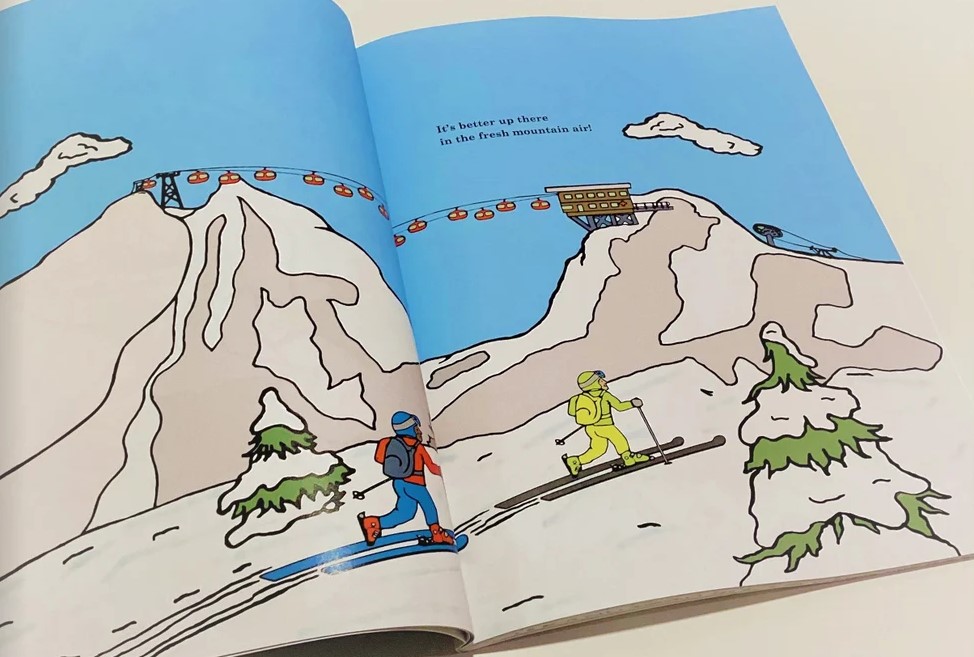 Finally, near the end, it reads, "Will your life be better because you learned to ski? Absolutely, you'll see! (I give you a 110% guarantee). KID, YOU'LL SKI MOUNTAINS!" I love the encouragement as it relates to one of the last quotes from Dr. Seuss that says, "And will you succeed? Yes! You will, indeed! (98 and ¾ percent guaranteed). KID, YOU'LL MOVE MOUNTAINS!"
The book flows with a similar but sometimes different rhyming pattern, and I thoroughly enjoyed it. My kids (ages 11, 8, and 5) also loved it, as I have raised them to be avid skiers as well. The illustrations are professional and give clues to different ski area locations you might recognize if you look closely enough. In the back of the book, there are over a dozen blank pages to put stickers of all the places you've skied. It is a great way to keep track of where you've skied and do something with those unused stickers.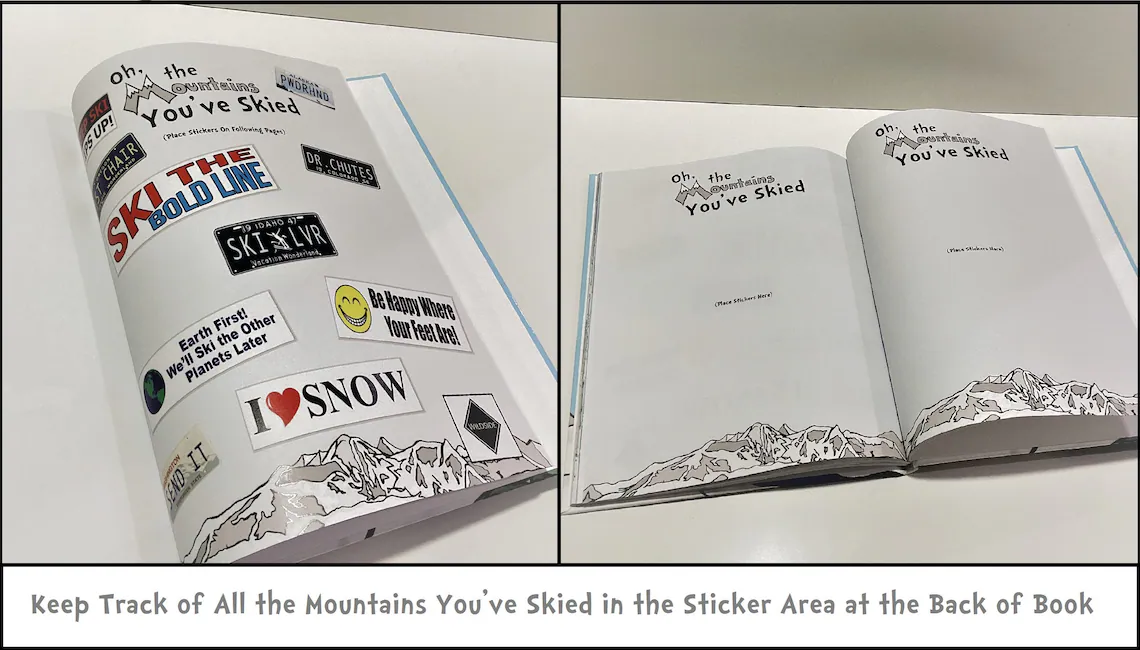 The book is available on both Etsy and Amazon in either paperback or hardback, starting at $19.99.
In the end, all skiers will enjoy this fun, colorful private lesson about the realities of life on the slopes. It is appropriate for all ages and would make a great gift. For younger audiences, a coloring book is also available.
Below is an Instagram post explaining how the author got the motivation for the book.
About the author
A legend in his own mind, Dr. Chutes earned his Doctorate of Shredding the Gnar in the mountains of western North America. Dr. Chutes practices an unlicensed form of alternative medicine called "Ski Therapy" that nurtures the spirit, soul, mind, and body. Currently an Unlimited Season Pass Holder, Uphill Travel Pass Holder, Back Bowl Access Pass Holder, Mediocre Thursday Night Race League Racer, Funcle of the Year, and Ski Dad; Dr. Chutes especially enjoys helping Alpentalics share their stoke with the rest of the world. He's best known for Charging Big Faces, Dropping Steep Chutes, and Gliding Down Powder Bowls, but he has also been known to Rip Groomers with the best of them. Dr. Chutes spent his formative years goofing around on the Mt. Ashland ski bus and sneaking out of group lessons with his little sister to hit the chutes of "The Bowl" before patrol could close the gates for the day. With almost four decades of experience on the slopes, some would call him middle-aged, though, with skis on his feet, he's forever a child!
*SnowBrains carries some affiliate marketing links, which means we earn commission on sales of some products when users click through a link from the site. Our editorial content is NOT influenced by affiliate partnerships.