"Put simply, I'm a lover of shredding and alpinism – a Shralpinist." – Jeremy Jones
At my core, I'm a snowboarder. I seek out snowboarding as often as I can and in whatever shape it takes. I've also had a career in the world of books for over half my life. When I found out about The Art of Shralpinism: Lessons from the Mountains by Jeremy Jones I was eager to read the legendary big mountain snowboarder's book, and reached out to his Seattle-based publisher Mountaineers Books for a copy.
The Art of Shralpinism has both a chronological and thematic structure and includes artwork, poetry, sidebar notes, journal pages, detailed lists, and diagrams. In a sense, it defies book categorization, as it is equal parts autobiography, epic tale, and guidebook to snowboarding, outdoor adventuring, and survival—a beautifully conceived scrapbook from a masterful athlete, and a love letter to mother nature.
In the book's first section, Wisdom, Jones offers the reader an encyclopedia of knowledge that he's acquired from his experiences and through his peers and mentors. Chronologically, Jones takes us from his childhood in Cape Cod, Massachusetts to northern Vermont, where he was the first snowboarder ever certified to ride the chair at Stowe Mountain Resort. Then at fourteen, Jones leaves home to attend Carrabassett Valley Academy in Maine, competes in his first pro contest in California at the age of sixteen, and by nineteen first joins his brothers in Alaska to ride steep spines.
He writes about the belief system that has carried him from the Cape to Alaska and beyond, from karma to the power of compounding returns—simple things done repeatedly to reap the biggest rewards overtime—and that who we surround ourselves with, from peers to mentors, to guides, all matters. And finally, that mindset, specifically fear, is the most powerful emotion of the human condition, and what keeps us from achieving our most challenging goals and wildest dreams.
"Hanging on to the side of a mountain for dear life so you can feel alive deserves some questioning." – Jeremy Jones
Jones gets down to the nitty-grit in the second and longest section of the book, Science. He includes a toolbox of knowledge that has kept him and his traveling partners stoked—and safe—in the backcountry. A key takeaway here is that just as there are no shortcuts in life, there are no shortcuts in snowboarding and it starts with developing a baseline of how to ride down a mountain.
Avalanche safety features heavily in this section. Jones does not claim nor does he want to be seen as an expert on the subject. Throughout his career, he has relied on a community that includes mentors and guides in and outside of snowboarding, and he interviews many of them in The Art of Shralpinism. He encourages the reader to become immersed in their own mountaineering communities and to seek out mentors.
Practical knowledge includes how to play the season, training through the winter months to send it in the spring, and how 30 degrees slope is the magic number because it's after that point when avalanches happen. Sobering first-person accounts from Victor De Le Rue and Jimmy Chin about surviving avalanches drive this point home.
Jones offers tips on health and fitness and looks to his role models in and outside of alpine sport. He takes cues from big mountain snowboarder Jim Zellers, as well as NFL goat Tom Brady, and pioneering big wave surfer Laird Hamilton. He writes about mindfulness via meditation, nature-bathing on the occasions that he finds himself in an urban environment, and a morning routine that includes reading and journaling. A salient point to living this lifestyle appears in a sidebar: "If you have a chance to take a NOLS (National Outdoor Leadership School) course, do it. It changed my brothers' lives and therefore changed mine. I can spot a NOLS-level certified camper a mile away."
The book's final section, Art, is about the 'why.' Why do we seek out the mountains and dance on the edge of what is humanly possible? Jeremy Jones's father is an artist and it's a quote from his dad that introduces this part of the book: "Get on the other side of your brain and let it take you for a ride."
With pride and wonder in equal measure, Jones touches on his own life as a parent of teenagers, recounting a backcountry trip with his daughter who "loves the steeps," and watching his son charge a cliff jump.
Musing over at what point snowboarding went from sport to art for him, Jones brings the reader from his pro racing career to freeriding with his brothers in Alaska, to filming on big heli-powered films like Travis's Rice's That's It, That's All, to his foray into foot-powered snowboarding and filming. In 2007, inspired by witnessing the devastating impact of anthropogenic climate change in the mountain environment first hand, Jones founded Protect Our Winters, today one of the most influential environmental organizations globally. Three years later he launched his company, Jones Snowboards, allowing him to develop the boards he and his team require to reach and ride far off ranges. Going forward he talks about inclusivity in snowboarding and creating pathways that open up the mountains and the backcountry to all cultures and backgrounds.
One of my favorite parts of the book happens in this final section, "Sunrise Salutations with Craig Kelly, COAST MOUNTAINS, BRITISH COLUMBIA, 1998." Jones writes about how when he was twenty-three he ended up on a heli trip with Kelly, his hero. The trip would never have happened had Jones made the 1998 Olympic snowboarding team. It's a fair guess that this experience was a catalyst for when sport became art for Jeremy Jones.
The Art of Shralpinism is as much about chasing dreams as it is about charging steep mountains. Life is short: the ultimate goal is to seek happiness in whatever shape that takes.
I had many questions to ask Jeremy Jones after reading The Art of Shralpinism: Lessons from the Mountains. Gratefully, his publisher forwarded these to him and he responded within a few days via email.
What do you love the most about snowboarding? What is the best advice you have for a young snowboarder just starting out?
"The freedom it gives me to be creative – no two runs are ever the same and there is something always to be learned. To get the most out of the mountains you need to be really tapped into them; out of necessity, to grow requires an intimate relationship with nature and your inner soul."
"It is safe to say skis or a snowboard is one of the most powerful tools in the world which has the ability to give you the best day of your life when used right, or the last day of your life if used wrong."
What inspires you most as an athlete? What inspires you most as a writer, and an artist?
"I think they are all one and the same for me and my mindset. Just to get into this present moment, a clear headspace, void of rules, and see where it takes you. Just to always be evolving."
How long have you been writing? What was the biggest challenge for you in writing this book?
"My biggest hurdle was that I do not consider myself an expert and what I am talking about in the book is serious stuff in terms of the stakes of backcountry riding. It is also quite nuanced. I had to get over all that and just think, "This is who I am, this is my approach, maybe there is something in there that will inspire others."
"I also never wanted to show my art. My dad is a really good artist who always says, 'Art is about getting on the other side of your brain and letting it take you for a ride.' I always viewed my art as being about the process, not the end result."
Jon Krakauer is someone featured in your book along with many other athletes and adventurers. Who are some of the writers who have influenced you? What are you reading now?
"I read a lot of different styles of books and I think they all play a role in influencing me. However, someone like Richard Powers, who wrote The Overstory, is on such a different level in terms of writing that I would never try and emulate that because I would fail miserably. With my writing, I am often in a tent or it is late at night or early in the morning, and I am just trying to capture my thoughts as quickly and succinctly as possible. However, I do enjoy following random rifts about nuanced things. These come out more poem-like such as my "Dear Chairlift" poems.
Dear Chairlift

So many lives changed and thoughts rearranged

friends found and marriages bound

as the lift soars, the wind roars

never the same, never a bore

as steady as the sun and moon

over and over, around and around.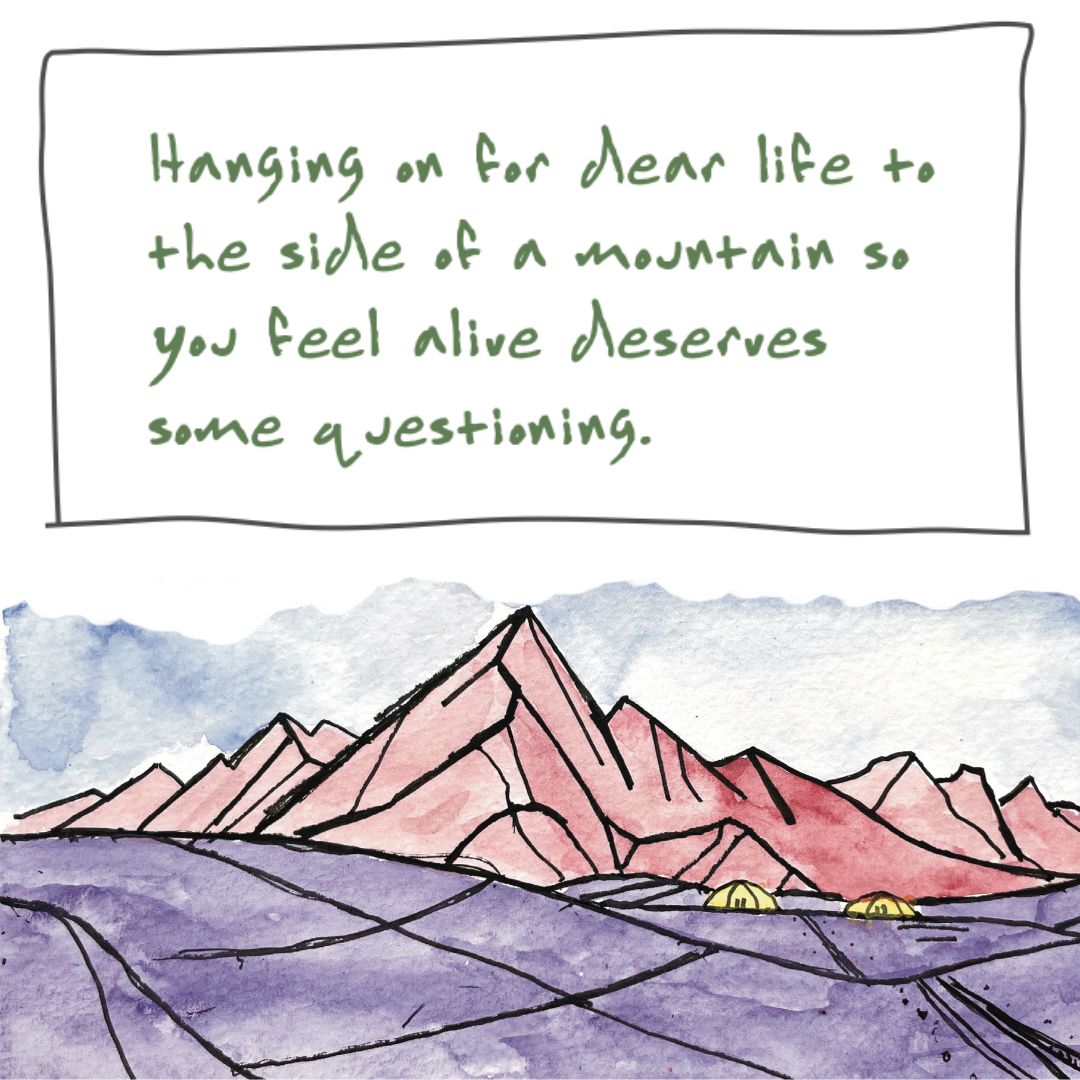 Does what POW is today match the vision you had when you founded the organization in 2007? What do you think is the most important thing that an individual can do to help protect our winters?
"In all aspects of my life, my snowboarding, Jones Snowboards, Protect Our Winters, everything, I try to give my full attention, surround myself with the best people I can find, and just keep moving the ball forward. In terms of POW, I am grateful for the team we have built. They are so smart and they get to wake up every day and fight to get us on the right path in terms of reducing CO2 emissions. However, I also am frustrated that the ski resort and outdoor industries do not use their considerable power to get climate champions in office."
"The outdoor industry is bigger than the extraction, pharmaceutical, and gun industries, but where are our congressional advocates? We have the solutions, we can create a ton of jobs, but we lack the political will. This is the result of the fossil fuel industry's goal to make it a political issue which in turn divides. If we could unite the 50 million "Outdoor State" participants and the companies that support and outfit them, we would be way further down the path of tackling the climate crisis."
The Art of Shralpinism: Lessons from the Mountains is an incredible book. I've read it twice, rereading some sections many times, each time gaining new insights. Jeremy Jones has captured the essence of his career as a professional snowboarder, and innovator in the sport, in these beautifully scribed and illustrated pages. Jones's words—his journal pages, short poems, and artwork, often penned in who-knows-what-below freezing, deep into the backcountry, under a veil of endless stars—bring us closer to the soul of one man whose single flame has inspired thousands to go beyond the limits of their wildest dreams, and to—always—protect our winters.
*SnowBrains carries some affiliate marketing links, which means we earn commission on sales of some products when users click through a link from the site. Our editorial content is NOT influenced by affiliate partnerships.