Boreal's annual Summer Shred Session went off this weekend, and the masses were out to enjoy it.  With a number of park features, a freshly cut 13 ft. pipe, a jump, and the narrowest white ribbon of death to date, the skiing and riding was all time.  While most were out enjoying a paddle around the lake or pleasant summer mountain bike ride, the dedicated snow sliders of the Tahoe area were out to slay the gnar at the Boreal Summer Shred.

Boreal Conditions
Ribbon of Death Factor: High
Crowds: Moderately large
Fun Level: Max
One 13 ft, freshly cut pipe
One medium sized jump
One large jump
A plethora of rails
In order to get to the pipe and the medium sized jump, you had to hike around 100 yards up hill, but the reward was well worth the walk.  Plus, it made the short laps feel just a bit longer.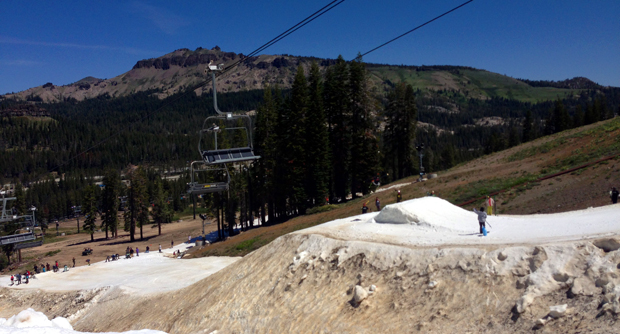 While the skiing and boarding is now over for the public, there are a boat load of camps to come at Woodward, with at least one session to fit your schedule:
Woodward On-Snow Snowboard/Ski Camp Dates
Session #1, June 16 – June 22
Session #2, June 23- June 29
Session #3, June 30 – July 6
Session #4, July 7 – July 13
You can find out about all of Woodwards camp offerings online, they serve up everything from ski and board to bike and skate camps.
Thanks again Boreal for a great Summer Shred 2013