Many of us who ski or snowboard in resorts scrape money together all year for a pass and gear, but anyone who has been to a ski resort on a weekend or holiday knows that they are playgrounds for wealthy folks to go on vacations and spend lots of money. Ski resorts are huge businesses and have grown to be major economic forces in mountain communities. This has lead to many cases throughout the years of people bringing lawsuits against ski resorts. The decisions have ultimately come back that since skiing is inherently dangerous, it is the responsibility of the skier to keep themselves safe by staying on open trails and handling terrain that is within their capabilities (Mont. Code § 23-2-733).
In 2015 an attorney from Bozeman named John Meyer was involved in an accident at Big Sky Resort in Montana. He and a friend had skied down an out-of-bounds trail, and after being told by ski patrol that the trail was closed, ran over a steep drop to a cat track. This drop ejected him from his skis, causing injuries including a broken arm, shoulder, and several ribs. Meyer was in an induced coma for a few days, and his recovery took months.
Fast forward three years to 2018. Meyer files a lawsuit against Big Sky resort for damages to $50 million. In the summer of 2018, he was running in the Democratic primary for U.S. House Montana At-large District, which he would eventually lose to Kathleen Williams.
On March 11, 2021, the jury decided the resort was not at fault because of the "inherent dangers and risks of skiing." In previous cases, the results were that it is the skier's responsibility to adhere to trail closures and keep themselves safe. The development in this case, which has added a broader dimension, is what followed and is shown in Meyer's response;
"I think that it's important for people to know that Big Sky is putting its profit over its own employees and if anybody says differently, they're going to sue you. I think people need to think twice about going to ski at that resort"(Meyer, Bozeman Daily Chronicle). "I was going to take the money from any jury verdict and basically purchase health care for employees at Big Sky," he said.
At this point, one could think, what does this have to do with personal damages from a skiing accident? Did he try to make something happen with the management of Big Sky to bring healthcare to seasonal employees? How would this money go to the healthcare of the employees?
According to Meyer, he planned to set up a trust to provide healthcare to seasonal workers and increase wages for ski patrollers at the mountain. He had approached Taylor Middleton, the General Manager of the resort, about these issues in 2016. Meyer alleges Middleton declined the talks of healthcare. Meyer later contacted Middleton again, informed him that he would be running for this U.S. House seat, and asked again if he would be interested in providing additional benefits and making a joint announcement of the step. When Middleton again declined on behalf of the resort, Meyer threatened with a lawsuit and an Op-Ed piece about the resort if they did not comply. The same month Meyer also held health-care-based rallies in Bozeman, collecting donations for his campaign. He even reached out to Big Sky ski patrollers to see if any employees would speak out against their employer at one of his rallies.
Ian McIntosh, an attorney for Big Sky Resort, said that "Meyer's Complaint demonstrates that he filed this lawsuit as a tool of coercion, for political gain, and to disparage Big Sky in a public forum" (Bozeman Daily Chronicle).
For these reasons, Big Sky has filed a countersuit against John Meyer. Not only did John Meyer say that his memory of the accident was impaired, making his testimony of the event uncertain, Meyer calls the terrain a "blind and unmarked catwalk," but eyewitnesses and Big Sky resort report that it is "an obvious variation in terrain." More importantly, Big Sky says that the suit was filed improperly to coerce them to do something they would not otherwise do. They also say that this lawsuit was not a heroic crusade for unrepresented seasonal workers but a publicity stunt for someone looking to make a career in politics.
This case reaches from seasonal mountain workers and the resorts that they work for to wealthy politicians involved in the justice system and the ski industry overall.
Meyer is a wealthy attorney who is beginning a career in politics. He gets injured while skiing and three years later needs public recognition and a cause to which people will donate. He has tried since 2016 to address healthcare benefits with the resort and has wanted to involve himself to the point of a shared announcement but has been shut down each time. A lawsuit involving this amount of money will attract attention, and if Meyer were to win, it would be a huge amount of money put into his trust to bring healthcare to people who could vote for him.
Meyer said after the decision that if he were using legal action for political gain, he would have dropped the suit long before the verdict. It seems, though, he wouldn't admit that this was his actual reasoning for a personal damages lawsuit because it would be even more embarrassing, and dropping the suit after losing the U.S. House seat would make it obvious that was the plan and make future political ambitions even more difficult.
Big Sky Resort, owned by Boyne Resorts, is a large ski resort that brings a lot of revenue to Boyne and the area of Big Sky Montana. Even though the accident was ruled not their fault by the jury, Meyer did bring up an important issue to many: large, wealthy resorts not providing health benefits and not paying seasonal employees enough. Smaller resorts that are privately owned might not make enough money to afford to offer additional health benefits to employees, but large resort corporations like Vail ($3.5 Billion annual revenue) and Alterra ($332M annual revenue) are making enormous amounts of money and can afford to offer benefits to full-time employees (even if they are seasonal). Even though Boyne Resorts is a growing company, it is now right on par with the others, making an annual revenue of $355 million last year.
Being a seasonal worker for one of these corporations can be worthwhile because of the health benefits, making these large companies a contributing factor to making the resort operational with enough employees. These companies have made the resorts more accessible with Epic and Ikon passes but also increased ticket prices at the resorts themselves. With the increase in revenue at these resorts, the salaries remain low for seasonal employees. The average ski patroller makes about $14.25 per hour while working 10-12 hour days, hiking to throw bombs to mitigate avalanches, all before performing medical evacuations when they occur on the mountain.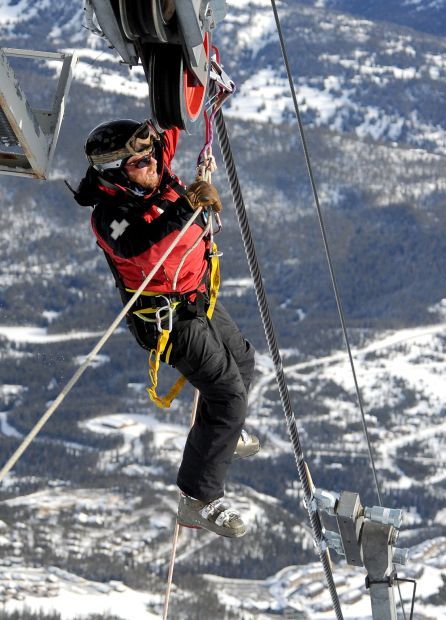 In a country where one's employer is the most common healthcare service provider, a company should be able to offer this to be competitive in hiring adults who need to have their own insurance. Living in any number of these resort areas is also very expensive, even if the resort provides employee housing. Providing healthcare and livable wages are necessities for these companies to provide if they aim to retain employees and have enough seasonal work to operate the resort. Big Sky, like many other large resorts, does offer health benefits, but the issue comes around that it can take a long time for seasonal workers to be eligible and remain eligible if they work other jobs in the off-season.
John Meyer may have conveniently timed this lawsuit to bring home more attention and donation money during his political campaign. Because of this, he is suffering the consequence from Big Sky for what they believe to be illegal coercion directed at them, but he has brought light to an important issue. Resorts are big money businesses, and employee compensation does not reflect the growth they have undergone. Meyer, however, wanted to use his role with this issue as political leverage and clout and is being marked by Big Sky as a false hero with selfish motivations.
While the way he operated to get resort employees healthcare wasn't appropriate to most involved, he brought awareness and money to this issue that many in the ski industry care about because it affects the resorts and everyone who cares about them.