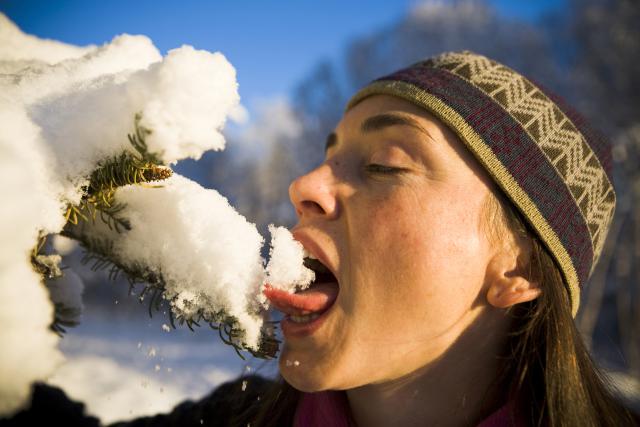 According to Environmental Science, consumption of any type of snow should be avoided due to the fact that it acts as a sink for tiny particles that are primarily found in car exhaust fumes.
Eating snow is essentially eating a pollution-flavored popsicle that still has the adverse effects of the harsh chemicals that car-exhaust fumes contain.
Air pollution is a silent killer that accounts for the cause of 3.3 million deaths per year throughout the world from the inhalation of toxic, near invisible particles. China accounts for 1.4 million of those deaths due to the poor air quality and suffocating smog that plagues the region. The World Health Organization is currently declaring man-made pollution as a global "public health emergency" due to the worsening conditions.
It is crucial for scientists to identify how pollutants penetrate the snow and how those pollutants affect the human population. To perform this task, a group of researchers from McGill University in Montreal, Canada set out to study and find out how pollutants are absorbed into the snow and snow's ability to do so.
The team used a "snow chamber," where a range of snowy conditions were simulated while pollutants were mixed into the chamber to measure how much of the pollutants were absorbed by the snow. Organic carbon, along with levels of toxic pollutants, including benzene, toluene, ethylbenzene, and xylenes within the snow were measured before, during and after each experimental run to determine the number of pollutants that were absorbed by the snow.
The study revealed that from just one hour of exposure, the levels of pollutants within the snow increased dramatically, with toxic particles becoming trapped within the small ice particles or dissolved within the pockets of melted snow. This study has sufficient evidence for the fact that snow if an effective "sink" for pollutants. Also, when the snow melts, it is suspected that the pollutants remain in the meltwater or escape back into the air. This article shouldn't hold you back from participating in winter activities that involve snow, it should just remind you not to consume snow.