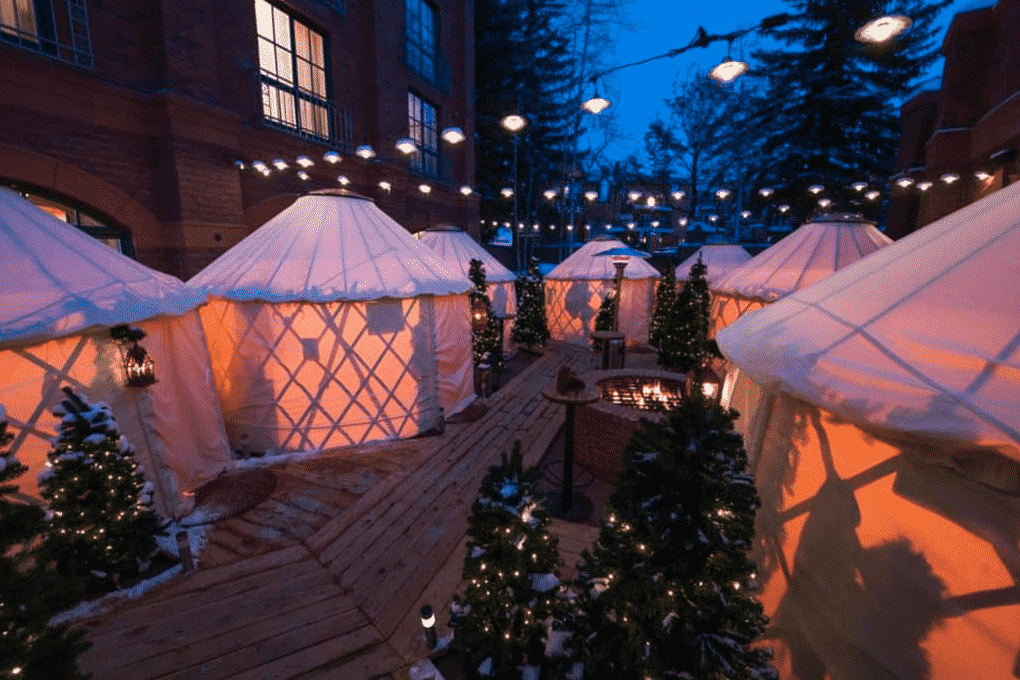 In order to survive a winter that will be influenced by COVID-19, businesses across the country are having to come up with novel ideas to ensure the dollars keep coming in. For restaurants, in particular, this could prove to be extremely difficult. In Colorado, to support social distancing, restaurants are running at 50% capacity, which takes a huge slice out of their revenue pie.
Breckenridge, CO is thinking outside the box. In fact, outside on the street. Street dining is not really practical during the harsh, freezing winter months, but the city is allowing premises to install yurts outside to shelter diners from the elements.
Aurum Food & Wine in Breckenridge will be installing two yurts at the front of their restaurant, capable of seating eight in each.
"We think that these yurts are just an incredible dining experience regardless of COVID. It's just a very unique way to dine during the winter. They are heated, they are very sturdy."

– owner Phil Armstrong told CBS Denver
Restaurant owners are also preparing by stocking up on blankets to offer outdoor diners, and also tweaking their menus to accommodate these external eaters.
"We're also trying to do sort of interesting dining experiences in there that might consist of like, fondue which obviously is kept warm rather than just counting on a hot entree to stay hot indefinitely. We'll have to sort of adapt our service models to make sure that the food integrity remains high."

– Phil Armstrong
Other restaurants without the external space to utilize plan to do more food-to-go. 
The town are being as helpful and supportive as they can. They are not charging permit fees, are working closely with the Fire Department, and are assisting restauranteurs to get through the process as quickly as possible.